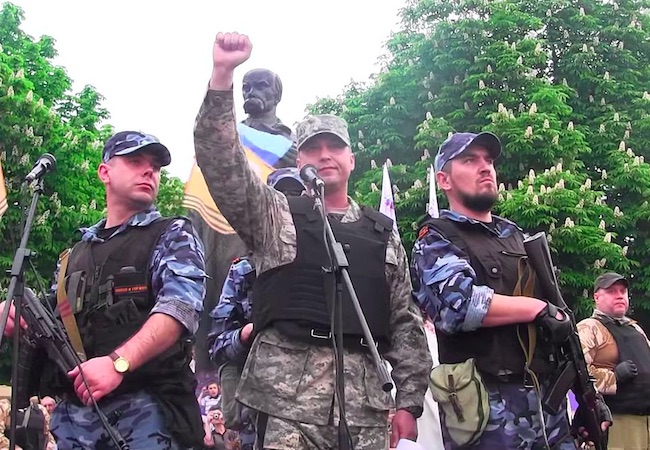 The Russian Ruble will become the main official currency in the breakaway "Lugansk People's Republic", Russia's NTV station reported on Wednesday, citing Lugansk Inform Center, separatists' official information outlet.
The announcement was made by the Council of Ministers of "LNR" (Lugansk People's Republic), an unrecognized entity internationally recognized as the territory of Ukraine. The leadership of "LNR" stated that incorporation of Ruble as an official currency in the territory is due to the decreasing volume of Hryvnia, Ukraine's currency and corresponding stabilization of the fiscal and monetary system.
The flow of Ukrainian currency into Donetsk and Lugansk regions controlled by pro-Russian rebels, as well as Crimea, which was annexed in March 2014, had decreased, if not completed cut, by the Ukrainian government. Kyiv had formally ceased to pay out pensions and social allowances to the residents of Southeastern Ukraine in the summer of 2014 stating that these territories were not under their control and remain a war zone.
Russia filled the vacuum by supplying Russian Ruble to the territories in the spring of 2015, instituting a multi-currency financial system in the uncontrolled Donetsk and Lugansk. According to the decree issued by separatists, salaries, pensions and other social allowances will be issued to residents in Russian Rubles, but use of Hryvnia, US dollars and Euros in the markets will also be allowed.
By making Russian Ruble an official currency, Moscow seeks to completely force the Hryvnia out, therefore detaching the separatist regions from Ukraine's financial system. This measure will also allow Russia to gradually consolidate territorial gains in Eastern Ukraine.
"Lugansk People's Republic" was proclaimed independent on April 27, 2014 after annexation of Crimea to Russia. Citing the principle of self-determination as its free will to choose its own destiny, separatists with backing of Moscow seceded from Ukraine leading Kyiv to launch an anti-terrorism campaign against the rebels. Russia responded by providing military and political backing to the separatist authorities. According to Ukrainian authorities, Russia not only supplied small arms and military equipment to the separatists, but had provided thousands of Russian troops to fight the Ukrainian army.