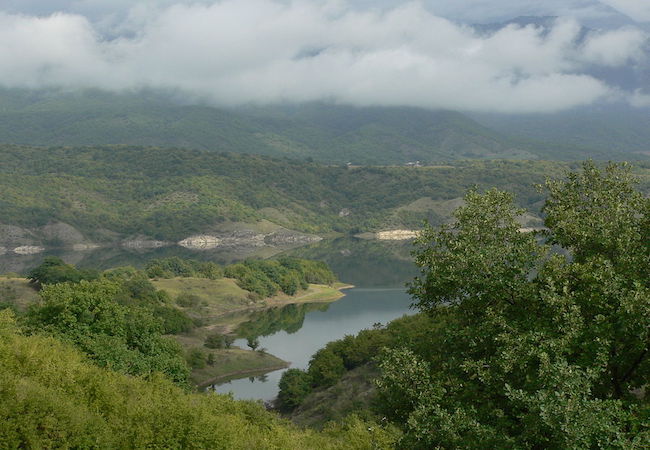 Even as the world leaders gathered in New York for the 70th session of the UN General Assembly, conflicting parties in the Caucasus are getting close to a full-blown war. Armenia and Azerbaijan started shelling each other's positions last week.
Armenian media reported three civilians killed in the country's border district of Tavush after Azerbaijani artillery shelled the enemy positions. Azerbaijan's officials stated Armenian army shelled a wedding reception in the preceding days severely wounding three women in the process.
Latest clashes reportedly left three Azeri and nine Armenian soldiers dead. Accounts on the number of casualties vary from one source to another, but the seriousness of the situation is compelling enough to alert the international community. The ceasefire agreement was signed in 1994 leaving Azerbaijan without as much as 20 percent of its territory. Local skirmishes continued on smaller scale well into the 2010s. If in the late 1990s and 2000s the parties used automatic rifles and at times machine guns, from 2008 on, both Armenians and Azeris used artillery and according to some reports, tanks to hit the enemy positions.
Armenian President Serzh Sargsyan certainly didn't help when during his recent meeting with state officials he referred to Nagorno Karabakh as "inseparable part of Armenia" further infuriating Azerbaijan. It is worth noting that even Armenia itself does not formally recognize Nagorno Karabakh as an independent, even though it maintains military presence in the occupied region and allocates funds from the budget of Republic of Armenia to help separatist authorities in Nagorno Karabakh.
OSCE Minsk Group has been mediating peace talks between Armenia and Azerbaijan since 1990s but has so far failed to bring peace to the region. The positions of the sides are diametrically opposed, with Armenia wanting full independence for Nagorno Karabakh from Azerbaijan and Azerbaijan wanting nothing less than restoration of its territorial integrity. As a compromise, Azerbaijan offers Armenians in Nagorno Karabakh highest autonomy status. Armenians reject the offer accordingly.
In September, Azerbaijan held large scale exercises near the Line of Contact (LOC) between Armenian and Azerbaijani forces in Nagorno Karabakh region. Up to 65,000 soldiers, 700 armored vehicles and 90 aircraft took part in the war games. According with the orders of the defense minister, 6,000 reservists were called to duty.
Excessive breaking of ceasefire increases the risk of full resumption of hostilities between the two Caucasus nations. Thanks to its oil wealth, Azerbaijan has beefed up its military in the last decade while Armenia heavily relies on Russian-subsidized weapon purchases and direct military assistance from its main ally Russia – both are members of Collective Security Treaty Organization (CSTO, Moscow-run pact) – in case of resumption of hostilities. Any renewed large scale combat activity can severely damage the economy of the region and lead to full chaos. Any destabilization of South Caucasus where major oil and gas pipelines lay may significantly harm interests of Western companies.
Azerbaijan's Nagorno Karabakh region and seven adjacent districts were occupied by Armenian army as a result of war between Armenia and Azerbaijan in 1992-1994. OSCE Minsk Group co-chaired by the United States, Russia and France continues its efforts to negotiate a lasting peaceful settlement to the conflict.