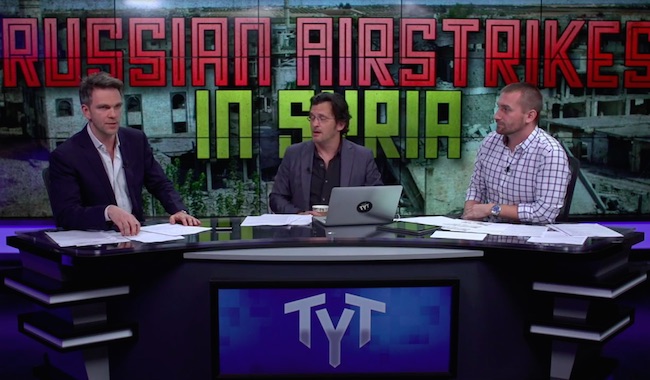 The Young Turks John Iadarola, Ben Mankiewicz, and The Lip TV's Elliot Hill discuss Russia's airstrikes in Syria. According to Russia, their airstrikes are targeting ISIS forces. The Young Turks argue that Russia's presence is not what it seems. Instead they break down how Putin is demonstrating Russia's military power.
Hill explains, "This is a unilateral, it's an attempt by Putin to bolster his buddy, Assad, and to strengthen his position in the region and to reassert Russia's position as a world power."
"Russia is not going to do anything in there that doesn't help Assad," Mankiewicz brings up, "And the thing that helps Assad the most right now would be the killing of non-ISIS rebels." Iadarola adds to the point by showing a chart that reveals that most Russian airstrikes landed far from ISIS.
Watch the full discussion below:
[mom_video type="youtube" id="YQOhznfnVeo"]