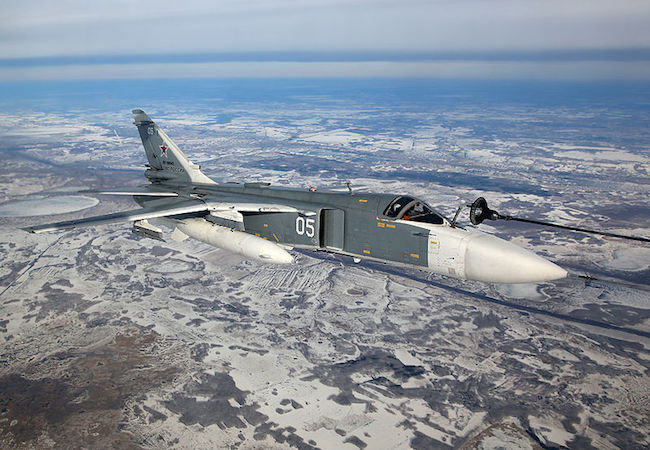 Russian Foreign Minister Sergei Lavrov cancelled his official visit to Ankara on Tuesday in the midst of an emerging crisis in Turkish-Russian relations. Russia's Su-24 was shot down out of the sky by Turkish F-16, reportedly after a few warning messages on airspace violation were ignored by the Russian pilots.
The thaw in the bilateral relations was primarily caused by Russia's bombing of Turkmen villages along the Turkish-Syrian border in the past few days which caused an outrage of Ankara and other Turkic countries. Russia denied it bombed any civilians targets and claimed it was bombing ISIS strongholds in the district of Latakia.
Erdogan's government condemned Kremlin's intransigence and called on the Russian government to refrain from attacking Turkmens. Ethnic Turkmens are ethnic cousins of Anatolian Turks and are an ally in the fight against Assad regime. They are also purportedly fighting ISIS detachments in an unequal war.
Russian airplanes have already violated the Turkish airspace since the start of Moscow's operations in Syria, but quickly apologized for the "mistake" to avoid diplomatic confrontation with a strong NATO member. The November 24 incident of shooting down Russian Su-24 was dubbed by President Vladimir Putin as "stab in the back" by the "accomplices of terrorists". Russian media and tourism agencies have already called to stop Russian tourists from visiting Turkey.
In his remarks before the media, Putin stated that the Russian airplane was flying 1 km away from the Turkish-Syrian border but was still shot down and crashed 4 km away from the border inside Syria before the two pilots ejected. One was reportedly killed, the other was taken prisoner by the armed Turkmen forces.
Whether it was a preplanned response to Russia's increasingly belligerent behavior in Syria vis-a-vis the West or a mere defense of its international border remains unknown. However, it is obvious that downing of a plane will cause severe escalation in the relations between Russia and Turkey. Russian, on its part, may be facing a dilemma in responding to Turkey in kind since Turkey is a member of NATO and its armed forces are considered second strongest in the organization. Any attack on Turkey may produce a stronger NATO response in accordance with Article 5 of the North Atlantic Treaty.
European nations, including France, have called for the parties to remain calm and cooperate on defeating ISIS.