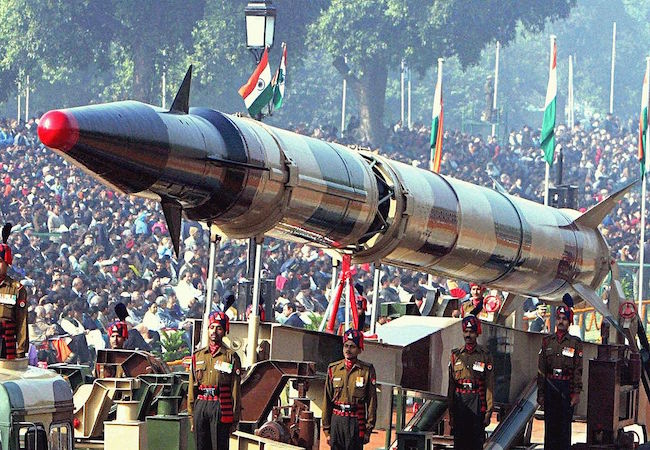 By Maimuna Ashraf
The growing disparity and asymmetry in South Asia is favorable to India yet challenging for Pakistan. Purportedly, India's rising nuclear and conventional ambitions have enforced Pakistan to build up its nuclear capabilities to ensure the credibility of its nuclear deterrence. Previously, India's doctrinal transformation and ballistic missile defense capabilities which are rapidly maturing, have indulged Pakistan in miniaturization of warheads. Lately the sea-based nuclear developments and evolving prospects of India building the top secret thermonuclear weapons, that could upgrade India as a nuclear power and unsettle Pakistan, will coerce Pakistan to maintain full spectrum credible minimum deterrence capability to deter all form of aggression.
A while ago in last month, India tested Agni-IV, nuclear-capable ballistic missile with a strike range of 4,000 km. The missile is undergoing developmental trials and is said to provide deterrence against China. While couple of weeks after this test, India successfully test-fired the Short Range Nuclear Capable Ballistic Missile (SRBM), dubbed 'Dhanush', which has the strike range of 350 km and is capable of carrying the payload of 1,000 kg. Reportedly it can also hit for 750 km with payload capacity of 250 kg. Dhanush, due to its specification and application is seen as an important naval development against Pakistan, aside the India's Airhant nuclear powered submarine. This naval variant of surface-to-surface missile Prithvi III has undergone multiple testing since 2012. Dhanush, with a liquid propellant, is an anti-ship weapon, designed to destroy both sea and shore-based targets.  The Air Force version of the Prithvi has a range of 250km and it is mainly used to destroy the enemy's Air Force assets like air bases.
Conversely, Pakistan announced the creation of its Naval Strategic Force Command in 2012 and hinted an impression that Pakistan possesses the sea based nuclear deterrence. Many experts agree with the speculations that 'Pakistan's sea-based deterrent is most likely the submarine launched variant of Babur-Hatf7 cruise missile, however the inferences are yet to be officially confirmed. Evidently, India's conventional superiority and nuclear advancements strongly influence Pakistan's threat perceptions and nuclear strategies; resultantly boost the region's nuclear developments. Consequently, the Indian developments related to sea-based/naval nuclear warheads, are shaping naval nuclear regime in South Asia. Analysts agree that the evolving naval nuclear dynamics in South Asia would start a new ballistic missiles competition in the region. Eventually, in the face of an exponential increase in India's nuclear naval capabilities, it will become necessary for Pakistan to complete the third leg of nuclear triad, comprised of sea based capabilities. To diversify the naval options available to counter India's Dhanush akin missiles, Pakistan is suggested to develop the naval variant of SRBM Hatf II, which has a range of 180-200 km. The naval variants of ballistic missiles will demonstrate the accuracy, efficacy and readiness of navy's weapon systems and credibility of deterrence at sea.
While India tested both missiles in November, Pakistan also tested its two surface-to-surface ballistic missiles in next month, December. Lately, Pakistan tested Shaheen-III and Shaheen-IA with the strike range 2750 km and 900 km respectively. Both tests were aimed at revalidating designs and technical parameters of the missile's system. Pakistan tested Shaheen-III first time early this year. The successful test launch of Shaheen-III Surface to Surface Ballistic Missile (SSBM) has been viewed as an appropriate, requisite and well-timed response to India's sophisticated and intensive ballistic missile and anti-missile developments. While India is testing its Prithvi and Agni series of missiles, the development of Shaheen-III is being considered a response much evident and essential to ensure that Islamabad has the capabilities to counter the intimidating advancement. The missile is an updated version of Shaheen I and Shaheen-II, the maximum range of the earlier versions of Shaheen missiles was of about 2,500 km. This Medium Range Ballistic Missile (MRBM) is a solid fuelled missile and is currently the longest-range missile in Pakistan. The nuclear establishment in Pakistan stated the development "yet another historic milestone" towards reinforcement and maintenance of Pakistan's deterrence capability.
Pakistan currently has three tiers of ballistic missiles ranging from Battlefield Short Range Ballistic Missiles (BSRBMs) to Short Range Ballistic Missiles (SRBMs) and Medium Range Ballistic Missiles (MRBMs). Nasr (Hatf IX) BSRBM was designed to counter India's Cold start and limited war strategy, which has the quick reactionary shoot-and-scoot technology. While the Nasr serves the purpose of battlefield deterrent, the Abdali (Hatf-II) BSRBM fulfills the role of traditional short-range strategic deterrent. The cornerstones of Pakistan's deterrent arsenal are Ghauri II (Hatf VA), Shaheen II (Hatf VI) and Shaheen III MRBMs, with ability to strike any strategic target in India. The ballistic missile system developments of Islamabad is focused to respond Dehli's advancements which serves the purpose to ensure counter strike capability, maintains credible deterrence, readiness and robustness of Pakistan which reduces the threat of India's conventional limited war.
Deterrence, as precisely termed, is "the exploitation of a threat without implementing it, or exploiting the existence of weapons without activating them". Consequently, nuclear weapons are essentially supposed to be the weapons of peace and not war. It is extensively believed that the existence of nuclear weapons restrained Pakistan and India to wage another war after 1971. However, experts argue that the Indian arrogance to exploit conventional supremacy and regional hegemonic aspirations are evident from assorted course of actions.
Resultantly, Pakistani nuclear establishment proclaims that the developing regional dynamics inflict Pakistan to convert credible minimum deterrence into full spectrum credible minimum deterrence. While India is developing its short range ballistic missiles, inter-continental ballistic missiles and anti-missile program, Pakistan is focusing on its short-range and medium-range ballistic missiles with improved payloads, range, and reliability. The previous versions of Shaheen could not reach India's eastern front but latest launch test has ended this limitation and consequently, the launch of Shaheen III is of prominent significance because it consolidates Pakistan's strategic deterrence in evolving regional scenario.
The continuing race between Pakistan and India is of grave regional concern. Yet evidently, Islamabad is not seeking a nuclear parity with New-Dehli but is compelled to exhibit a reaction in response to an action, as seen in recent exhibition of missile tests. Nonetheless, a timely successful response shows operational preparedness and strategic capabilities to safeguard security.