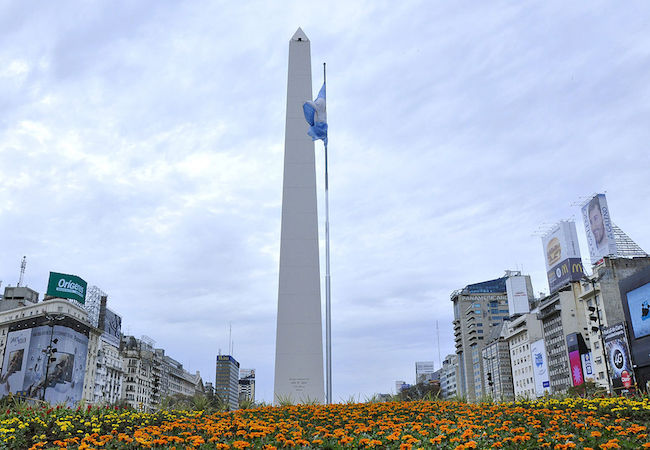 The US dollar in Argentina's foreign exchange market plunged on Friday 35 cents to 13.60 Pesos on the second day since President Mauricio Macri's administration decided to put an end to official restrictions for the purchase of greenbacks and other dealings with foreign currency.
According to local financial media foreign exchange houses were still adjusting their systems to comply with the new rules so not all Buenos Aires City brokers were yet available to meet clients' demands.
The peso lost around 30% of its value on the first day of the new system in what was the sharpest one-day devaluation in recent years after President Macri's government went through with a much-anticipated move to float the local currency as part of a slew of free-market reforms to the economy.
So far the Argentine Central Bank has not had to dip into its reserves to stave off a run on the Peso on a day when the number of transactions in the wholesale market dipped 46%, as traders were still adapting to the new rules that had been released late on Wednesday.
In related news the head of the Inter American Development bank, IDB, Luis Moreno announced that the multilateral institution will provide Argentina with 5bn dollars in credits in the next years.
"This is an interesting moment for Argentina", said Moreno next to Argentine Finance minister Alfonso Prat-Gay and following a meeting with president Mauricio Macri. He added that the IDB was next to its friends "in the good times and in the bad times".
"We seek to support the government's efforts," the IDB chief said. "We acknowledge there are enormous needs in Argentina that fit in the bank's policies," he affirmed.
But the new policies implemented by the Macri administration were strongly questioned by a member of the former Cristina Fernandez government, ex Finance minister Axel Kicillof.
"The International Monetary Fund took charge of the Argentine economy," Kicillof said in an interview he granted to the Radio 10 station also blasting Macri's decision to lift agricultural export taxes and eliminate the dollar clamp.
"We are in presence of a battery and a package of measures which are that of a very significant adjustment," the now elected lawmaker said.
"A devaluation of a bit more of 40% took place yesterday (Thursday) but, besides, a considerable hike in the interest rates, a reduction in the export taxes, the opening of imports, the return to foreign indebtedness at least in the ideas and the announcement of tariff hikes," Kicillof pointed out adding President Macri has conducted "a liberalization of the market."
"There will be inflation, a drop in salaries and recession," he warned.
"It is an orthodox adjustment plan that is aligned with the Washington Consensus and with the position of the International Monetary Fund," he added. "We could not validate Macri's devaluation. Macri's devaluation had to be done by Macri."