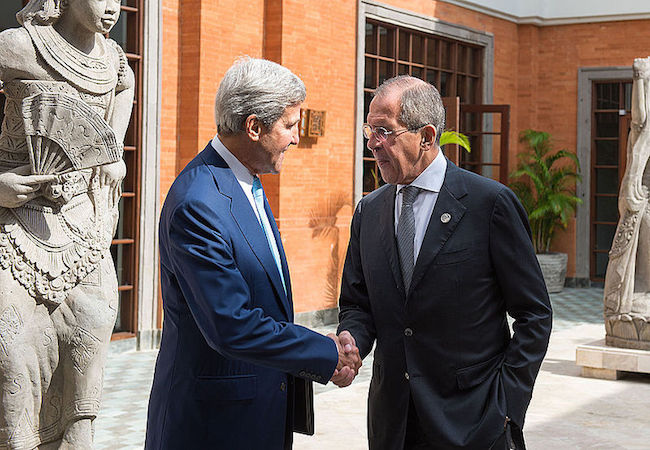 Russian Foreign Minister Sergei Lavrov on Monday warned that the U.S. sanctions imposed against Russia would undermine possible bilateral cooperation on urgent issues on the global agenda.
During a phone call made with the U.S. Secretary of State John Kerry, Lavrov stressed that the sanctions aimed at increasing pressure on Russia will not achieve the desired results.
The United State decided Tuesday to expand its sanction list against Russia, one day after the European Union announced it would prolong the economic sanctions against Russia until July 31, 2016.
According to an online statement of Russian Foreign Ministry, Lavrov and Kerry also discussed the political settlement of the Syrian crisis, Ukraine crisis, as well as the practical implementation of Joint Comprehensive Plan of Action on the settlement of Iran's nuclear program.
"The sides discussed the prospects of the settlement of the crisis in Syria, including in the context of the talks organized by UN special envoy for Syria Staffan de Mistura between the Syrian government officials and opposition in order to achieve a political settlement," the statement said.
"Minister Lavrov stressed again the need to put away all preconditions while setting up a united front in the fight against Islamic State (IS, or Daesh in Arabic) and other terrorist groups."
On Ukraine crisis, Lavrov mentioned the incidents in which observers of Organization for Security and Cooperation in Europe and a filming crew of All-Russia State Television and Radio Company came under fire from Ukrainian positions near the settlement of Kominternovo in Donbass.
Blaming such incidents as threats and disruption to Minsk agreement's full implementation, Lavrov called on the U.S. side to put pressure on Kiev to strictly abide by its commitments to Minsk accords.