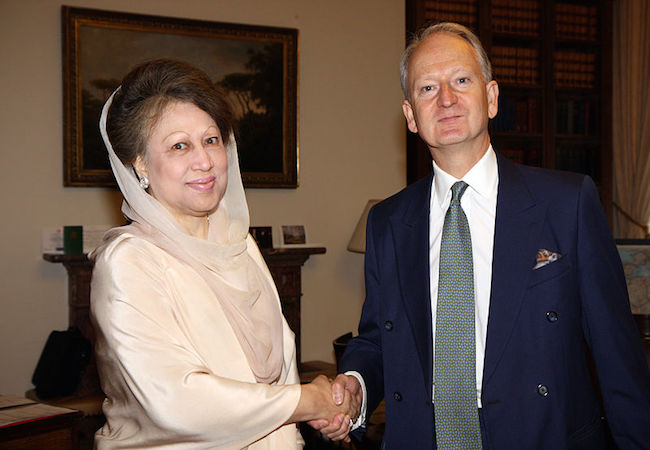 By S. Binodkumar Singh
On January 25, 2016, a Dhaka Court ordered Bangladesh's former Prime Minister (PM) and head of the main opposition Bangladesh Nationalist Party (BNP) Begum Khaleda Zia to appear in court on March 3, 2016, to answer the charge of sedition. Momtaz Uddin Ahmad Mehdi, a lawyer with the Bangladesh Supreme Court (SC) and a supporter of the ruling Awami League (AL) had filed a case alleging that Zia's remarks about the Liberation War of 1971 were seditious.
On December 21, 2015, Zia, accused the AL of 'patronising' war criminals by giving them freedom-fighter tags. At a programme in Dhaka city, she declared, "He (Bangabandhu Sheikh Mujibur Rahman) wanted to be the Prime Minister of Pakistan. He did not want an independent Bangladesh. Those who are real Razakars (collaborators of Pakistani force), who actually harassed, tortured and killed innocent people during the war, will have to be tried and punished. Those who did not fight the war but helped the war criminals are now very close to the Awami League. There are many such examples." Section 123 (A) of the Bangladesh Penal Code prescribes punishment "with rigorous imprisonment of up to ten years for condemnation of the creation of Bangladesh".
Reacting to the development, Mirza Fakhrul Islam Alamgir, acting Secretary General of BNP, dismissed the case as politically motivated, arguing, "This is nothing but a mockery and its aim is to deter Khaleda from politics. The intent of the Government is to continue its repression of the opposition by Police, making confrontational politics (sic)." He went on to add that 17,000 opposition activists had been arrested since 2014 and 3,000 were still in jail.
Within the complex web of claims and counter-claims, it is clear that the battle of the Begums, who have a long history of political rivalry, has intensified. This is primarily due to incumbent Prime Minister Sheikh Hasina Wazed's decision to open an inquiry into crimes committed during the Liberation War of 1971. Notably, after assuming power in 2009, in her second stint as Prime Minister of Bangladesh, Hasina fulfilled her electoral promise and constituted the International Crimes Tribunal-1 (ICT-1) on March 25, 2010, paving the way for prosecutions of war criminals. Subsequently, on March 22, 2012, ICT-2 was constituted to expedite prosecutions.
So far, the two ICTs have indicted 53 leaders, including 36 from Jamaat-e-Islami (JeI), six from Muslim League (ML), five from Nezam-e-Islami (NeI), four from BNP and two from the Jatiya Party (JP). Verdicts against 24 of them have already been delivered – 17 were awarded death sentence while the remaining seven received life sentences. Four of the 17 who received the death sentence have already been executed, while 13 others cases are currently pending with the Appellate Division of the SC.
Evidently, BNP and its main ally JeI, have been at the 'receiving end' of these trials and have consequently been opposing the Government on this issue. Hasina has refused to be cowed down by the opposition combine's disruptive campaigns, which have resulted in 419 deaths since the delivery of the first verdict by ICT-2 against JeI leader Maulana Abul Kalam Azad alias Bachchu Razakar on January 21, 2013. Only five such deaths were recorded in 2015, as the verdicts and their implementation have received overwhelming support across Bangladesh. In her latest assertion, on December 14, 2015, Hasina declared that no force in world could stop Bangladesh's war crimes' trials.
Meanwhile, five indictments and three verdicts came in 2015. Four persons were awarded life sentences, while one received the death sentences. More prominently, three of a total of four hangings in these cases took place in 2015. On November 22, 2015, condemned war crimes convicts JeI Secretary General Ali Ahsan Mohammad Mojaheed (67) and BNP Standing Committee member Salauddin Quader Chowdhury (66) were hanged simultaneously at Dhaka Central Jail; and on April 11, 2015, JeI Senior Assistant Secretary General Muhammad Kamaruzzaman (63), the third most senior figure in the JeI, was hanged at Dhaka Central Jail.
The execution of JeI and BNP leaders through 2015 unsettled entrenched elements in these formations. The Government is, moreover, trying to expedite the process of banning JeI. On January 17, 2016, Law Minister Anisul Huq disclosed, "We are trying to revise the International Crimes (Tribunals) Act of 1973 so that any political party including Jamaat can be punished for committing crimes in 1971. A bill on the amendment will be placed before Parliament in the next session." On August 1, 2013, JeI's registration as a political party was declared illegal by the High Court as its party charter had several provisions contrary to the country's Constitution.
These developments during the course of 2015 had a far reaching impact on the security environment of the country. While older terrorist and extremist groups have been decimated by Hasina's crackdown since 2009, surviving splinters and new formations have come to the fore again, and there has been a surge in both radical and terrorist activities. At least 23 civilians and two Security Force (SF) personnel were killed in acts of terror unleashed by terror groups like Ansarullah Bangla Team (ABT), Al-Qaeda in the Indian Subcontinent (AQIS), Islamic State (IS) and Jama'atul Mujahideen Bangladesh (JMB), through 2015. The number of such fatalities in 2014 stood at two, including one civilian killed by the Hefazat-e-Islam (HeI) and one SF trooper killed in a JMB ambush.
ABT, an Al Qaeda affiliate, hacked to death five bloggers and publishers in 2015 for their alleged position 'against Islam'. In the latest of series of such attacks, on October 31, 2015, secular blogger and Jagriti Prakashani publisher, Faisal Arefin Dipan (40), was hacked to death at his office in Aziz Super Market, Dhaka city. ABT also killed nine people during a robbery at the Bangladesh Commerce Bank Limited (BCBL) in Ashulia near Dhaka city on April 21, 2015. Later, on May 31, 2015, Police arrested Mahfuzul Islam aka Suman (35), an ABT 'operational commander' and mastermind of the bank robbery, from the Badda area in Dhaka.
Further, three pirs (revered religious instructors, usually of Sufi orientation) and one attendant were also killed by Islamist extremists in 2015, for their 'deviant' religious ideology. On October 5, 2015, Muhammad Khijir Khan (66), the former chairman of the Power Development Board (PDB), a freedom fighter and a pir, was killed by seven unidentified armed men by slitting his throat at his Madhya Badda house in Dhaka; on September 7, 2015, assailants shot dead another pir, Hazrat Moulana Mohammad Salahuddin Khan Bishal (30), in his sleep in the Vorotpur area of Atghoria upazila(Sub-District) in Pabna District; on September 5, 2015, unknown assailants slit the throat of a pir, Rahmat Ullah (60), along with that of an attendant, inside a shrine in the Bayezid area of Chittagong city.
Bangladesh was also stunned by the killing of two foreign nationals in 2015. On October 3, 2015, Japanese national Hoshi Kunio (66) was gunned down by three unidentified assailants in the Kaunia sub-District of Rangpur District. On September 28, 2015, an Italian charity worker, Cesare Tavella (50), a technical director working with the Netherlands-based Interchurch Organization for Development Cooperation (ICCO), was killed in Dhaka city's Gulshan area. The IS claimed the killings, though Dhaka maintained that they were locally orchestrated, and that IS had no presence in the country.
IS also claimed a suicide attack at the Chokpara Ahmadiyya Jamaat Mosque in Bagmara sub-District of Rajshahi District on December 25, 2015, in which one person (the suicide bomber) was killed and another three were injured. The last suicide attack in Bangladesh was recorded on November 13, 2010, in which three persons, including the two attackers who carried the bomb and one civilian, were killed at Taragunia in Kushtia District.
On December 13, 2015, ruling out the existence of IS in Bangladesh, Hasina observed, "There's no IS in Bangladesh. So far probes into the [recent] incidents [killings] have revealed that their [killers] motives were primarily domestic. Our law enforcement agencies have demonstrated their considerable success in arresting some of the killers of bloggers and foreign nationals." Similarly, Home Minister Asaduzzaman Khan on December 16, 2015, reiterated, "We are saying always, our Prime Minister also asserts that there is no IS here. We are trying to control such militant groups that are trying to surface."
Among the more established of the terror outfits operating inside Bangladesh, JMB militants on November 4, 2015, stabbed to death Constable Mukul Hossain and injured four other Policemen when they tried to stop JMB militants at a checkpoint on the Dhaka-Tangail Highway in Savar, an industrial suburb some 30 kilometers from Dhaka. Further, on December 10, 2015, two people were injured when JMB militants launched a bomb attack on the International Society for Krishna Consciousness (ISKCON) Temple in Dinajpur District. Seven JMB militants were arrested when Police neutralized their hideout in the Mirpur area in Dhaka city on December 24, 2015. 17 improvised grenades, explosives with which about 200 such grenades could be made, and a sack-full of suicide vests were recovered. Another JMB den was discovered and neutralized on December 26, 2015, in the Aminbazar area of Chittagong District. Three JMB terrorists were arrested with one MK 11 precision semi-automatic sniper rifle, five kilograms of explosive gel, 13 military uniforms, 252 rounds of ammunition and 25 detonators.
Earlier, exposing the link between JeI, the largest Islamist party of Bangladesh, and JMB, Dhaka Metropolitan Police (DMP) Joint Commissioner Monirul Islam stated, on November 26, 2015, "At least one-fourth of banned militant outfit JMB members are former Jamaat-e-Islami members and are now involved in acts of destruction across the country. The new members are also reportedly financing JMB's terror and criminal acts. JMB members are using the money to buy motorcycles, explosives and ammunition to commit crimes." Further, the Police's Detective Branch (DB) claimed, on December 29, 2015, that JMB was planning countrywide attacks on March 25, 2016, a day before the country's Independence Day.
Despite these simmering, the Government has continued its policy of containing Islamist extremist forces through 2015. A total of 1,888 extremists and terrorists, including 1,729 cadres of JeI and its students' wing Islami Chhatra Shibir (ICS), 83 of the JMB, 16 each of Hizb-ut-Tahrir (HuT) and ABT, 12 of AQIS, nine of Harkat-ul-Jihad-al Islami Bangladesh (HuJI-B), eight of Shaeed Hamja Brigade (SHB), six of Mujahid of Bangladesh, two each of Bangladesh Jihadi Group (BJG) and the HeI, and five who were engaged in IS propaganda and recruitment were arrested.
Significantly, on January 20, 2016, Singapore deported a batch of 26 Bangladeshi construction workers, with Singapore's Home Ministry stating that the deportees "supported the armed jihad ideology of terrorist groups like Al Qaeda and the Islamic State in Iraq and Syria." Bangladesh Police charged 14 of them, while 12 were released in Bangladesh after questioning. Bangladesh has, however, denied their links with Al Qaeda and IS, claiming that those charged were, "linked with banned Islamist militant group Ansarullah Bangla Team (ABT)," according to Bangladesh Police spokesman Maruf Hussain Sarder's statement of January 21, 2016.
Dhaka has also continued its campaign against the Left Wing Extremist (LWE) movement. Through 2015, 17 LWE cadres were killed including 10 of the Purbo Banglar Communist Party (PBCP), three of the Biplobi Communist Party (BCP), two of the Gono Mukti Fauj (GMF), one each of the Purbo Banglar Sarbahara Party (PBSP) and the Alfu Bahini. No civilian or SF fatality took place in LWE-linked violence through 2015. 16 LWE cadres were killed in 2014 as well, with no civilian or SF fatality recorded.
In an effort to shore up capacities against terrorism, the "Counter Terrorism and Transnational Crime" unit, a 600-men Police Force specializing in technology, was formed on December 31, 2015, under the Dhaka Metropolitan Police.
The AL-led Government's achievements on the counter-terrorism and internal security fronts have been remarkable. But, the frequent attacks and periodic discovery of terrorist cells and hideouts, with stockpiles of weapons and explosives, particularly in Dhaka city and the Chittagong District, indicate continuous efforts by terrorists to reorganize in spaces created by the polarized politics of the country.
By S. Binodkumar Singh is a Research Associate, Institute for Conflict Management