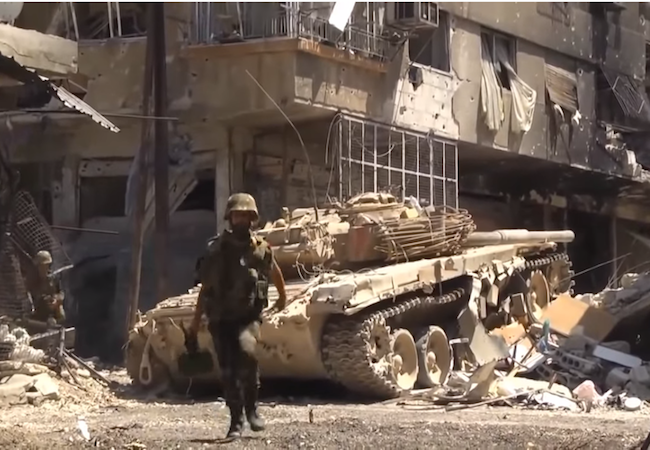 By Osman Bahadır Dinçer & Mehmet Hecan
Given that Syria is now an internationalized and regionalized quagmire that has been free to evolve for more than four years while exerting increasingly negative effects on the region and on the idea of Middle Eastern peace overall, the political road-map to endorse the Syrian peace process resultant of the Vienna conference is certainly a positive development. Following the conference, the passing of the UNSC resolution on this road-map last December may also be seen in a similarly positive light, especially when considering that the last resolution on the transition process in Syria was adopted nearly four years ago in April, 2012. These developments at least give us hope, and thus galvanize, in spite of all the challenges and disruptions, us to talk about peace, a far-off notion which has been relegated to the distant corners of our minds ever since 2013 when the intensity of clashes and militarization peaked.
Nevertheless, it is critical that we acknowledge that the road map's prospects are being clouded by numerous uncertainties. Put differently, the international community is now caught unprepared as it has not been successful in debating the particular stages of problem-solving that could actually substantiate a roadmap for peace. One such contributor to this impasse is the lack of a clear strategy that could be employed to deal with radical-terrorist organizations. In Syria, where the critical phase in the conflict cycle in terms of radicalization is already behind us, any peace-building initiatives should harbour de-radicalization plans or at least concrete incentives for radical-terrorist organizations to de-radicalize. This is one variable that the international community must address while proceeding with the post-Vienna process.
De-radicalization and peace-building: Discovering the missing link
The need to reconcile de-radicalization plans with peace-building efforts stems from the fact that the root causes of radicalization-related challenges are generally functions of unresolved civil-conflicts. That is, when the international community cannot successfully address newly emerging conflicts they are likely to result in heightened radicalization in the long run and therewith affect much wider geographies. It goes without saying that organizations like Boko Haram, al-Shabab, or Iraqi al-Qaeda exploited chaotic environments and expanded their spheres of influence when the conflicts in Nigeria, Somalia, and Iraq intensified. For this reason, during the later stages of a conflict cycle, i.e. when the community of nations seeks to address the conflict at hand, the international community has to generate coordinated plans to deal with radical organizations even though it may not want to recognize them as legitimate parties to the peace process. Syria is no exception. The country now harbours an increasing number of radical organizations that will need to be dealt with through de-radicalization incentives in the post-Vienna period.
The recent political road-map provides a significant case that can test how successful we are in abridging the link between de-radicalization and peace-building. Off the bat it can nonetheless be stated that the problem with the current political road-map is that it offers little to push armed groups, including the radical ones, to lay down their arms. According to the road-map, Jordan is assigned to determine the terrorist organizations that will not be added to the list of groups representing the opposition during the negotiations. The main challenge associated with this task is that it adopts a static approach featuring an exclusive character. This risks that those who are excluded will continue to terrorize the country with increased fervor and do their best to sabotage any peace-building efforts.
Vital need for a dynamic approach
Given the abovementioned risk, a dynamic approach, rather than a static one, while still excluding some exceptional groups such as Daesh and al-Nusra, may be more productive. In this sense, groups might be able to find a place on the roster of the official opposition not as a result of what they have done so far, but rather as a result of their willingness to comply with the requests of the international community. Here, certain groups might be able to be removed from the terrorist list, be regarded as a part of the solution process, and not be targeted by the international coalition if they redesign and reorganize themselves in line with certain conditionalities (i.e. by recognizing the outcomes of negotiations, observing ceasefires, laying down their arms, acting in line with the recognized body of Syrian opposition, etc.).
A dynamic approach featuring such conditionalities is more likely to create a form of transformative leverage on these groups rather than turn them into antagonists of the peace efforts as a result of their exclusion. It is also likely that this kind of instrumentalization of the peace process can generate an incentive for some radicals to align themselves with groups of a more moderate nature. However, improper management of the negotiations featuring an overt emphasis on exclusion is likely to push various armed groups into further radicalization as they seek to gain recognition as parties to the negotiations or even simply as relevant actors with a voice.
The rationale for a dynamic approach
For the international community, the rationale for adopting such a dynamic approach is multifold.
First, some actors, particularly Russia and Iran, embrace a very broad definition of "radical-terrorist organizations", and therefore seek to designate as many Syrian groups as they can as such in line with their geopolitical interests. In this way, they aim to deactivate many opposition elements. A dynamic approach could balance these efforts as it would serve to depoliticize the larger process.
Second, over time, the conflict in Syria has become a process in which only those who have radicalized could survive, as the persistent brutality of the Assad regime, Hezbollah, Iran, Shia militias, and Russia has either eliminated or passivized moderate ways of thinking. This renders defining the group of recognized opposition highly challenging; and it is also why there is a vital need to spend more time on forming a functional body of opposition from existing forces and groups. An inclusive incorporation or at least proper management of the opposition is required to ensure a sustainable ceasefire, as many excluded groups fight with substantial territory under their control and even enjoy considerable social bases.
Third, in the absence of a sufficient international commitment to fight radicals on the ground, aside from engaging in ineffective airstrikes, the international community has to find better and innovative ways to transform radical groups, as they are likely to remain in Syria for the foreseeable future. This is a fact that should be incorporated into the peace building efforts, as it is critical to adopt a realistic approach according to realities on the ground. In this vein, it deserves note that the Assad regime is sitting at the negotiation table although its war crimes are no different from those committed by radicals.
To be sure, what is suggested here aims to stir discussions on the realities of peace-building rather than to reflect on absolute problem-solving proposals. It is evident that the current market for ideas on peace-building is sparse, as de-radicalization needs to be reconciled with conflict resolution; and this will only be possible once further mental training enables us to imagine and substantiate potential peace-building processes.
Osman Bahadır Dinçer, Director of USAK's Center for Middle Eastern Studies, Ankara. Mehmet Hecan, Researcher, USAK's Center for Middle Eastern Studies.