HOME
Kremlin: No document to be signed at Putin-Abe meeting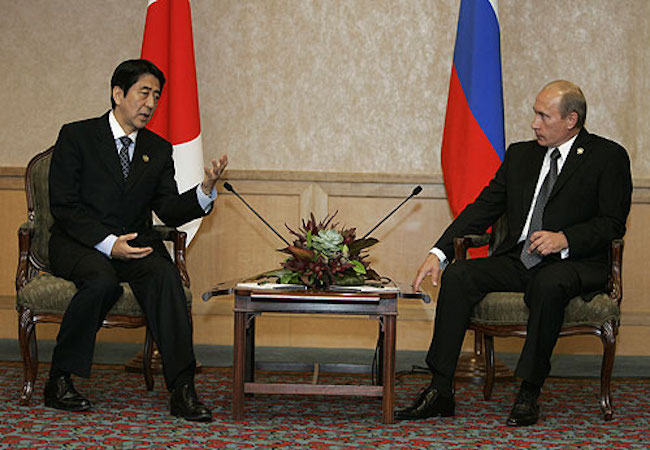 No document will be signed at the upcoming meeting of Russian President Vladimir Putin and Japanese Prime Minister Shinzo Abe, said the Kremlin on Thursday.
Abe and Putin are expected to meet at Russia's Black Sea resort of Sochi on Friday.
The signing of a peace treaty between the two countries is "a complex and multifaceted issue, and can be resolved only on terms that are acceptable to both sides," Tass news agency quoted Putin's aide Yuri Ushakov as saying.
Ushakov said it will take more time to find a final solution to the territorial disputes between Russia and Japan over the Pacific islands that are known as the Northern Territories in Japan and the Southern Kurils in Russia.
The territorial disputes prevented the two sides from inking a peace treaty after World War II.
Problems in Russia-Japan relations could only be solved by "establishing even closer partnership between our countries," Ushakov told a news briefing. "We expect this visit will give a new impetus to development of comprehensive ties not merely in political but also in trade and economy sphere."
Ushakov called for more cooperation in such areas as science and technology and culture, and the establishment of effective interaction on the international arena. The two sides will also discuss the situation in Ukraine and Syria and on the Korean Peninsula, bilateral cooperation within international frameworks such as the United Nations.
Ushakov said the talks would be a chance for Abe to "synchronize his watch" with Putin over key international issues, including the Syrian crisis, which would be discussed during the G7 summit slated on May 26 and 27 in Japan.
Abe was invited to participate in the Eastern Economic Forum to be held in Russia's Vladivostok from Sept. 2 to 3, he said.
The relations between Russia and Japan deteriorated as Tokyo joined the anti-Russian sanctions after the Ukraine crisis.
Japanese broadcaster NHK TV reported Thursday that Abe will offer an eight-point plan on bilateral economic cooperation with Russia when meeting with Putin, including cooperation on oil and gas development and the modernization of seaports and airports in Russia's Far East.