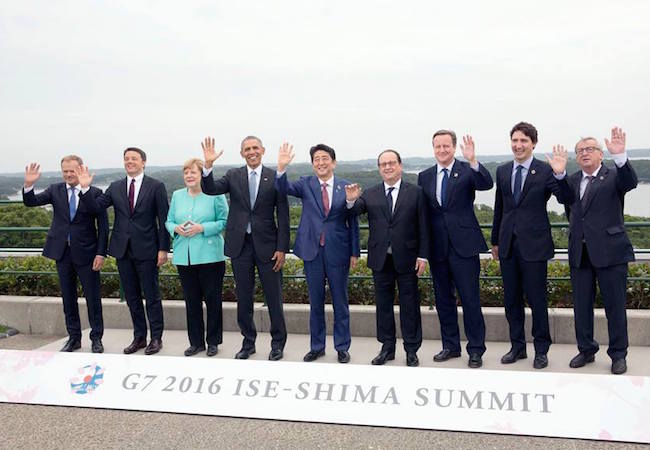 By Dr. Abdul Ruff
After a prolonged conflict  between Russia-G7 (the Group of Seven advanced economies) remaining without any solution so far, now China and G7 are gearing up for a serious conflict which, if not controlled by the big powers, could escalate into a another cold war situation. America's Asia pivot targeting China (and Russia) and China's recent military action on South China Sea (SCS) have now placed G7 and China in a conflictual situation. The G-7 grouping comprises Britain, Canada, France, Germany, Italy, Japan and the United States. The EU is also represented in the club.
The 42nd G7 advanced economies' summit, held on May 26–27, 2016 at the Shima Kanko Hotel in Kashiko Island, Shima, Mie Prefecture in central Japan, criticized and even warned against military operations on SCS. Russia is not a part of G7 as USA abandoned the G8 in March 2014 that included Russia and reverted back to G7. The G7 had then declared that a meaningful discussion was not possible with Russia in the context of the G8. Since then, meetings have continued within the G7 process, denying Russia a place on this important international forum of advanced economies.
Leaders of the G7 said they were concerned by the situation in the East China and South China Sea. They reiterated their commitment to maintaining a rules-based maritime order, according to international law, and urged the settlement of disputes by peaceful means, including judicial procedures such as arbitration. At the close of their formal session in Ise-Shima, G7 leaders fired a broadside across China's bows over its behavior in the region, without mentioning Beijing by name. The foreign ministers had urged all states to refrain from such actions as land reclamations and "building of outposts on South China Sea for military purposes". The G-7 leaders had stressed the importance of peaceful management and settlement of disputes through peaceful means.
Though the communiqué, issued at the end of the two-day summit on May 27, the G-7 did not mention China by name, but it is apparent the G7 is targeting only China. The G-7 leaders also condemned "in the strongest terms" North Korea's fourth nuclear test in January and its subsequent launches using ballistic missile technology. These acts pose a grave threat to regional and international peace and security, they said, adding that they also deplored human rights violations in North Korea. On terrorism, the G-7 leaders said they will continue to work together to prevent the flow of foreign terrorist fighters and terrorism-related materials and equipment, as well as to counter terrorism financing. And, on the migrant crisis gripping Europe, the G-7 "encourages the temporary admission of refugees and establishment of resettlement schemes, to alleviate pressure on countries hosting the largest numbers of refugees".
The G7 demanded that North Korea fully comply with UN Security Council resolutions and halt nuclear tests, missile launches and other provocative actions. The group condemned Russia's "illegal annexation" of the Crimean peninsula from Ukraine. The declaration threatened further restrictive measures to raise the costs on Moscow but said sanctions could be rolled back if Russia implemented previous agreements and respected Ukraine's sovereignty.
The G7 expressed concern over the East and South China Seas, where China has been taking more assertive action amid territorial disputes with Japan and several Southeast Asian nations. The G7 reiterated its commitment to the peaceful settlement of maritime disputes and to respecting the freedom of navigation and overflight. The group called for countries to refrain from "unilateral actions which could increase tensions" and "to settle disputes by peaceful means".
Meanwhile, the refugee crisis gripping Europe is a problem that the whole world must deal with, G7 leaders said, as it called for beefed-up efforts to tackle the root causes of mass migration. The G7 also called large-scale immigration and migration a major challenge and vowed to increase global aid for the immediate and long-term needs of refugees and displaced people.
UN Secretary General Ban Ki-moon, International Monetary Fund chief Christine Lagarde and World Bank head Jim Yong Kim, the heads of the Organisation for Economic Co-operation and Development and the Asian Development Bank also attended the summit.
G7 summit focus on global growth
The Group of 7 industrial powers pledged on May 27 to seek strong global growth, while papering over differences on currencies and stimulus policies and expressing concern over North Korea, Russia and maritime disputes involving China. G7 leaders wrapped up a summit in central Japan vowing to use "all policy tools" to boost demand and ease supply constraints. G7 said, in a 32-page declaration, global growth remains moderate and below potential, while risks of weak growth persists.
Japanese Prime Minister Shinzo Abe said that global growth is their urgent priority, talking up what he calls parallels to the global financial crisis that followed the 2008 Lehman Brothers bankruptcy, said the G7 shares a strong sense of crisis about the global outlook. The most worrisome risk is a contraction of the global economy, led by a slowdown in emerging economies. Abe has stressed the need for flexible fiscal policy to sustain economic recovery, while German Chancellor Angela Merkel has been sceptical about public spending to boost growth. The G7 called global industrial overcapacity, especially in steel, a pressing structural challenge with global implications.
Abe told a news conference after chairing the two-day summit that there is a risk of the global economy falling into crisis if appropriate policy responses are not made. In the broad-ranging, the G7 committed to market-based exchange rates and to avoiding competitive devaluation of their currencies, while warning against wild exchange-rate moves. This represents a compromise between the positions of Japan, which has threatened to intervene to block sharp yen rises, and the United States, which generally opposes market intervention.
The G7 encourages international financial institutions and bilateral donors to bolster their financial and technical assistance. It said that a resolution to Syria's civil war was crucial to plugging the flow of desperate people fleeing across borders. "The G7 recalls that only sustainable political settlements within countries of origin, including Syria, will bring lasting solutions to the problem of forced displacement, including refugees," the communiqué said.
Large movements of people are a multi-faceted phenomenon, which requires addressing its root causes resulting from conflicts, state fragility and insecurity, demographic, economic and environmental trends as well as natural disasters. The statement came a day after European Council President Donald Tusk warned that the crisis was not just Europe's problem.
Later, leaders from 'advanced democracies' met on Friday with representatives of emerging and developing countries in Asia and Africa. The so-called outreach program involves Chad, Indonesia, Sri Lanka, Bangladesh, Papua New Guinea, Vietnam and Laos. G7 host Japan said ahead of the meeting that it would zero in on Asia's stability and prosperity including "open and stable seas" as well as United Nations sustainable development goals, with a focus on Africa.
The leaders pledged to tackle a global glut in steel, though their statement did not single out China, which produces half of the world's steel and is blamed by many countries for flooding markets with cheap steel.
The G7 vowed a more forceful and balanced policy mix to achieve a strong, sustainable and balanced growth pattern, taking each country's circumstances into account, while continuing efforts to put public debt on a sustainable path.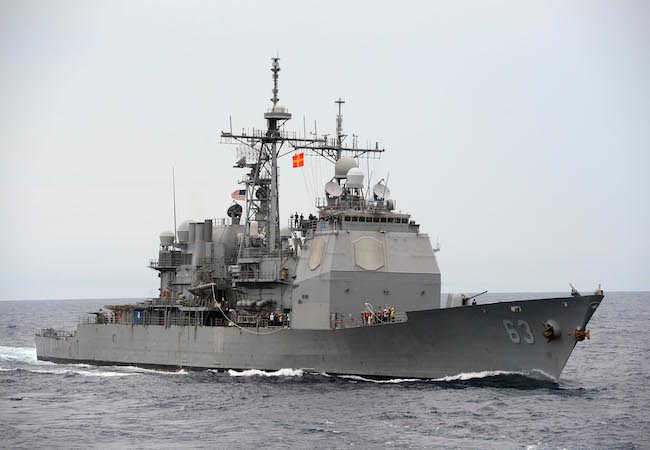 South China Sea
From economic issues, the G7 turned to a topically favourite theme of Chinese 'interference' in South China Sea and it appeared the issue got prominence in discussions than expected.  Beijing has reiterated that it wants to protect itself from any possible US menace to protect its navigational rights on South China Sea.   China is extremely dissatisfied with what Japan and the G7 have done.
The G7 statement angered China and led to Beijing summoning top envoys from the G-7 nations. Beijing lays claim to almost all of the South China Sea, and is now embroiled in a territorial dispute with Brunei, Malaysia, Vietnam, Taiwan and the Philippines over conflicting claims to territory in the waterway. Japan and China are involved in a separate dispute in the East China Sea. Chinese Foreign Ministry spokesman Hua Chunying said this G-7 summit organised by Japan's hyping up of the South China Sea issue and exaggeration of tensions is not beneficial to stability in the South China Sea.
China was not pleased with the G7 stance. "This G7 summit organised by Japan's hyping up of the South China Sea issue and exaggeration of tensions is not beneficial to stability in the South China Sea and does accord with the G7's position as a platform for managing the economies of developed nations," Foreign Ministry spokeswoman Hua Chunying said in Beijing. A ruling is expected soon on China's claims to the South China Sea in a case that the Philippines had brought to the Permanent Court of Arbitration in The Hague. Beijing has lashed out at the tribunal for "abuse of power", and said it will ignore its decision.
China's foreign minister fired a pre-emptive shot at G7 leaders gathering in Japan, warning them not to "escalate tensions" over territorial disputes in the South and East China Seas. Last month, foreign ministers from the G7 angered Beijing by issuing a thinly veiled statement critical of its "island building" activities in the South China Sea over recent years. The issue is expected to be raised again as G7 heads of state and prime ministers begin two days of discussions in Ise-Shima. "We hope the G7 will focus on urgent economic and financial matters," Wang Yi said at a briefing in Beijing. "We do not want to see actions that escalate tensions in the region."
Beijing is locked in a dispute with G7 host Japan over rocky outcroppings in the East China Sea, stoking broader concerns about Beijing's growing regional might and threats to back up its claims with force, if necessary. China, for its part is engaged in a furious diplomatic charm offensive among developing countries, offering aid and trade in what critics see as a naked bid to rally international support to its cause. The roster of countries Beijing claims back its position on the South China Sea includes Mauritania, Togo and land-locked Niger.
Washington is not a claimant in any of the disputes but has accused Beijing of militarizing the contested waters of the South China Sea. Vietnam and the Philippines are engaged in a number of territorial disputes with Beijing in the South China Sea, where the Chinese military has recently completed airstrips and other infrastructure on contested reefs and islets. Manila has successfully rallied international support through its decision to challenge China's actions in a tribunal at The Hague — an international legal challenge that Beijing has refused to recognize.
John Kerry, US secretary of state, said the lifting of the Vietnam arms embargo was not aimed at China, despite an increasing number of close encounters between the two countries' militaries. Even UK PM David Cameron, wants to be now China's "best friend" in the west, urged Beijing to be part of a "rules-based world" and "abide by these adjudications". The Pentagon recently complained that People's Liberation Army jet fighters conducted a dangerously close intercept of a US spy aircraft. Chinese state media reported that USA and Japanese naval vessels had kept a close eye on PLA Navy exercises in the western Pacific.
Meanwhile,  reports say in September Beijing will host Obama, Cameron and Japanese Prime Minister Shinzo Abe at a G20 meeting of developed and developing economies in Hangzhou, where Wan will make clear that his government would not tolerate a debate over regional territorial disputes.  China say the G20's central task is to promote growth and not dispute resolutions.
China fears that Japan and the US will use the G7 meeting to further isolate Beijing over its increasingly assertive posture in the region. The two countries are also leading members of the Trans-Pacific Partnership, a potential trading bloc that has pointedly excluded China from joining as an inaugural member. The reference to maritime issues comes as tensions build over Beijing's claims to almost the entire South China Sea, a strategic body of water that encompasses key global shipping lanes. China's maritime claims and ongoing militarization of islets and outcrops have angered some of its Southeast Asian neighbours, including the Philippines and Vietnam.