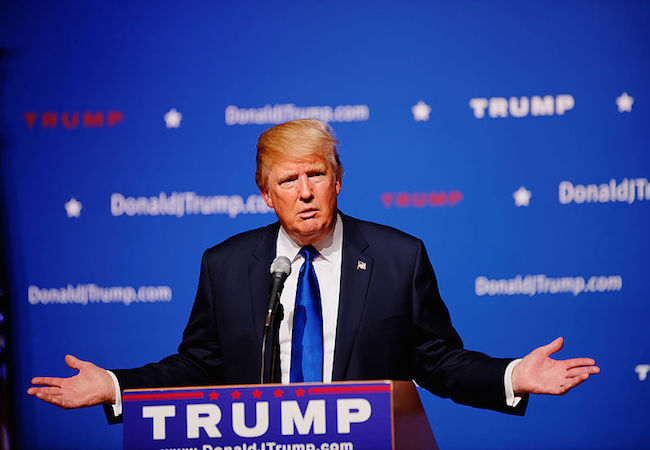 By Dr. Abdul Ruff
The Donald Trump campaign on June 24 Friday released a 35-page booklet attacking Hillary Clinton of impropriety over donations received by the Clinton Foundation over the years.
The presumptive Republican presidential nominee alleged that the Clinton Foundation received funds in 2008 from Samajwadi Party leader Amar Singh and Confederation of India Industry seeking support for the Indo-US civil nuclear deal.
The booklet titled "Top 50 Facts about Hillary Clinton from Trump 'Stakes of the Election' Address" is available for download on the donaldjtrump.com. It heavily cites a New York Times report on the list of donors who contributed to the family foundation managed by former President Bill Clinton.
It is a known fact that American politicians thrive on bribery money being received from abroad for their "services" to those who request, rather beg, for help on Senate and Congress. In fact, US economy depends too much on finances from abroad.
Like in India, American politicians run Foundations and charity organizations in the country to get huge sum from abroad for "special services" they have to render in US government, Congress and Senate in their favor.
Foreigners, including governments, seek the help of top US politicians, Senate and Congress members, apart from the White House bosses, to get the passage of bills that benefit them. Bill Clinton and his party's Senate and Congress members made huge money by supporting the "foreign cases" in the Senate and Congress. Later he founded Clinton foundation to channelize the foreign money flow successfully. .
Not only the USA but entire world is being controlled by the corrupt leaders. In 2008, newly-elected President Barack Obama invited, on prior mutual understanding that ended Hillary's presidential campaigning in favor of Obama as the Democratic candidate, Senator Hillary Clinton to join his cabinet as foreign minister in his cabinet or, as the post is known in USA, as secretary of state. Since Hillary would be involved in drafting America's foreign policy, her husband Bill, also in an agreement reached between Obama and him, released a list of more than 200,000 donors who gave significant amounts of donations to his family foundation.
While the Pentagon-CIA duo is engaged looting the Arab resources, US politicians loot the national resources as well as foreign money.
Entire world pays huge sum to USA to get their "things" done. Not only colonist nations like India and Israel with occupied nations under their belt  pumps in  a lot of money to make USA happy, even European and Mideast eastern Arab nations also  regular make payment sot USA for a series of services they require from USA.
In fact, Arab governments and rulers plus top leaders pay extra money to USA for "taking care" of their wealth and bank money safely. UK premier Tony Blaire lost this job because of a corruption case involving officals in Riyadh. Arab cannot now antagonize America for fear of losing their wealth and bank amounts in USA and UK. .
Obviously, the domestic donors who granted dollars sumptuously for the parties are entitled to get all favors from the new government. In fact these rich donors are treated as special guests by the US president and government. Foreign donors get their "cases" done through the powerful lobbyists. Israel and India maintain strong lobbyist groups in Washington to get what they want from the White House.
It is not a big story that Indian politicians are frauds who betray the people by making money illegally by corrupt ways and even intelligence cannot do anything to block the corruption practices unless the government asks it to probe some body for creating problems of the government. Generally the government does not bother about corrupt politicians so long as they don't become a problem for the government. Also, sometimes, government uses the available corruption information to coerce the politicians to fall in line.
The list revealed that the Clinton Foundation received between $1 million and $5 million from Samajwadi Party leader Amar Singh, then a close of party Chief Mulayam Singh Yadav, who was in Washington to lobby Congress for the safe passage of the Indo-US civil nuclear deal. Samajwadi party was back then as a  coalition partner in the United Progressive Alliance led by the Indian National Congress party led by Manmohan Singh who led a corrupt and insensitive government. Obviously the Congress party, apart from contacting the US lobbyists directly through bribery tactics, it also used Mulayam to bribe the US lobbyists.
Bill reportedly assured Singh that the Democrats would not block the deal in the Congress. In December 2008, Hillary voted in favour of the nuclear agreement between India and USA and the Congress party and government got a shot in its arm by the deal with USA which always opposed India.  . .
The booklet also cites a 2011 Indian Express report on Singh receiving a thank you note from the former US president bill for the big money offered by Indian sources. Without directly mentioning the cash payments, Bill wrote to Singh, thanking for his "gift" of a charcoal stove and briquettes to a family in Haiti, which is facing a severe cholera epidemic after last year's massive earthquake."This year, in your name, the Clinton Foundation gave an efficient charcoal stove and briquettes manufactured from 100 per cent recycled waste to a family in Haiti," Clinton wrote to Singh in the second half of December. "Your gift will touch the lives of people who have been struggling to survive the earthquake and cholera epidemic, and the hurricanes of 2008."
Another article cited by the Trump campaign was an USA Today piece on the Confederation of Indian Industry who gave $500,000 to $1 million.
The Foundation has also accepted funds from foreign governments such as Saudi Arabia, which was the largest donor with a contribution between $10 million and $25 million, and Norway (between $5 million and $10 million). Kuwait, Qatar, the Dubai Foundation, Brunei Darussalam, and Oman donated between $1 million and $5 million each, reported New York Times. Irish Aid, China Overseas Real Estate Development Corporation donated several hundred thousand dollars each. Italy and Jamaica each donated between $50,000 and $100,000.
Interestingly, Americans talk about democracy and freedom exclusively for promoting corruption and imperialist wars. Corruption seems to define democracy of all kleptocracies like USA, India, Israel, etc.
US politicians behave like knotty boys. USA used Pakistan to advance its anti-Islamic agenda in South Asia by attacking and crippling n Islamizing Afghanistan. Now as India pumps in huge money to Washington with a request to contain Pakistan and let Jammu Kashmir stay with Indian occupational forces, Washington insults its ally Pakistan.  Americans want money and money no matter from where. .
Clinton Foundation is just one of the American democratic shames!
Clinton's corrupt practices go hand in hand with her aggressive anti-Palestine and pro-fascist Israeli rhetoric. A hawkish like any Israeli leader, She has no sympathy for Palestine women and children whom Israeli military keeps killing for fun.
Clinton paints herself as the best candidate for Israel and arms manufactures of USA and Israel.
Literally, Hillary equates US imperialism with Zionism and fascism. Clinton addressed Jewish AIPAC's annual policy conference in Washington DC, attacking Republican front runner Donald Trump for saying that he would be "neutral" on the Israeli-Palestinian issue. America can never be neutral when it comes to Israel's security or survival," she stated. "Anyone who doesn't understand that has no business being our president."  She called on the US to bolster Israel's missile defense and work together to create tunnel-detecting technology.
Since legal framework of USA is not strong enough to track all corruption drives, there is no way Americans can elect a genuinely democratic present to govern the USA, guide the world properly but only makes sure the president can control the world resources, routes and bases.
Republicans Donald Trump's attack on democratic Hillary Clinton's moral credibility for presidency is quite valid but so what?  American system allows al these  frauds to  survive and thrive!