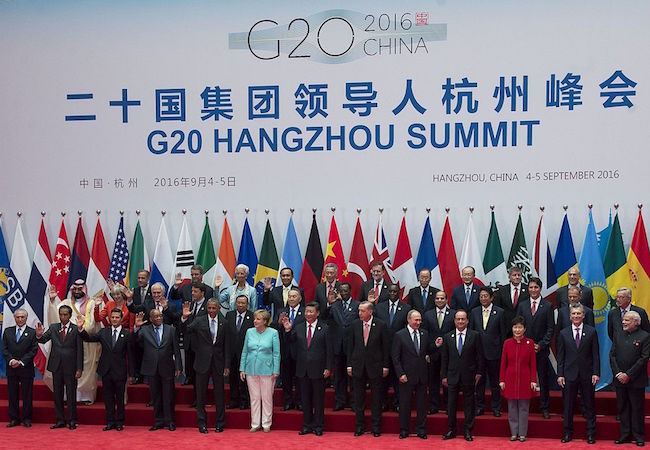 By Zahid Khan
The G-20 Hangzhou Summit sustained at "Hangzhou International Expo-Center" on September 5, 2016— the meeting headed by president Xi Jinping—delivered a closing speech utterly. At the numerous sessions of the meeting, the leaders of G-20 members, international organizations and guest countries exchanged their views on efficient global-economic and financial governance, strapping international-trade and investment, organized development, and mutually negotiated other eminent affairs perpetrate world economy such as refugees, climate change, global public health and anti terrorism financing etc. the summit defunct at 5:00 p.m. Xi Jinping pointed-out enthusiastically in the closing speech that the G-20 Hangzhou Summit has outstretch many significant consensuses during animated and productive negotiation and with joint-efforts of all members, Yang Jiechi, state councilor, briefing the media on the outcome achieved in the G-20 Hangzhou Summit.
Main priority of summit is to re-configure course for the world economy—in light of risks and impeaches confronting current world economy, reinforce macro-policy communication and harmonization, mutual partnership and win-win collaboration—addressed both the manifestation and core causes, fiscal, monetary and an effective policy tools, must be leveraged to send a strong signal of the G-20's commitment to global growth. Hangzhou Summit squeezed to ascertain a new conduit for growth and implant new dynamism into the world economy, Yang said.
Xinhua editorial report stated, G-20 motivates multi leveled innovation in an ample series of domains, including growth and advancement notions— institutional architecture, science and technology innovations and business models at the core— ameliorate the global economic and financial-governance to improve the flexibility of the world economy. G-20 members complied over expansion of the quota and governance-reforms of international financial institutions, and mutually indemnity in the international financial market. They have framed an action-plan on energy access its efficiency, renewable energy and stretch out multiple consent on auxiliary strengthen anti-corruption cooperation.
J. Wattles, CNNmoney reporter stated— to invigorate international-trade and investment as key notion of development and build an open-world economy. G-20 member states worked-out the G-20 Strategy for Global Trade Growth [GTG] and guiding codes for Global Investment Policy making [GIP] which designed the first world-wide frame work of multi-lateral policy governing international investment— our commitment to rebuff the protectionism. We look-forward to improved strength of the global economy obsessed by sturdy international-trade and investment.
President Xi Jinping said, for the first time, we have given priority to the development in the global macro-policy framework— formulated an innovative action plan on the 2030 agenda for sustainable development. Further, G-20 complied to persuade the early-entry into effect of the Paris Agreement on Climate-Change. We have proposed the G-20 program on bolstering the industrialization in Africa and least developed countries and Global Infrastructure Connectivity Alliance Initiative [GICAI], which will allocate physical benefits to mass of the developing.
Further, he emphasized that it is an obligatory to renovate the G-20 from a crisis responding system to a long-term governance mechanism, and spread out its hub from short-term policy response to a long-term policy making. Xi Jinping acknowledged to all parties for their participation and contributions to boosting world economic development of the G-20. Chancellor Angela Merkel of Germany—the presidency of the G-20 in 2017, put forward the visions and plans in hosting the Hamburg-Summit.