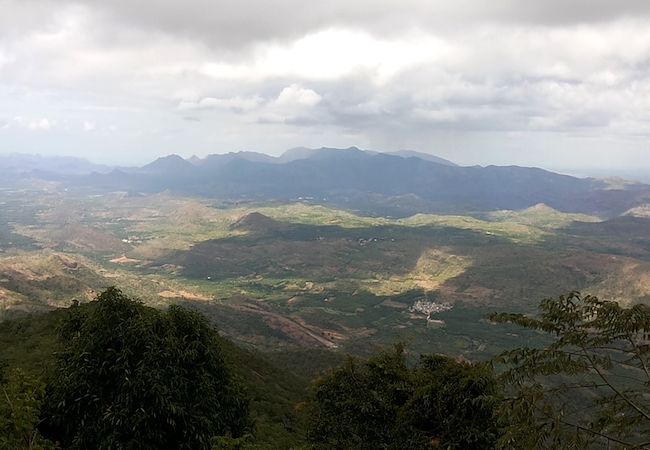 By Abdul Ruff
Now a days, attacks by Sri Lankan military forces on Tamil fishermen fishing in their traditional zones are increasing and their boats are being seized by Lankan government and Tamil fishermen taken to jail as a routine feature. Sri Lankan government seems to have been exploiting the new false "mindset" of keeping its neighbors in good humors so that India could get closer to USA and UN as a tolerant nation. World now knows how intolerant India has been to minorities in the country as well as its nuke rival Pakistan, yet it allows the Lankan attacks on Tamil fishermen.
Officials of Indian and Sri Lankan Foreign and Fisheries ministries will meet in New Delhi on November 5, to find "practical solutions to the problems faced by fishermen of India and Sri Lanka." This was stated in a press release from the Sri Lankan Prime Minister's office, following a meeting between Prime Minister Ranil Wickremesinghe and his Indian counterpart, Narendra Modi in New Delhi on October 28. The two Prime Ministers agreed to make the South Asian Association of Regional Cooperation (SAARC) an effective bulwark against the menace of "terrorism" and to get elected representatives of member countries to play a role in enabling SAARC to realize its full potential. The two PMs also stressed the need to work towards ensuring the maritime safety of the Indian Ocean. A wide range of issues ranging from defense cooperation to economic ties, investment and trade in services, was discussed.
Sri Lanka is unhappy that SAARC has been held hostage to India-Pakistan rivalry and conflicts. Although the Sri Lankan Foreign Ministry had put out a statement virtually supporting India on the issue of the cancellation of the 19th SAARC summit in Pakistan at the behest of New Delhi, Prime Minister Ranil Wickremesinghe said in Auckland, New Zealand that the indefinite postponement of the summit was regrettable and that SAARC summits should be held.
Wickremesinghe said that SAARC has a useful role to play and suggested measures to make it an enduring entity, but at the same time he also warned that Sri Lanka will have to look for other options if SAARC fails to deliver the goods to the satisfaction of its members. This was a message to India which is generally thought to be unhappy with SAARC's formation at the behest of Bangladesh, though India has benefited greatly in SAARC sports, cornering most of medals.
The Sri Lankan PM Ranil Wickremesinghe has also been touting the idea of developing the Indian Ocean region in which he feels, Sri Lanka can play a central and critical role given its geographical and strategic location. Indian Prime Minister Modi responded favorably to Wickremesinghe's proposals for ensuring the survival and viability of SAARC, though it is under pressure to respond strongly to Pakistan's "provocations" through the activation of cross border terrorist attacks. He also welcomed the idea of developing the Indian Ocean as the new economic zone in the Asian region.
Significantly, the two Prime Ministers discussed the controversial subject of trade in services. While both are keen on the inclusion of it in the proposed Economic and Technical Cooperation Agreement (ETCA), there is strong opposition to it from Sri Lankan professionals.
Sri Lankan Prime Minister Ranil Wickremesinghe, who met Prime Minister Narendra Modi, said he has taken up the matter with his Indian counterpart and plans to arrange a meeting of ministers concerned in this regard. Emphasizing the need to resolve the Tamil fishermen issue, Wickremesinghe said unless a solution is found there will be a "lot of problems" for the country's fishermen who are being deprived of their catch. Otherwise, there will be a lot of problems in Sri Lanka," Wickremesinghe said here. He was responding to a query on whether the whole issue of Tamil fishermen has been resolved or not. "We told him that we are arranging for the ministers to come and finalize it and make some progress. Water trawling is a big issue and that is damaging fishes," he said when asked whether the Tamil fishermen issue was discussed with Modi.
Fishermen from Tamil Nadu being detained and their boats getting captured by Sri Lankan authorities has been a sensitive political issue in the state. "Fishermen from both sides are Tamils. The dispute is in the waters where the Sri Lankan Tamil fishermen fish. Generally, we don't keep the Indian fishermen in custody and few were released before I came here. We have not kept anyone but we have to find a solution and that has to come.
Addressing a press conference on the sidelines of the India Economic Summit, SL PM said that fishing in Sri Lankan waters by others is depriving the local fishermen of their catch. "Problem of fishermen is that he can't find money and his catch is taken by someone else. They are coming under pressure," he noted. When asked whether there has been good progress in addressing the issue, Wickremesinghe said there are talks in November. "I hope there is some progress. Lot of pressure is coming on our Ministers," he added.
Earlier this week, 12 Tamil fishermen were detained by Sri Lankan Naval personnel for allegedly entering island waters and later released after a warning.
Earlier, on October 5, visiting Sri Lankan PM Ranil Wickremesinghe met PM  Narendra Modi Sri Lankan Prime Minister Ranil Wickremesinghe will meet Prime Minister Modi in New Delhi Wednesday and discuss several issues of mutual interest. Wickremesinghe, who arrived in the national capital Tuesday on a three-day visit will also call on President Pranab Mukherjee.
Wickramasinghe's visit assumes significance as Sri Lanka was one of the four SAARC member-states which sided with India in pulling out of the SAARC summit, scheduled in Islamabad on November 9-10, following the terror attack on an army base in Uri on September 18 presumably by Pakistan-based terrorists.
External Affairs Minister Sushma Swaraj and some other diplomats also met the visiting dignitary. The Sri Lankan Prime Minister addressed the opening plenary of the India Economic Summit in New Delhi. World Economic Forum is hosting the annual summit which is expected to be attended by various business and political leaders including top policymakers and CEOs.
The Sri Lankan Prime Minister invited Modi to be the Chief Guest at the annual Buddhist Wesak day celebrations in Sri Lanka in May 2017. The Indian Prime Minister did not immediately accept the invitation but said that he will "respond to it very soon."