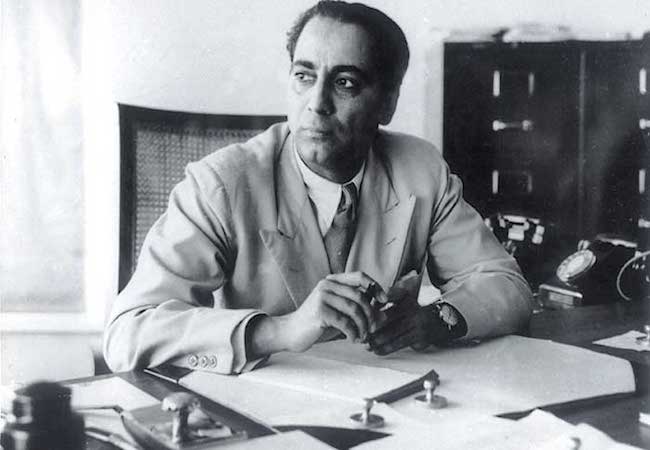 By DR. K. S. Parthasarathy 
October 30, 2016, was the 107th birth anniversary of Dr Homi Bhabha, a great visionary and the architect of nuclear India.
I saw him closely for the first time in July 1964 when he was the chief guest at the graduation ceremony  of the 7th Batch of trainees of the Atomic Energy Establishment Trombay (AEET) Training School.
That day was rather warm and sultry. One of the senior scientists tried hard to arrest a swiveling pedestal fan so that Dr. Bhabha who was on the stage would feel comfortable. The fan did not cooperate. It made a rattling sound.  We were amused. Dr Bhabha showed visible consternation and waved his admirer off.
I saw him briefly on a few other occasions. Once I saw him getting out of his car and admonishing a person who was nonchalantly walking over the well-groomed lawn. I could not hear what he said. It was clear that the unseemly behavior irritated  him.
The last time I saw him was at a meeting held in Trombay to condole the unexpected and untimely death of Shri Lal Bahadur Shastry, the then Prime Minister of India. There was something very poignant about the meeting, which the Department held on the afternoon of January 21, 1966.
When the meeting was over, Dr Bhabha came to know of the sad news of the suicide of Shri Devgun, a young scientist in the Technical Physics Division. He was a year senior to me in the training school.
Dr Bhabha went to the hospital and spent lot of time there. He postponed his journey to Geneva. His schedule was  to leave on that day. He flew on January 26, 1966 in Kanchenjunga. an Air India plane, which crashed on Mount Blanc while on its way to Geneva.
Personally, I had reasons to feel very uneasy about that air-crash. A few days earlier to that fateful day, I visited Kanchenjunga accompanied my friend Mr Seetharaman who was a flight engineer with AIR India. He explained to me the safety features of the aircraft including the mandatory technical and administrative procedures in place to ensure safety.
I had no occasion to interact with Dr. Bhabha. Some of my friends had. During the early years, if any officer resigned, Dr Bhabha used to call him for an interview. My senior colleague Dr A Gopalakrishnan met him before he left for higher studies. Dr Bhabha wanted to know why an officer resigned.
Some of us were amused whenever some senior scientists quoted Bhabha at the drop of a hat. Then we did not know the humongous contributions he made to start a nascent programme and to consolidate its progress on firm ground.
India owes its achievements in the field of atomic energy to the close, cordial and intellectually stimulating relation between Pandit Jawaharlal Nehru, the former Prime Minister of India and Dr Homi J. Bhabha.
They exchanged information periodically. On 4 January 1947, while laying the foundation stone of the National Physical Laboratory at New Delhi, Nehru spoke convincingly on the necessity of atomic research in India.
He asserted that we should not lag behind in this very important matter. He knew that atomic energy would play a vast and dominant part in the future shape of things. It would make power mobile and this mobility of power could make industry develop anywhere. We would not be tied up by accidents of geography.
Visionaries such as Nehru and Bhabha had every reason to dream of large-scale production of nuclear power in India. It was certainly overambitious as this was many years before anyone set up any nuclear power plant anywhere in the world. Then the per capita consumption of electricity in India was paltry at about 14 kWh in 1947!
On April 26, 1948, Bhabha submitted a note to Nehru on the organization of atomic research in India
"The report submitted to you, Mr Prime Minister, on my return from Europe and America collected evidence which made it reasonable to believe that within the next couple of decades, atomic energy would play an important part in the economy and the industry of countries and that, if India did not wish to fall even further behind industrially advanced countries of the world, it would be necessary to take more energetic measures to develop this branch of science and  appropriate larger sums for the purpose.", he pleaded
Bhabha asked for a grant of Rs. one million for the first year! He got it.
Bhabha knew the priorities and the challenges facing the programme
". . . Our immediate programme should include an extensive and intense search for sources of uranium. These geological surveys would take at least two years if carried out in any careful and exhaustive way and it is possible that their result may be negative. In that case, India would either have to depend on an agreement with a foreign power for the purchase of her uranium . . .," The quest uranium continues!
Bhabha articulated his vision on atomic power generation in an amazingly simple and direct way. The half page summary note he wrote to Nehru on 8 August 1954 listed 13 items. Each one of these developed into massive programmes covering all aspects of the nuclear fuel cycle. The list included setting up of the Atomic Energy Establishment at Trombay, uranium prospecting and processing, plants to produce heavy water and beryllium, a uranium enrichment plant, atomic power plants, breeder reactors and a plutonium extraction plant.
He included training and development of labor, supporting and financing research in the universities (one of his favourite themes) and research institutes and developing and promoting the use of tracers in biology, medicine and industry as subsidiary activities. Government must make the notes from Bhabha to Nehru  compulsory reading material for any science administrator.
At the second meeting of the Board of Research on Atomic Energy, the predecessor to the Atomic Energy Commission, held in Bombay on nine and 10 April 1948, Bhabha secured approval for three resolutions; one of which recommended that the government should investigate the feasibility of producing heavy water in India.  He knew the difficulties in executing that programme
"Government should explore the possibilities of utilizing cheap hydroelectric power in India for manufacturing heavy water, on the one hand for our own requirements in a pile, and on the other for sale to other countries.," he wrote to Nehru.
Bhabha proposed   that the government should come to an agreement with the governments or atomic energy agencies of one or more countries such as Great Britain, France and Norway – 'that was the quickest and the most desirable way to develop atomic energy in India', he argued.
He knew that Norway had the knowhow  to produce heavy water, an essential raw material to produce atomic energy. In 1942, Norway was producing 1.5 tons of heavy water annually at its Rjukan plant.
The 'factory should be set up for the purpose under the Defence Ministry and put under the same security measures as the armaments factories of that Ministry'. He wrote driving home the strategic importance of heavy water.
He wanted that 'the heavy water produced should be at the disposal of the Atomic Energy Commission for use or sale'. Clearly, he wanted to thwart a possible future turf war with the army!
Bhabha proposed to Nehru the setting up of a three Member Atomic Energy Commission directly under the prime minister as, 'the present Board . . . cannot be entrusted with this work since it is an advisory body. . . composed of 28 members including officials, scientists and industrialists'.
'Secret matters cannot be dealt with under this organization', Bhabha emphatically asserted.
Soon after the Indian Parliament passed the Atomic Energy Act 1948, the Central government set up the Atomic Energy Commission in the erstwhile Department of Scientific Research on 10 August 1948.
The Commission was exactly as proposed by Bhabha in his letter to Jawaharlal Nehru on 26 April 1948. This was probably the most important development in the field. The Commission has the powers of the Government of India and continues to play a significant role.
The notification issued on 10 August 1948 stated that the Commission has a Chairman, a Member and a Member-Secretary It stipulated that the Commission  would carry the work directly under the guidance of the prime minister.
Bhabha showed his visionary bend of mind quite early in his life. He went to Cambridge in the late twenties. Then he was 18 years of age. His father wanted him to secure engineering degree so that he could join Tata Industries later.
Bhabha loved physics. "But you are not Socrates or Einstein". His father taunted him. He did engineering and physics!
After an illustrious career, he returned to India. Soon the World War broke out. He could not return to England. He accepted a readership in the Institute of Science, Bangalore. With the support of Mr. J.R.D. Tata, he established the Tata Institute of Fundamental Research in Bangalore in less than two months of receiving a grant Rs 45000 from Sir Dorab Tata Trust. Six months later, Bhabha shifted the institute to Bombay. T.I.F.R. was the cradle of India's atomic energy programme.
Dr Bhabha knew that because of paucity of scientifically and technically trained personnel some of the top people would have to do more than one job at the same time.
Dr Bhabha ensured that specialists in all disciplines worked together. The greatest strength of any unit of the Department of Atomic Energy (DAE) lies in its multi- disciplinary background.
Dr Bhabha argued effectively against outdated government rules and procedures. He provided cars for the scientists on a 24-hour basis; he arranged lunch and dinner for them in the reactor building at Trombay from an appropriate restaurant. Government regulations were against these provisions. Bhabha wrote to Nehru that such rules and regulations are not suited for executive work, which is to be done at speed, and under pressure. Nehru agreed.
"There are already oral contraceptives known, but they are relatively expensive and required to be used systematically and precisely…. The problem of getting every villager in over 600 thousand villages in India to use them systematically would be quite enormous. If on the other hand, some substance could be developed which when mixed with an ingredient of one's daily diet such as rice, grain, or salt would have the effect of reducing the chance of conception by 30%, the problem would be immediately solved. I have no doubt there are many who will hold up their hand in horror at this suggestion."
You may attribute these   statements to Mr Khushwant Singh or to some eminent demographer. Certainly not to Dr. Homi J. Bhabha, who made these suggestions at the sixth International Conference on Planned Parenthood. Homi Bhabha was a multifaceted personality.