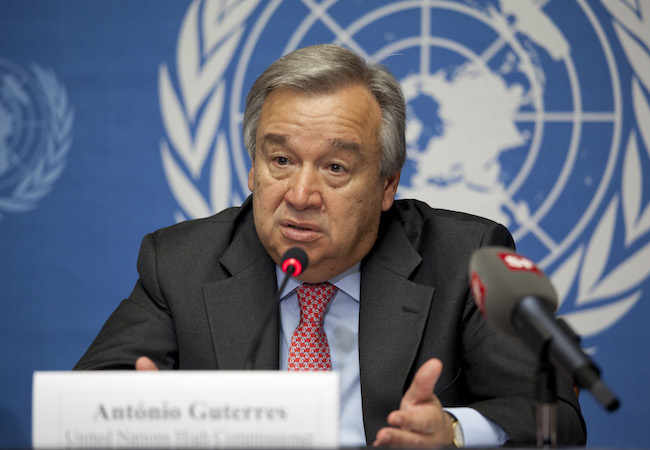 By Dr. Ghulam Nabi Fai
"The UN wasn't created to take mankind into paradise, but rather, to save humanity from hell. ' Dag Hammarskjöld, 2nd Secretary General of the U.N.
May I take this opportunity to offer you, Mr. Antonio Guterres, on behalf of the 'World Kashmir Awareness' and its members sincere congratulations on your election as the ninth Secretary General of the United Nations. The unanimity of the Security Council is indicative of their wisdom in believing that you are an ideal candidate with the character, vision and talent to face the growing challenges in an ever-expanding global community.
May I also be permitted at the same time to raise the tragic and unresolved question of Kashmir with you briefly. I would hasten to add that while we are fully aware of the multiplicity of issues that you will be devoting your time and attention to in the months to come, you may perhaps like to remember that Kashmir is not a new issue, having been in the agenda of and in the cognizance of the United Nations for nearly 70 years. Ironically, it is the only entity in the Sub-continent of South Asia, which has so far been denied the opportunity to determine its political future. This lapse, which represents a great historic injustice, deserves to be made up far.
Most impressive to us is a statement you made in your address to the United Nations General Assembly on April 4, 2016 when you pointed out that "It is widely recognized that there is no peace without development and no development without peace; it is also true that there is no peace and sustainable development without respect for human rights."
Priorities can often be skewed in balancing these objectives, and we feel that this has been the case in overlooking the serious human rights violations that have occurred in disputed territory of Kashmir. It is often suggested that if people had jobs, there wouldn't be such turmoil and rebellion in the streets, but when the human rights of Kashmiris are so consistently violated that such suffering becomes the norm, our leaders seem to forget that the pain of losing one's son to a bullet or having the honor of one's mother or sister violated cannot be replaced with a job at an electronics factory. The cry for self-determination has become deep and immersed in a bitterness that has no substitute.
As you have pointed out, all United Nations "signatories decided to abide by its purposes, principles and provisions to "achieve international cooperation in solving international problems. " Kashmir has been and continues to be a major flashpoint between two nuclear-armed countries. This can never be, as India maintains, a bilateral issue between India and Pakistan. This has an international dimension that deserves the attention of the U.N. and the global community.
The United Nations High Commissioner on Human Rights offered to send a fact-finding mission to Kashmir in September 2016 during the height of the latest outbreak of violence, but India refused to permit this. What better time would there have been for a signatory to the United Nations Charter, pledging to uphold its highest principles, to have shown its commitment to international peace and to the special role the United Nations could have played in resolving this conflict? Such a refusal makes a complete mockery of such commitments, democratic values and universal principles.
Such a fact-finding mission would probably fall under provisions of Article 40, Chapter VII of the Charter, and a failure to comply should have invoked Article 41. But the Security Council did not respond accordingly, clearly implying that the United Nations is not taking its responsibilities seriously. As you have so clearly stated, the United Nations "is the essential instrument of member States to confront common challenges, manage shared responsibilities and exercise collective action, in an enduring quest for a peaceful, inclusive and sustainably developed world, in which international law and the dignity and worth of the human person are fully pursued." If the United Nations does not assume such a responsibility, then whom can "those that are the most vulnerable, victims of conflict, terrorism, human rights violations and poverty" turn to?
As a native of Portugal, you are no doubt familiar with the seizure of Goa in 1961, a state formerly part of the sovereignty of Portugal. There are similarities between India's actions toward Goa and its current behavior toward Kashmir. Portugal sought to secure a referendum in which the people of Goa would decide the fate of that state, when the issue arose over India's claim to it. India instead used force to take it, despite international opposition to military alternatives. Such is the case with Kashmir. A plebiscite has been promised to the people of Kashmir since 1948, but through various ploys, India has not permitted it, and now claims that Kashmir is an integral part of India.
Such a claim has prolonged and exacerbated the conflict between India and Pakistan, despite the fact that the United Nations has passed several resolutions in support of self-determination for the people of Kashmir. This is a matter that urgently needs intervention and resolution by international bodies. The alignment of states on both sides for and against India has serious global implications and poses the threat of another nuclear war. We believe that as the new Secretary General that you will recognize as we do the importance of the United Nations in addressing this matter and its supreme urgency.
As you have so eloquently stated, "we need a surge in diplomacy for peace. Under the guidance of the Security Council and in accordance with the Charter, the Secretary General should actively, consistently and tirelessly exercise his good offices and mediation capacity as an honest broker, bridge builder and messenger of peace. Full use should be made of the Organization's convening power, as a forum for dialogue, to ease tensions and facilitate peaceful solutions."
There cannot be a better agency than the Secretary General of the United Nations himself to mediate or facilitate between the parties concerned. Secretary General has no ambition to assert dominance while as great powers do. Mediation by the Secretary General would be free from the jealousies and the ambitions that characterize individual initiative. The Secretary General will have to remain under no obligation to please any particular power or particular set of powers or groups. Yes, there will be resistance from India but if India is impressed with what she would gain by a just settlement of the Kashmir dispute, her negativity may not be insurmountable.
It is an impartial third party, especially of the eminence of the Secretary General that can fully convince India the benefits India would have from the just settlement of the Kashmir dispute.
Dr. Ghulam Nabi Fai is the Secretary General of World Kashmir Awareness