OPINION
Tamil Nadu politics: CM O Panneerselvam revolts against Sasikala, says he was forced to quit and Jayalalithaa wanted him to be CM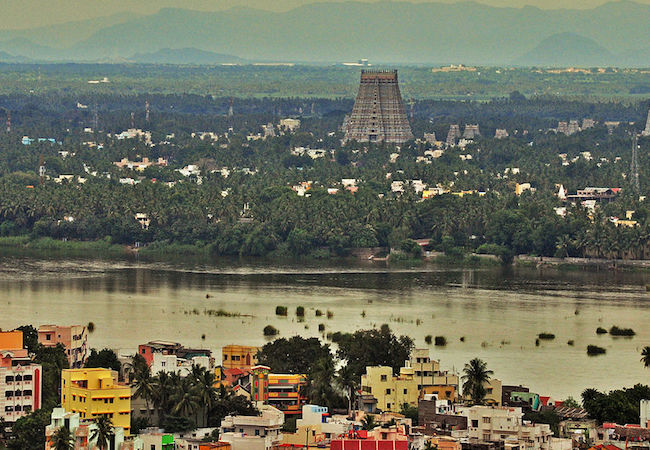 By Abdul Ruff
Sasikala's swearing in has been postponed as Governor Rao has not come to Chennai to administer it to her. Meanwhile there are petitions in the Supreme Court pleasing to stop Sasikala's swearing in, citing the pending Supreme Court judgment in her disproportionate assets.  Supreme Court has said the case judgment has been finalized and judgment would be delivered in a week.
Tamil Nadu CM OP Panneerselvam said on February 07 that he was forced by Sasikala to resign and  he led a sensational revolt, saying his conscience was pricked and Jaya's spirit spoke to him. He was quoted saying by CNN-News 18: "Jayalalithaa's spirit asked me to reveal some truth to the people of Tamil Nadu." He also said that Jaya had asked him to pick someone that the people would accept. O Panneerselvam said that only a popular leader should become the CM virtually throwing the gauntlet against Sasikala.
After virtually staying in the background in the wake of the death of AIADMK supremo Jayalalithaa, former Tamil Nadu chief minister O Panneerselvam today came into the spotlight by first visiting Jaya's mausoleum in an unscheduled visit, sat in silence for over 15 minutes and then approached the media and made some sensational revelations, the most important of which was that he would take back his resignation. Saying that during Jaya's 75-day treatment, when her health deteriorated, he was told that her health was 'very bad' and that the 'party, government and Tamil Nadu must be saved'. Panneerselvam said that 'I told them that Jaya is still under treatment, what was the big hurry.' However, he said that 'I was told that emergency decision must be taken. I heeded that decision.'
Saying that the spirit of Jayalalithaa was guiding him to speak the truth, Panneerselvam said Uday Kumar wanted Sasikala as chief minister. He said that he approached Sasikala and asked her 'how partyman can speak against the chief minister?' Panneerselvam said he took decisions that he did to ensure the party was not split.
Amidst growing revolt against appointment of VK Sasikala Natarajan as the Chief Minister, incumbent chief minister O Panneerselvam has joined the revolt. After paying homage to Jayalalithaa at her memorial on Marina Beach where he meditated for 40 minutes, he said that he was forced to resign as CM to make way for Sasikala.
After the sudden demise of Jayalalithaa, O.P.S. has not spoken much as he visibly pained by his leader's departure. He also said that when Jayalalithaa was hospitalised, she had asked him to take over the governance of Tamil Nadu.
Clad in a white shirt and dhoti, and sporting his trademark holy ash and kumkum, Pannir sat on the floor inside the burial site enclosure in a traditional meditating posture on Tuesday. Later while talking to reporters, he claimed that Jayalalithaa's spirit spoke to him and asked him to reveal the truth to people.
Earlier in the day, senior AIADMK leader PH Pandian raised suspicion over Jayalalithaa's death claiming that she was murdered. On the other hand, a PIL was filed in Supreme Court on Monday restraining the swearing-in of Sasikala which was earlier to be held on Tuesday. Governor Ch Vidyasagar Rao had also cancelled his trip to Chennai on Monday stating that he was waiting for Supreme Court to take a stand on the case.
Panneerselvam had on Sunday tendered his resignation from the post of Chief Minister citing 'personal reasons' and setting the stage for takeover of Sasikala, who was elected as Legislature Party leader earlier that day.
Panneerselvam to remain interim CM until governor examines legal implications regarding Sasikala's appointment.
O Panneerselvam said:  – I have performed my duty without any shortcomings and carried forward path shown by Amma. – When she was in the hospital I asked her, she (Jayalalithaa) asked me to take over as CM. – When I was the CM, Revenue Minister RB Udhayakumar, said Sasikala should take over as CM. – I was given the CM post but insulted continuously. – At a meeting at Sasikala's place senior party leaders were present and question of her being CM was addressed. I asked how far this was justified. – Party leaders said I have to take initiative towards making Sasikala CM that's how I was forced to tender resignation. – I am saying these facts in front of you to make things clear in public I will continue to struggle. – I will take back my resignation if party workers and people ask me to.
Pannerselvam has said he would withdraw his resignation from CM post.
Meanwhile, an emergency cabinet meeting has been called at Sasikala's Poes garden residence. Panneerselvam has been removed from the post of treasurer of AIADMK by Sasikala as general secretary of the party and reports suggest eh may even be suspend from primary membership of the party so that AIADMK leaders do not switch their allegiance to him.
It has also been reported that Governor Vidyasagar Rao who was to fly to Chennai tomorrow, has cancelled his visit.  Sasikala Natarajan will not be sworn in as Tamil Nadu CM on Wednesday.
TN opposition leader and DMK's working President Stalin said there is mystery behind what is happening in AIADMK.  He said his suspicion about Pannerselvam being sidelined in the party has been proven today with his outburst.
One thing is clear. Many AIADMK leaders were not happy that Jayalalithaa chose OPS in preference to other 5 senior ministers in the cabinet to be in charge of the state as acting CM when the court had sent her to jail on disproportionate assets case in which Sasikala is also charge sheeted.
BJP leader S. Swamy said the president Pranab should step in to  clear the mess in the state while other BJP leaders and DMK suggest  majority of OPS should be tested on the floor of the House .