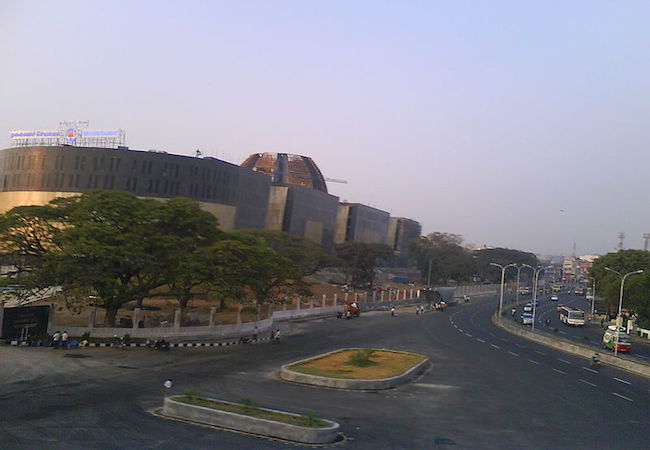 By Abdul Ruff
Clearly, the AIADMK founded by actor turned politician MGR and later developed by actress turned politician Jayalalithaa has been split between MGR-Jayalalithaa faction led by Panneerselvam and Sasikala faction led by Palanisamy now working against Jayalalithaa and her favorites like Panneerselvam and Pandiarajan. Sasikala faction is now represented by Palanisamy faction, now ruling the state on doubtful support of majority of AIADMK MLAs.
People wonder as to how could Sasikala claim the party and government without any work for the party and how could the governor allow her to dictate terms to TN assembly? Doesn't it make democracy a mockery?
Not only the multinational corporates, under world bosses but also frauds and criminals in Jails can control the governments in India. Fraud Sasikala is exploiting the convention too well. Sasikala faction now controls the wealth left behind by Jayalalithaa and many of anti-Jayalalithaa leaders have been given posts in government and party. People hate Sasikala faction and the Palaniswami government which, they think, does not enjoy actual majority.
It is indeed strange Sasikala, a convicted criminal who cheated the pubic of crores of money and is undergoing punishment in a Bangalore jail still controls the government Sasikala is not an elected MLA or MP as Jayalalithaa did not let her become one of them because of deficit of trust in her.
Sasikala was not known outside Poes garden as a distrusted private assistant to Jayalalithaa to help her mint money and wealth illegally, except in illegal and disproportionate asset case. Upon Jayalalithaa's unnatural death, Sasikala came out openly to claim party leadership and government and asked the AIADMK party functionaries to call her mini-mother (Chinnamma).
And all of a sudden fearing the party losing power they, including CM O. Panneerselvam just began calling a corrupt Sasikala s their Chinnamma. However, gradually CM O. Panneerselvam realized the Sasikala's hidden plan of replacing all Jayalalithaa favorites with her own persons, including her relatives whom Jayalalithaa had removed from posts earlier. OPS resigned not known the hidden agenda of Sasikala. Later, however, he began revolt against Sasikala's plan to control the party and government. Sasikala is executing her pet project of taking revenge on Jayalalithaa who refused to offer her any party or government post.
Sasikala is a fraud of international standard and a criminal who is jail not for her services to Tamils but for the crimes she committed against them by minting illegal wealth that indeed belongs to people of Tamil Nadu. AIADMK members must shed Sasikala and work for a joint party under Panneerselvam or any other true leader who has concern for the people and state.
Supreme Court sent Sasikala to jail, denying her the privilege of becoming TN CM to control the state's wealth and people. But the Governor Rao allowed her to rule the state by proxy Palaniswami by not insisting on a secret ballot. Palaniswami is sure of winning a secret trust vote.
Before she began serving the remnant three years, 10 months and 27 days sentence in a Karnataka prison this evening, in a surprise move, Sasikala reinducted her close relatives T T V Dinkaran and S Venkatesh into the party, five years after their expulsion by AIADMK supremo and the then chief minister J Jayalalithaa. Sasikala appointed Dinakaran, her nephew and former Rajya Sabha member, the deputy general secretary of AIADMK, a move seen by many as an attempt to hand over the party's control to him till her return from jail.
Can a criminal undergoing punishment be allowed to rule a state even by proxy? By allowing a state criminal to rule from jail by proxy, does not Indian system allow corruption crimes to grow with state backing up?
Palaniswami, on Wednesday met the Governor with his camp claiming support of 124 of the party's 134 MLAs. Fisheries Minister D Jayakumar, who was among those who accompanied Palaniswami, claimed the group has the support of 124 MLAs. Tamil Nadu has a 234-member legislative assembly. But only 122 MLAs supported the trust vote. Palanisamy has forged a Boeing cabinet of whopping 31 ministers to appease by giving berths to those how oppose him.
The Governor had earlier kept his decision pending as the verdict in the disproportionate assets case against AIADMK general secretary V K Sasikala, a claimant for chief ministership, was due to be announced by the Supreme Court, which delivered it on Tuesday, restoring her conviction and sentence, which shattered her hopes of occupying the top seat.
Yes, the political deadlock in Tamil Nadu seems to have come to an end with Governor Ch Vidyasagar Rao on February 19 Thursday inviting Edappadi K Palaniswami, belonging to All India Anna Dravida Munnetra Kazhagam (AIADMK) general secretary VK Sasikala Natarajan's camp, to form the government. The Palaniswami-headed ministry was sworn-in on Thursday.
Now Sasikala family with criminal records rules Tamil Nadu. The (mis)rule of Sasikala family is setting in Tamil Nadu. Ending the 10-day impasse over government formation, Governor Ch Vidyasagar Rao asked Palaniswami to form the government at the earliest and seek a vote of confidence in the assembly within 15 days.
Clearly, Sasikala by her selfish agenda is trying to end AIADMK rule in Tamil Nadu and bring back DMK rule.
A day after Sasikala was sent to prison in Bengaluru to serve sentence in the disproportionate assets case, the governor again met Palaniswami at Raj Bhavan on Thursday morning and invited him to form the government.
A Raj Bhavan press release said that the governor had appointed Palaniswami, headquarters secretary of AIADMK, as the Chief minister of Tamil Nadu and invited him to form the ministry at the earliest. "This is in acceptance of the letter submitted by Palaniswami on February 14 that he was elected as the Leader of the AIADMK Legislature party in a meeting of the party MLAs held on that day," it said.
The governor has also requested the Chief Minister Designate to seek a vote of confidence of the Assembly within fifteen days. On Saturday, Palaniswami won the trust vote by a 122-11 margin after the eviction of DMK members and walkout by its allies, amid stormy scenes during which mikes were uprooted, chairs toppled and sheets of papers torn and hurled around.
O. Panneerselvam gave a representation to the Governor claiming 'majority' support and seeking an opportunity to demonstrate it. The Panneerselvam camp has alleged AIADMK MLAs were held at a resort on Chennai's outskirts against their wish.
While O Panneerselvam has managed to win over 10 odd MPs and some MLAs, Sasikala has been able to rally the support of an overwhelming majority of AIADMK MLAs.
Governor Rao's decision to ask the Sasikala proxy to form the government has opened a Pandora box, both legal and moral.
A day after appealing to Tamil Nadu Governor Ch Vidyasagar Rao to 'nullify' the vote of confidence won by Sasikala loyalist EK Palaniswami, DMK on February 20 Monday moved Madras High Court challenging the trust vote. The case will be heard on Tuesday.
DMK's MLAs were en masse evicted from the state assembly before the voting on the Confidence Motion. They have alleged that the trust vote was adopted by contravening the rules of the state assembly. The Opposition party has also announced a state-wide hunger strike on February 22, protesting what it called was "murder of democracy".
In a representation submitted to Rao, Stalin, also the Leader of the Opposition in the assembly, urged him to "nullify the entire proceedings" to "protect the spirit of democracy and the Constitution".
Meanwhile, Rao has sought a report from the Assembly Secretary on the unsavoury incidents witnessed in the House when Chief Minister Edappadi K Palaniswami won a trust vote. The report shall be complete with all documentary and videographic evidence, it has been indicated by the Governor. Tamil Nadu Legislative Assembly Secretary AMP Jamaludeen has been asked by the Governor to submit the report.