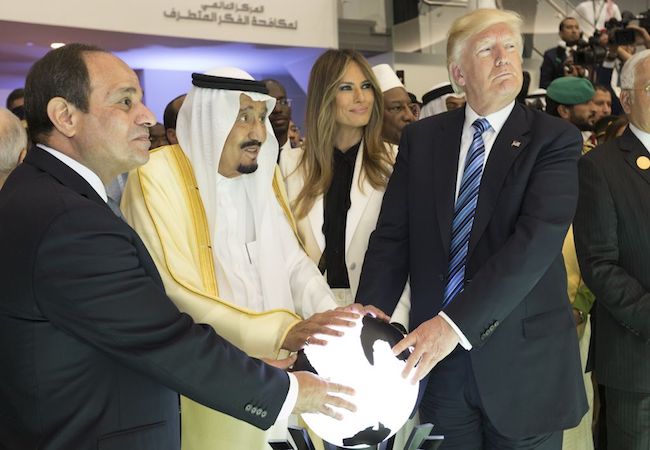 By Damien Dean
After it became clear that Donald Trump would take the presidential seat in the United States, countries in the Middle East, at least majority of them, have suspired with a sign of relief. Indeed, Obama's legacy does not ring pleasant music to ears for many of the heads of states in the Middle East; rather, it reminds a horror story where Russia and Iran are the two most likely protagonist that shape the course of events.
Despite his bombastic—and at times fascist—rhetoric against Islam and the Muslims throughout the presidential campaign and practices afterwards, Mr Donald Trump changed this discourse diametrically as soon as he put foot on the soil of the Middle East to start a "new chapter" between the Arab countries and the United States. In his first foreign visit, Mr Trump addressed the leaders of Sunni majority countries in an event hosted by Saudi Arabia in that he revealed, though loosely, his vision for the Middle East. Yes, his speech gives strong hints as to what kind of Middle East Mr Trump envisions. However, given his unpredictability and mobilizing this trait as an instrument of foreign policy, one should not rush for quick conclusions. Nonetheless, it is safe to state that security and commerce—the two most obvious parameters of Mr Trump's New Middle East—will be around for some time to come.
Mr Trump's Middle East is composed of coalition of nations "who share the aim of stamping out extremism" and seemingly their sponsor countries. To achieve this objective, a few concrete measures have already been taken. Mr Trump announced $ 110bn worth weapon sell to Saudi Arabia and the creation of a Terrorist Financing Targeting Centre and Global Centre for Combating Extremist Ideology. From these announcements, it is not hard to recognize that he is following the footsteps of George W. Bush who created "axis of evil", a doctrine that divides countries based on their support to extremist ideologies. Unlike interventionism in the Bush era, Mr Trump repeatedly emphasized that "driving out" Islamist extremism solely depends on the will of the Muslim majority countries, not any other big brother's long arm. That came to fruition quickly. Almost two weeks later from this landmark meeting, Saudi Arabia, UAE, Egypt, and Bahrain announced that they would cut their diplomatic ties with Qatar whom they accuse of supporting and funding extremisms and radical Islam.
Though radicalization amongst the Sunnis are more much higher than the Shias, Mr Trump has chosen to link terrorist activities to Iran, which just came out of a new election with Hassan Rouhani being re-elected, who has pioneered the historic nuclear deal between Iran and P5+1. In his speech, Mr Trump branded Iran as a terrorist sponsor country that provides safe harbour, financial backing, and social standing for terrorists. Therefore, in the new Middle East there will be an axis of not evil but of Sunnis against Iran to stop the ever-increasing leverage of Tehran in the region.
The axis of Sunnis seems to be embodied in a form of an alliance which looks like an Arab-NATO. With this move, Mr Trump aims two things: having an upper hand in the Middle East and reducing the financial burden of responsibility for the United States—though such coalition will be dependent on its lavish arm sale to the members of this pseudo Arab NATO.
Trump's and Erdogan's Clashing Visions in the Middle East 
Hopes were high in Turkey, too, when Mr Trump became the 45th president of the United States, beating his rival Hillary Clinton, who was very lenient towards the Democratic Union Party (PYD) and the People's Protection Units (YPG), Kurdish political and military formations aiming to secure an autonomous region in chaos-engulfed Northern Syria and Iraq.
Turkey, a fierce opponent of the Assad regime, tested the U.S.' alacrity in combatting against the Assad regime. Turkey at first wanted to cooperate with the United States in a framework called "train and equip". Agreements were signed, soldiers trained and equipped. However, members of Free Syrian Army have never been a convincing military force for the U.S. to depose Assad. The U.S. then has shifted its priority from overthrowing Assad to obliterate ISIS. And for this task, the Kurdish militia was deemed as the most capable proxy by the United States. Meanwhile, Turkey's priority remained the same; therefore, it had to act unilaterally with the Free Syrian Army to achieve its objectives in Syria.
Just like the Obama administration, the Trump administration seems as enthusiastic to provide support for the Kurdish militia. Though the U.S. pledged that the arms given to YPG will not be used against Turkey, it is hardly assuring. Given Mr Putin's apathy to heed Ankara's demands in Syria and the US's sympathetic stance towards the Kurdish militia, Turkey will play the game of lone wolf in the short term in Syria. The exclusion from the Raqqa operation even reinforced this belief to which Turkish Prime Minister Binali Yıldırım stated that "our American friends think that they can fight a terrorist organization by supporting another one" in the liberation of Raqqa, ISIS's stronghold and the de facto capital.
The second move of Mr Trump's in the region have exacerbated the situation for Turkey. Though an axis of Sunnis against Iran might seem ideal to curb Iran's expansive influence in the region and serve the Turkish interests in the short term, it might not be the best policy for Turkey in the long run. Indeed, the diplomatic blockade imposed upon Qatar as part of this policy might prove to be too much of a headache for Turkey.
Despondent by the diplomatic blockade of the Gulf State as well as Saudi Arabia and Egypt against Qatar, Turkey was quick to choose his side against the coalition efforts against Iran. Rushing to save the isolated Qatar by providing food supply and ratifying a bill that mandates the deployment of Turkish troops to Qatar, Mr Erdogan sent a message to the world that Emir Tamim bin Hamad Al Thani is not alone.  This is hardly surprising given Qatar, who is listed as a privileged country by the Ministry of Economy Turkey, and Turkey enjoys very strong economic ties whose trade volume exceeds $700m annually. Also, Turkey's first military base outside of its territory is located in Qatar.
Given Trump's willingness to play the role of mediator in this crisis, it is very likely that the diplomatic blockade has been fabricated to give a message the Qatari Emir to revise its priorities in foreign policy without really punishing Qatar. Therefore, Mr Trump's divisive policies in the region force countries to take a side, limiting their potential to craft independent, autonomous foreign policy.
A Few Suggestions
Turkey should oppose any kind of sectarian schism and its would be bi-product Sunni-coalition against Iran. Policy makers should device policies that transcend sectarian schisms because such an anti-Iran alliance based on Sunni/Shia division would in the long run will cause more instability and deepen the sectarian conflict in the region.
As part of anti-Iran policy, Turkey's adamant support for Qatar might backfire if parties involved in the crisis fail to come up with a solution. Therefore, Turkey's priority should be resolving the crisis by not siding with any of the parties but by ramping up its mediatory role.
Branding the efforts to limit Iran's influence based not on religious sects but on real-politics terms will allow Turkey to avoid Sunni/Shia dichotomy. Turkey should therefore foster its relationship with Israel to minimize Iran's growing influence in the region. Though a close military alliance with Israel seems non-realistic at the moment, the revival of this possibility should be considered attentively.
The hardest challenge for Turkey remains to be Syria. The developments in Syria indicate that the Assad regime here to stay. Therefore, Ankara should formulate policies that are more relevant to the realities on ground.