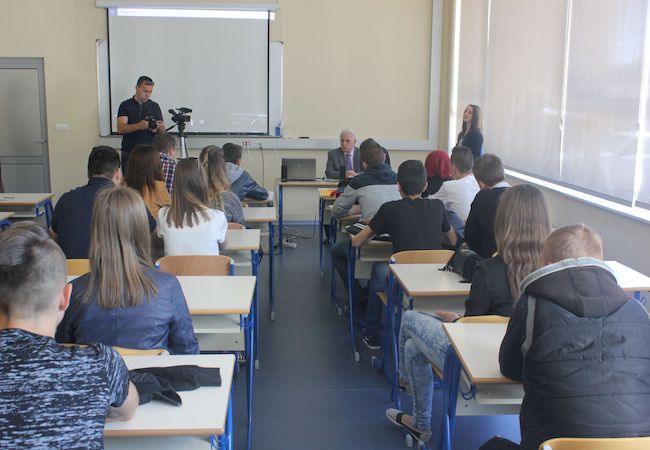 By Peter Tase
Under the framework of mission and vision of the International University Travnik, and the leadership of its Chancellor Academician, Prof. Dr. Ibrahim Jusufranić, globalization events and regional conferences have been at the forefront of this premier university in Bosnia and Herzegovina.
In addition to numerous lectures organized in the fields of Intercultural communication under the auspices of the Erasmus + academic mobility program, Dr. Sci. Sabahudin Hadžialić, IUT professor of communications delivered on June 3rd, 2017, a keynote lecture at the main conference hall of Kazimieras Simonavičius University in Vilnius, Lithuania, focused on the role of media in the democratic society and established a permanent intercultural communication with faculty and students of this institution, as the only way possible to establish projects of cooperation as well as solve conflicts and disagreements that the world is facing today.
Moreover, Dr. Sci. Sabahudin Hadžialić held individual meetings with students and faculty of KSU, as well as students from Italy Annalisa Sanfilippo and Lorenzo Ligas, who are studying in Lithuania supported by the Erasmus + Program.
Dr. Sci. Sabahudin Hadžialić, held a meeting with Prof. Dr. Javed Imran from Pakistan, Vaive Poškaite Tomaševič, International Coordinator of KSU; the focus of conversations was on strengthening knowledge on the educational systems, policies of the three countries, Pakistan, Lithuania and Bosnia and Herzegovina.
On his meeting with Prof. Vaive Poškaite Tomasevic, Dr. Sci. Hadžialić set the course of close cooperation between the International University Travnik (IUT) and Kazimieras Simonavičius University in Vilnius.  Thanks to this partnership, next March 2018, there will be a series of lectures delivered by legal experts of IUT:
Alisa Salkic, MA, will address current challenges of International Law, Constitutional law through the lens of Comparative Law and Public Policies; Selma Otuzbir, MA, will share a series of lectures on the Roman Law.
Furthermore, Ms. Lejla Skopljak, PR of IUT, will be visiting Vilnius, to acquire new professional experiences and training in public relations within the international context and be exposed to new visions of Public Relations.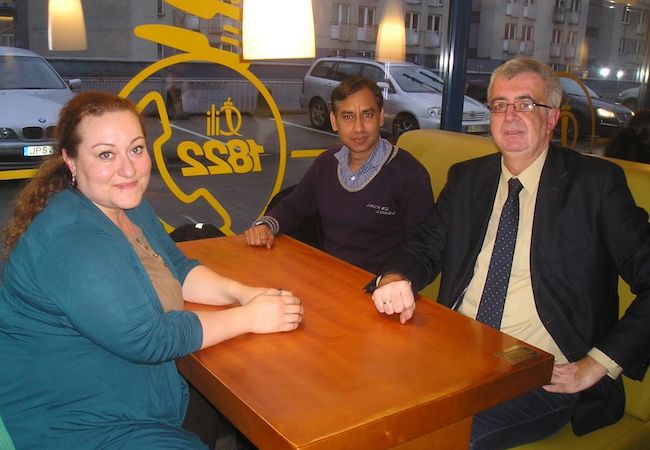 In April 2018, Ms. Adela Mujinović, IUT Officer for Student Affairs, will also be conducting a series of visits and meetings with KSU colleagues to get acquainted with aspects of student support services at KSU.
On June 5th, 2017, the International University Travnik established its Open Doors Day, focuses on stretching community relations and contributes towards strengthening education policies in Bosnia and Herzegovina.  This event enabled all High School students of Middle Bosnia Canton and international students to become familiar with the university education in the region.  In this event, Chancellor of IUT, Prof. Dr. Ibrahim Jusufranić provided all the necessary information about Colleges and Departments of IUT, to all prospective students.
In this context, on May 4th, 2017, IUT signed a cooperation agreement with the Network of SBK students' councils, an organization that represents all secondary schools in the Central Bosnia Canton.  In this event Ms. Ajla Mušik (President of IUT Student's parliament and an undergraduate student in the Economics College), delivered a speech stating that: "The International University of Travnik is constantly investing in both – its academic staff and the classroom space, while always improving its infrastructure that highly benefits its students. There are new classrooms for teaching and laboratories in a newly opened building equipped with state-of-the-art equipment.
After Ms. Ajla Mušik's presentation all participants, including local and international students were given a tour of the Campus buildings and met with other faculty members and university administrators.