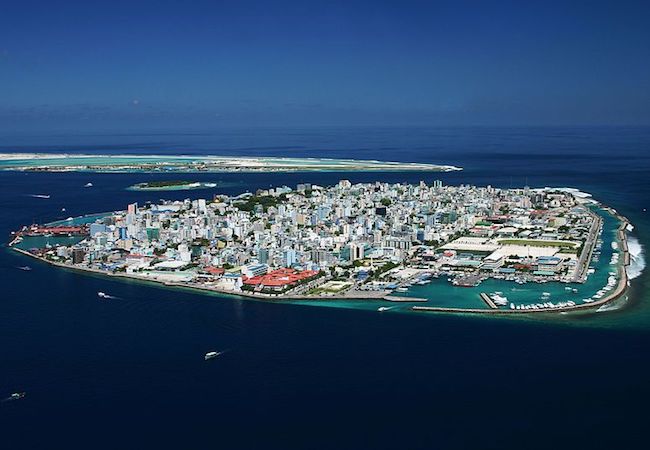 By Beenish Altaf
With the growing Chinese and Pakistan's engagement in Maldives, the US and its emerging strategic partner, India are increasingly getting apprehensive. This brief analysis is with reference to the recent visit of Pakistan's army chief to Maldives. The visit took place during the period of volatile political developments going in Maldives. Geographically, Maldives is located 700 km from the Lakshadweep islands and some 1,200 km from the Indian mainland. Around 97% of India's international trade by volume and 75% by value passes through the Indian Ocean, and Maldives is the key littoral state in this region.
General QamarJaved Bajwa,Pakistan's Chief of Army Staff (COAS) was invited by Maldives National Defence Force Chief Major General Ahmed Shiyam, who very warmly greeted him on arrival at Malé. Gen. Bajwa also met Defence Minister Adam Shareef Umar and called on Maldives'President Abdulla Yameen Abdul Gayoom. During this historic visit, the two sides discussed the possibility of joint patrol of vast Exclusive Economic Zone (EEZ) of Indian Ocean region.  Both the countries are taking steps to boost counter-terrorism cooperation that could assist them in playing a larger role in the Indian Ocean region. The National Counter Terrorism Centre of Maldives, is leading the collaborative efforts with Pakistan under the supervision of the Minister of Defence and National Security. This actually became a serious cause of concern for India, owing to the fact that India and Maldives were already under few such joint commitments.
The key issue that is  raises alarm for India is the commitment between both friendly states to support Maldives with medical aid, military training and joint patrolling Maldivian EEZ. However, defense cooperation of Pakistan is largely limited to training, port visits and occasional multilateral exercises. It is pertinent to highlight that Maldives has declined an invitation by India to send a ministerial-level delegation to the Defence Expo, a biannual exhibition of weapons and military hardware, (this week, mid April 2018). India has also invited China for the Defence Expo but there  hasn't been any response from Beijing either.
The decision by Maldives is seen apparently as a snub to New Delhi, which became a worrisome development, where Pakistan and Maldives are growing closer on the other hand. From diplomatic sources it is indicated that India is curiously investigating the discussion that two sides held regarding the joint patrolling of Maldivian territory. Indian official indicated that if that is true then joint patrol between two states (Maldives and Pakistan naval force) would be redlining for them.
A large portion of Maldives'EEZ is contiguous to Indian territorial waters. Previously, India and Maldives conducted joint patrols of its EEZ that covers around 900,000 sq km. Indian naval assets often provide support to Maldives for surveillance of their EEZ through both; surface and air.  In 2016 an MoU between India and Maldives on defense cooperation was in process to setting up a coastal surveillance radar system for real time surveillance of EEZ of Maldives. India's aircraft named is Dornier, is often seen as undertaking surveillance of Maldives EEZ.  India is assisting the surveillance of EEZ of not just Maldives, but also Indian Ocean and a number of other countries of Indian Ocean Island like Mauritius and Seychelles.
Relationship of Indian Ocean's maritime neighbors stressed on 1stFebruary 2018 after the Indian suggestion to Maldives to implement the Supreme Court order that led Yameen declare a state of emergency in the country. Maldives opposition leader and former President asked India to make a military show of force to pressurize Yameen's government for more political space in run-up to presidential election in the same year.
Likewise, China is investing in Maldives and the oceans around. In the midst of allegations of China engaging in massive land grabbing in the Maldives, the Pentagon said it was a cause of concern for the US also along with India. During Gen. Bajwa's visit to Maldives, a statement from Indian top official mentioned that "As usual, the current Maldivian regime remain secretive about the dealings with Chinese and Pakistani's unlike previous governments which took us into confidence in advance on such issues."Nevertheless, the situation and on-going developments in Maldives is a cause of concern for India and the US both. Therefore, this is the best time for Pakistan to utilize the gaps created, and fill them with its presence, that would eventually increase is regional trust and status.