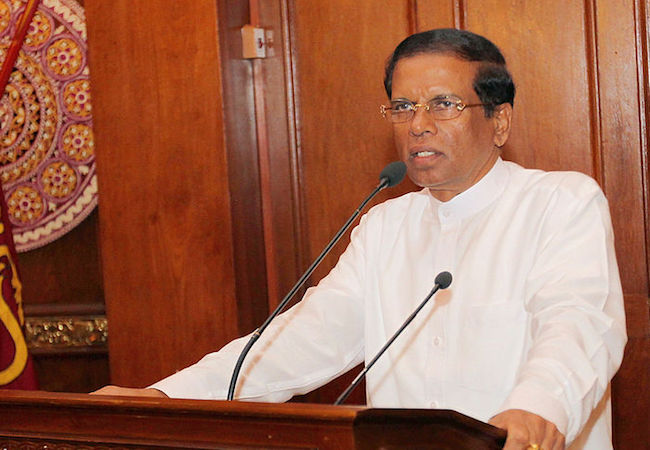 By Punsara Amarasinghe and Eshan Jayawardane
It was exactly four years ago Sri Lankan president Maithripala Sirisena declared himself as the common candidate to contest in the presidential election against then powerful president Mahinda Rajapaksa. At that time his move was viewed as an act closer to hara-kiri as Mahinda Rajapaksa's popularity stood at its height. Moreover, his authoritative leadership that often led to undermine the opposition and perhaps alleged with nepotism was becoming internationally unpopular. In the backdrop of such an atmosphere Mr. Sirisena could win the massive support of diverse opposition and such a joint force finally carved the path for his victory over Mahinda Rajapakshe in presidential election held in January 2015. The political animosity existed between former president Mahinda Rajapakshe and Mr. Maithripala Sirisena continued for past three years as his coalition with the United National Party led by Mr. Ranil Wickramasighe remained static. In fact, after his victory at presidential elections Mr. Wickramasinghe was appointed as the premier of the government. However, the relationship between two men began to deteriorate under as a result of many reasons. Mainly the political ideologies represented by Mr. Sirisena and Mr. Wickramasighe have two complete different dimensions. Mr. Wisckramsghe has been always known for his much liberal political views and pro-Western foreign policy. On the contrary Mr. Maithripala Sirisena's political stances are more akin to nationalist or rather populist brigade as he hails from the ancient Sinhalese Buddhist capital called Polonaruwa in the North Central Province in Sri Lanka. This imbalanced political comedy between two characters was culminated when president Sirisena ousted his premier Mr. Wickramsinghe on 26thof October and he astonished everybody by appointing his political foe former president Mahinda Rajapaksa as the new prime minister.
This act led to create a political mayhem in one of the oldest democracies in Asia and ousted premier Mr. Wickramasighe was reluctant to accept this decision as undemocratic act and continues to stay in Temple Trees,the colonial-era bungalow that is the prime minister's official residence. In analyzing the political turmoil in the island nation, it is clear enough to understand the trajectory that set the path to this unrest was not emerged out of the blue. Nevertheless, the legality of the action made by Mr. Sirisena has been challenged by many constitutional experts and ousted prime minister Mr. Wickramasinghe as unconstitutional act. In theory under the 19thAmendment adopted in 2015 the president no longer has the power to remove the prime minister at his discretion. Under this Amendment the prime minister can only be dismissed if the cabinet of the ministers is dismissed, the prime minister resigns or the prime minister ceases to be a member of the parliament. Under this constitutional framework Mr. Wickramsinghe has brought an argument that what Mr. Sirisena did was unconstitutional because as per Article 46 (2) of the 19thAmendment of the constitution passed in 2015, the president cannot sack a prime minister who enjoys majority support in the parliament. The strong argument coming from Mr. Wickrmasinghe is that he holds the majority in the legislation. The situation was turned to be a pandemonium when parliament was called after Supreme Court decided that Mr. Sirisena's move for a snap election is unconstitutional. When the session in Parliament was held fortnight ago to pass a non-confidence motion in newly appointed prime minister Mahinda Rajapakshe, parliament floor become a battleground as hostile MPs from Rajapaksa's side approached the speaker of the house in a hostile manner and it was retaliated by parliamentarians from the opposition.
By now it has been a month since the dismissal of Mr. Wickramsinghe from prime minister post and removal of his cabinet, yet the unrest in Sri Lanka continues without reaching a stable end. The most hilarious situation arose after sacking Mr. Wickramasinghe from the prime minister post is the claim made by president Sirisena regarding the strong reasons that compelled him to do so was based on his personal disinterest in Mr. Wickramsinghe as he specifically emphasized on the cultural differences between them. Ironically this difference was not coming into picture when he decided to stand along with Mr. Wickramsinghe four years back as the common candidate of the joint opposition against former president Mahinda Rajapaksa. This despicable political chicanery is a reflection of South Asian politicians and how terribly they have been taking their people for a ride. Ostensibly Mr. Sirisena will take some crucial steps in next few days as seven bench of Supreme Court of Sri Lanka is expected to pass their opinion on 7thof December regarding the legality of dissolving the parliament.
Whatever the hustle buzzles happen in the political realm in Sri Lanka, the cruel price for it has befallen the people of Sri Lanka as they have become the victims of the inflation, economic crisis and other severe social problems in the country. Currently owes more than $50bn to foreign lenders, which is 77 percent of its gross domestic product (GDP). Next year, it has to pay back more than $4bn of its foreign loans, which just got harder as the political crisis has sent the rupee to its lowest ever level against the US dollar.In parallel to the de valuing of the currency, stock market exchange in Colombo has undergone a tremendous decline. In the last week of November, it Colombo Stock index fell 0.34 percent to 5,929.98 and simultaneously the Rupee hit a fresh low of 179.95 per dollar.   The fragile political instability in the island nation is likely to become a trouble in New Delhi if continues without a static solution for another few weeks. It is a fact beyond dispute that after the fall of Rajapaksa regime in 2015 January, Colombo has been closer to New Delhi than it used to be during former president Mahinda Rajapaksa's period. The next few weeks would be crucial for the political destiny of Sri Lanka and as well as the destiny of its people too.
Punsara Amarasinghe is a PhD candidate in international law at Institute of Law, Politics at Scuola Superiore Sant Anna in Pisa , Italy. He was a doctoral research fellow at Higher School of Economics in Moscow and served as a visiting lecturer at University of Colombo, Faculty of Arts. Eshan Jaywardane holds BA in Sociology from Delhi University and MA in International Relations at Jawarhalal Nehru University in New Delhi. Currently he serves as a visiting lecturer at Open University of Sri Lanka.