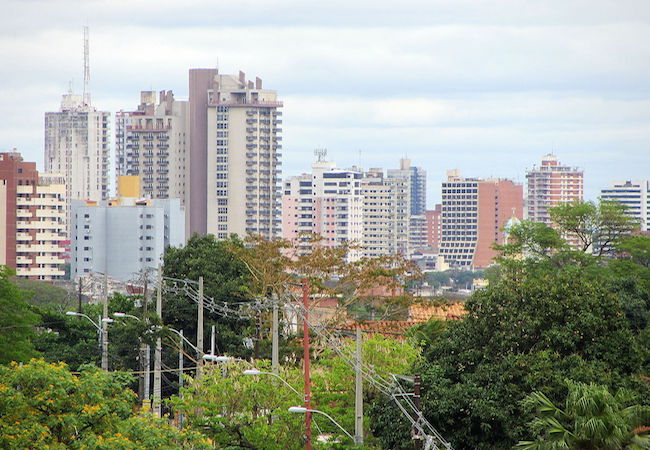 By Peter Tase
Only a handful of international strategic investors are familiar with the Republic of Paraguay. It is located in the heart ofSouth America and the South Common Market Block, also known as the Mercado Comúndel Sur (MERCOSUR), with a territory of 406.752 square kilometers and shares borders with Brazil (from the East to the North), Bolivia (North to Northwestern side) and Argentina (covering the Western and South eastern part of the border).  By many Latin American experts, Paraguay is tapped as one of the top three counties with the best investment climate in Latin America and the Caribbean as well it remains the most attractive nation of the hemisphere in doing business and is equipped with a series of legislations that protect strategic investments and guarantee a friendly environment for the development of large industrial plants and infrastructure projects.
The Paraguay River separates two natural regions, very different from one another, the Oriental Region, containing 98 percent of the population, and the Occidental Region or the Chaco. Both regions comprise important natural resources and a great potential for strategic investment projects. Paraguay's topography is rolled with chains of hills and broad valleys, with abundant rivers and fresh water streams with native subtropical forests suitable for sustainable tourism projects and the median annual temperature is about 20 ºC.  The Chaco region is sparsely inhabited, containing only 2 percent of the total population, it is a vast alluvial plain that softly climbs up to the Andean fronts and belongs to the tropical dry life zone.  This region has a wealth of mineral resources including natural gas and vast reserves of petroleum and fresh water.
The mining sector in Paraguay has been developed since the times when iron was found and extracted among other minerals in the Tebicuary River Craton, becoming one of the first countries with a mining industry in South America.Mining activities are identified since the period of Spanish conquest in which was gold is used vastly especially in the sacred Catholic artistic work, as well as the exploration of forts found in the Apa River Craton, in the Oriental region.
After its independence in May 14-15, 1811, Paraguay became a power house in the building of railroads, mining, and the use of telegraph and equipped with an extensive fleet of merchant ships in South America.
Paraguay has an enormous geological potential, with the same geology that other countries currently have and exploit. With its unexplored pre-Cambrian and alkaline provinces, Asuncion is open for business and welcomes foreign investments focused in mining activities; such an industry combined with local hydroelectric resources could be greatly lucrative for investors and entrepreneurs.
The current Paraguayan government of President Mario Abdo Benitez, has taken various economic decentralization steps and is eagerly exploring ways to develop rural areas that are not suitable to agricultural production and cattle grazing, through the implementation of strategic mining projects which happen to be in their initial stages.
Asuncion has unrestrained taxes on the investments and movement of capital, personal rent tax is not present and the value aggregate tax (VAT) is only 10%.  On the other hand, price control is not influenced by the government, and there are only rigorous programs of monetary and fiscal stabilization, and there are currently some legislative initiatives that will re-evaluate the local currency.
Thanks to the Law 117/91, foreign investments are guaranteed; foreign investors have the same guarantees, rights and obligations just like the local businesses. Every investor has the right to choose the insurance for investments, in the country or abroad and the law allows the establishment of joint ventures.  Paraguay is the best kept secret of Latin America.
In 2012, the Asuncion Stock Exchange went through a highly positive trend; only in August it traded more than Gs. 95.69 Billion. This number represents a 485.7% increase over the same period of trades in August 2011.  There is no income tax for investors in Bonds of Asuncion Stock Exchange.
The mining industry is protected and sanctioned by the Constitution and its laws. It's controlled by administrative and cartographic mechanisms, guaranteeing property limits, protected by legislation that establishes trusted judicial mechanism to solve any potential conflicts that could arise.
For the prospective investor there is a term of five years for project execution, and an exploitation term that lasts for 25 years, which may be extended for another 25 years. Therefore, the investor becomes proprietary of the minerals extracted and conducts its operations within his property. Investors can freely sell minerals domestically and export abroad.
The Following is a list of Departments (provinces) and their mineral resources.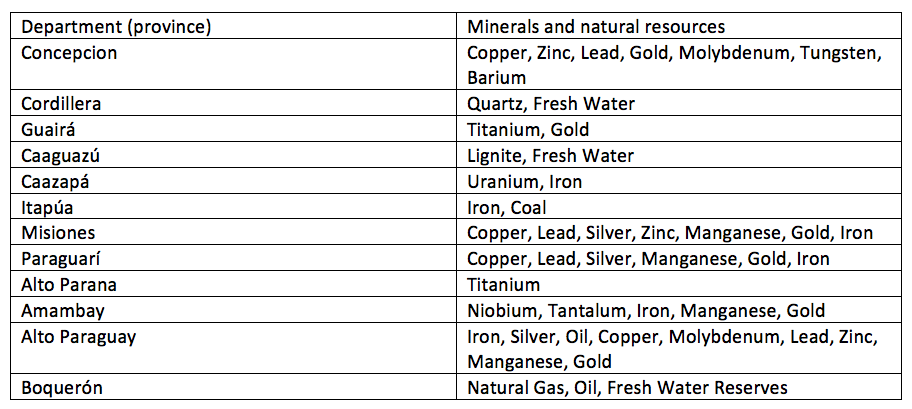 Indonesia and Paraguay: a great potential to strengthen commercial ties
On November 29, 2018, Paraguay celebrated the 37th anniversary of the establishment of its diplomatic relations with the Republic of Indonesia, the world's fourth largest nation with over 252 million people and one of the N – 11 Economies [1] and together with Paraguay is also a member of the Group of Eleven (G11), [2] whose efforts are focused towards reducing poverty.
Both nations have become members of the World Trade Organization in 1995. Although there is a great potential to further strengthen the commercial, political and economic partnership between the two countries, unfortunately, the Foreign Ministry of Paraguay is looking the other way, even though Jakarta is one of the fifteen most important commercial partners of Paraguay.
The South East Asian giant imported in 2012 over US$19.5 million, meanwhile there is a significant increase of imports in 2013, reaching over US$121.8 million worth of goods a services. There is an unmatched strategic importance of mutual interest towards exploring the tremendous bilateral business opportunities that can be accomplished through the signing of a Free Trade Agreement framework between Indonesia and Paraguay as well as Paraguay and the ASEAN nations (currently the world's largest trading group together with Japan, China and Russia).
Paraguay has the best and most affordable arable land in the region; it is the fourth largest producer of soybean and is the largest producer of renewable energy per capita in the world. Despite the cow disease, in the course of 2014, Paraguay exported more than US$ 542 million worth of beef products, representing only 14.7 percent in relation to the same period last year, therefore this disease has not affected the cattle ranchers' prospects and performance.
In 2014, there have been exported more than 250,000 tons of beef products abroad. And more than 400,000 are expected to be exported by 2015. In the last few years livestock companies in Paraguay, have significantly invested on improving the genetics of their cows, this is the reason why they are distinguished in the MERCOSUR by their peers.
One of the traditional food products in Indonesia is Tempeh a soybean based food made from the condensing or curdling of soymilk and then fermenting it, for which there is a need for large quantities of soybean.
In this regard, Paraguay as the world's 4th largest Soybean producer, could easily become a 'Tempeh Partner' of Indonesia through a bilateral cooperation agreement and a possible mutual agreement between the Indonesian Tempeh Industry leaders, Paraguayan Soybean entrepreneurs and Paraguayan Food Industry leaders in order to implement the processing of this typical Indonesian food that is grown in Paraguayan soil, and that could be exported directly to Indonesia at highly competitive prices and consequently harnessing essential mutual benefits.
Nevertheless, these commercial agreements are considered highly beneficial and the efforts undertaken by Ministry of Industry and Commerce (MIC), as well as Paraguay's Network of Investments and Exports (REDIEX), are truly admirable and certainly demonstrate a great performance as Asuncion for the first time has a visionary and a pragmatic leader as the head of its Ministry of Industry and Commerce.
President Mario Abdo Benitez and the Indonesian authorities have expressed a willingness to strengthen the bilateral partnership, which dates back to 1981, on the other hand the Paraguayan Foreign Ministry officials have to play a more active role towards strengthening this bilateral partnership with Jakarta.
The discovery of natural gas and oil fields in the Chaco area of Paraguay is also another strategic sector that will require the expertise and assistance of Indonesia's major oil companies and their technology, to make the use of its oil resources according to the principles of sustainability and being environmentally friendly.
Indonesia's natural gas and oil drilling industry plays a vital part in its national economy, and its wealth of experience in this sector would be a great asset to the Paraguayan Government, which is only now beginning its initial stages of exploring for petroleum and natural gas.
In the next 20 years, Asunción will need to diversify its national energy production as the current production levels at its two hydroelectric dams (Itaipu and Yacyreta) will not be sufficient to supply energy nationwide, therefore the construction of new hydroelectric dams in rivers stretching throughout Paraguay and reaching distances of over 6,500Km, as well as the effective use of oil and gas resources with the help of Indonesian experts would be of great value for Paraguay's future.
Notes:
[1] The Next Eleven (known also by the numeronym N-11) are the eleven countries – Bangladesh, Egypt, Indonesia, Iran, Mexico, Nigeria, Pakistan, the Philippines, Turkey, South Korea and Vietnam – identified by Goldman Sachs investment bank and economist Jim O'Neill in a research paper as having a high potential of becoming, along with the BRICs, the world's largest economies in the 21st century. The bank chose these states, all with promising outlooks for investment and future growth, on December 12, 2005. This group now has included three more large economies such as China, Japan and Russia and is known as ASIAN+3, as of today comprises the WORLD LARGEST TRADING GROUP.
At the end of 2011, the four major countries (Mexico, Indonesia, South Korea and Turkey) also known as MIKT, made up 73 percent of all Next Eleven GDP. BRIC GDP was $13.5 trillion, while MIKT GDP at almost 30 percent of that: $3.9 trillion. The criteria that Goldman Sachs used were macroeconomic stability, political maturity, openness of trade and investment policies, and the quality of education. The N-11 paper is a follow-up to the bank's 2003 paper on the four emerging "BRIC" economies, Brazil, Russia, India, and China. It can be compared with the CIVETS list coined by Robert Ward, global forecasting director for the Economist Intelligence Unit (EIU) – having a few differences, but many similarities. (http://en.wikipedia.org/wiki/Next_Eleven)
http://www.portalguarani.com/278_martin_luis_vallejos_cuevas/10334_25_aniversario_relaciones_diplomaticas_entre_paraguay_y_la_republica_de_indonesia_.html
[2] The Group of 11 is a multilateral organization proposed by King Abdullah of Jordan in 2005, and its main objective is to reduce the debt burden and significantly reduce poverty by joining the efforts of the eleven nations including: Jordan, Croatia, Ecuador, Georgia, El Salvador, Honduras, Indonesia, Morocco, Pakistan, Paraguay, Sri Lanka. Both Indonesia and Paraguay
http://www.mre.gov.py/v1/Noticias/541-viceministro-cceres-recibi-en-audiencia-a-la-embajadora-de-la-repblica-de-indonesia.aspx
http://www.mre.gov.py/v1/Noticias/764-paraguay-solicit-en-indonesia-medidas-efectivas-de-cooperacin-con-pases-sin-litoral.aspx
http://www.rree.go.cr/?sec=servicios%20al%20publico&cat=servicios%20de%20informacion&cont=593&noticia=1421