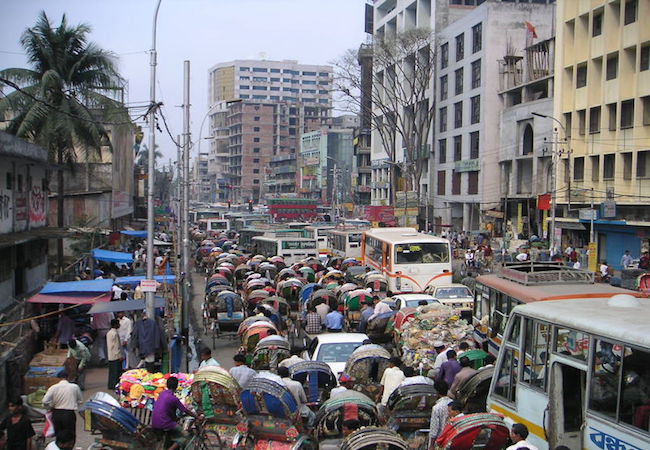 By Fazlur Rahman Chowdhury
I was very upset with news from Bangladesh. For last few months we often come across news that someone somewhere in Bangladesh is arrested or jailed for passing unacceptable remark against the prime minister or for making any sort of cartoon of the prime minister. I am grateful to Allah who gave me the opportunity to visit no less than fifty countries around the world. I never heard any such news from any other country. Obviously I was very curious to know what sort of offence or crime these people may have committed. I did not have to wait long. I got a glimpse of it from the most recent incident.
Ms Mahfuza Akhtar Kiron is an official of the Bangladesh Football Federation. She is also one of the Asian representatives in the FIFA. She has been in many ways instrumental behind the success of our girls' football team. In a recent meeting of the Bangladesh Football Federation she remarked that the prime minister was not giving enough attention to football as compared to cricket. She also mentioned about cricketers being showered with gifts and prizes including housing flats and cars but no such encouragement ever shown to footballers. Now I know well what a crime Ms Kiron has committed!
In a democratic country or society it is by no means an offence to make those statements. But because it is Bangladesh, it is different. Someone named Abu Hassan Chowdhury immediately filed a case against Ms Kiron for insulting and defaming the prime minister and the over enthusiastic police spent no time to arrest her. On the first prayer for her bail the no less enthusiastic magistrate refused to grant bail and sent her to jail. The competition was strong to show the loyalty to the prime minister. I do not know if any of them succeeded in drawing the attention of the prime minister.
In any civilised country the office of the prime minister would have issued a statement to counter the observations of Ms Kiron by saying how the prime minister treats all sports organisations equally. In some cases Ms Kiron could have been thanked for pointing out the disparity. In democratic society people are in fact encouraged to criticise government so that government can serve people better. Even in Bangladesh we know for any defamation it is person directly affected files the case. The process starts with a notice from the lawyer/ solicitor acting on behalf of the defamed person asking for due compensation and that failure to respond will result in to court proceedings. But in this case it is different. The prime minister is the daughter of the father of the nation. She can make no mistake. She is trying to make it a one party state. It is fast becoming a police state. There is no room for any criticism. It has to be eliminated.
Bangladesh is fast becoming "moger mulluk". We will not be surprised if the ACC finds a corruption case against Ms Kiron. No criticism or dissent can be tolerated. All agencies of the government work in coordination to achieve this goal. People like Mr Abu Hassan Chowdhury must be rewarded. We will certainly not be surprised to find the name of Mr Chowdhury in the Independence Day or victory day honours list. We shall be getting closer to make it a one party state that Banga-bandhu Sheikh Mujib wanted to establish through BAKSAL.In the modern democratic world there is no room for a prime minister who cannot accept criticism.
Here in London every morning we see so many newspapers. So many of these papers carry cartoons of ministers or even prime minister. So many of them carry article and stories of common people criticising the government. Nobody goes to jail. Democracy cannot be achieved without human rights and freedom of expression. Democracy is the driving force to progress and prosperity. As we enjoy free life in a democratic country we remember our brothers and sisters living in Bangladesh. Millions of people cannot be suppressed for long. Allah will help the freedom loving people of Bangladesh. Amen!
Fazlur Rahman Chowdhury was the Commandant of the Marine Academy and then Director General of Shipping in Bangladesh. He graduated from Juldia Marine Academy and World Maritime University. He pursued a career as a merchant ship cadet. He eventually retired from the UK Maritime and Coastguard Agency.