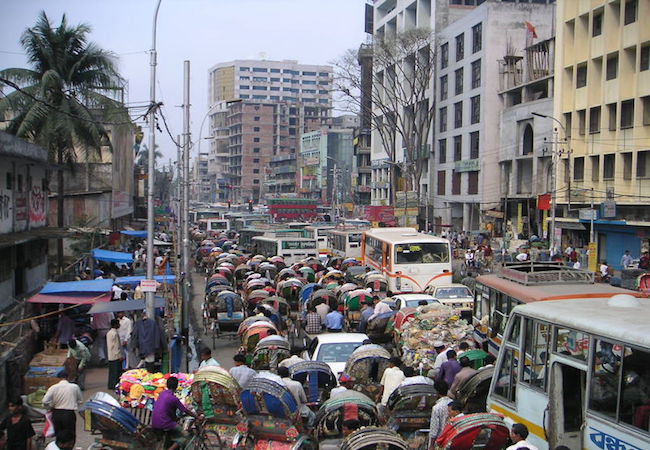 By Mohammad Ziauddin
Bangladesh defies logic and expectations. Westerners read mostly about its tragedies: natural disasters and the world's largest refugee crisis, the influx of 750,000 Rohingya Muslims from neighboring Myanmar. But there is much more to the South Asian nation. Bangladesh boasts a stable democracy and effective national leadership. It also has a vibrant workforce and a burgeoning economy. In fact, the Bangladesh economy has posted record growth in several recent years.
With astoundingly little international attention, Bangladesh has become one of the world's economic success stories. The Asian Development Bank reports that Bangladesh has the fastest-growing economy in the Asia-Pacific region. Since 2009, Bangladesh's economy has grown 188 percent. During 2019, Bangladesh posted record high growth of 8.1 percent in its Gross Domestic Product, up from 7.9 percent in 2018. By comparison, other South Asian countries suffered significant dips in GDP growth. India, Pakistan and Sri Lanka had significant GDP growth rate reductions. But Bangladesh has continued to thrive. Witnessing Bangladesh's growth, HSBC Bank recently predicted that Bangladesh would be the 26th largest economy in the world by 2030.
Exports have gown and diversified. With a national focus on manufacturing, the country has seen exports soar annually from a growth rate of 6.6 percent in 2018 to 10.1 percent in 2019. Ready-made apparel remains its leading export product. Thanks to rising demand for Bangladeshi garments in the U.S. and newer markets in Australia, Canada, India and China, garment exports rose by 8.8 percent in 2018 and 11.5 percent in 2019.
Other products are also being exported in record numbers, including food. Bangladesh has emerged as a top producer of food and is well able to feed not only itself but also others.   Bangladesh has also become an exporter of information and communications technology products worth nearly $1 billion to 35 countries. Not long ago,  Bangladesh exported 12 industrial robots to Korea and four ships to India. By 2021, it's expected that communications technology exports will increase to $5 billion a year.
The economic strides achieved by Bangladesh have improved its international standing. Recently, Bangladesh celebrated a pivotal moment when it met United Nations criteria for graduating from a "least developed country" to, in effect, a middle-income country by 2024. As Prime Minister Sheikh Hasina said, "Exiting LDC status gives us some kind of strength and confidence, which is very important, not only for political leaders but also for the people."
As part of her commitment to transform Bangladesh into a digital, knowledge-based economy, the Prime Minister has initiated numerous programs aimed at developing a skilled, digitally savvy pool of talent. These include enhanced education in information and communications technology.
Bangladesh's educational system has been the key to unlocking the full power and productivity of its young work force. More than 500,000 young people graduate from its universities every year. In addition, the Prime Minister has opened the door to technical education to thousands more. This past year, the government trained more than 65,000 information technology professionals.  It has also established specialized labs in its universities and is investing heavily in tech centers of excellence with global partners.
With roughly two thirds of its population under 25, Bangladesh profits from an ample supply of digitally informed workers. Where once they were confined to a life of agriculture, young Bangladeshis are increasingly urban and mobile, poised to take advantage of this new economy. Bangladesh can now boast the second largest pool of online workers in the world.
To ease the transition to this new economy, Bangladesh has developed 8,500 digital centers to help provide digital services to citizens from every walk of life. The centers ensure that those who live in poor or remote communities can access vital information and services. Bangladesh has also expanded internet and mobile coverage, meaning more than 110 million Bangladeshi's have access to the internet.
CEOs and international investors have taken note of Bangladesh's talented labor force and its rapidly growing economy. Since 2018, net foreign direct investment increased by 42.9 percent. The major beneficiaries include the power, food and textile sectors. Primary investors include China, the United Kingdom, the Netherlands, and South Korea.
Bangladesh is booming.
Mohammad Ziauddin is Bangladesh's ambassador to the U.S.