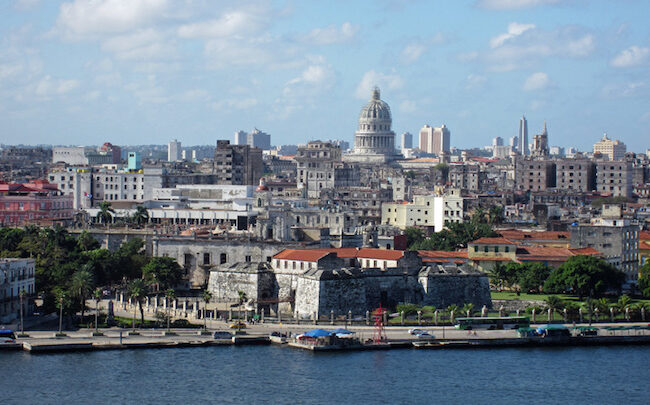 The Trump administration announced a new measure against Cuba on Wednesday.
Speaking at a press conference at the State Department, Secretary Mike Pompeo said that Congress passed the Cuban Liberty and Democratic Solidarity Act (Libertad) in 1996. He said that until Title III of that act, "United States citizens who had their property confiscated by the Castro regime were given the right to file suit against those who traffic in such properties."
Pompeo stressed that those "citizens' opportunities for justice have been put out of reach for more than two decades. For now more than 22 years, every president, every secretary of state has suspended Title III in the hope that doing so would put more pressure on the Cuban regime to transition to democracy."
Citing Trump administration's recent measures, including moving the U.S. embassy to Jerusalem, and designating the Islamic Revolutionary Guard Corps a terrorist organization, Pompeo stressed that the administration "recognizes reality."
"We see clearly that the regime's repression of its own people and its unrepentant exportation of tyranny in the region has only gotten worse because dictators perceive appeasement as weakness, not strength," he said, adding that "President Obama's administration's game of footsy with the Castros' junta did not deter the regime from continuing to harass and oppress the heroic Ladies in White, a group of women dedicated to peacefully protesting the regime's human rights abuses."
Pompeo said that the Cuban government continues to deprive its own people of their fundamental freedoms of speech, press, assembly, and association.
"Indeed, according to NGO reports, Cuban thugs made more than 2,800 arbitrary arrests in 2018 alone. In the run-up to the country's recent sham constitutional referendum, one that enshrined the Communist Party as the only legal political party in Cuba, the regime harassed, beat, and detained leaders and – opposition leaders and activists. Three hundred and ten people were arbitrarily detained according to the Cuban Commission on Human Rights and National Reconciliation."
He said that Cuba's behavior in the Western Hemisphere "undermines the security and stability of countries throughout the region, which directly threatens United States national security interests."
He underscored the fact that Cuba has exported the tactics of intimidation, repression, and violence it has used on the island to Venezuela in direct support of the former Maduro regime.
"Cuban military intelligence and state security services today keep Maduro in power," he said.
Stressing that the policy of détente has failed, Pompeo said that the Trump administration will no longer suspend Title III.
"Effective May 2nd, the right thing to bring – the right to bring an action under Title III of the Libertad Act will be implemented in full. I have already informed Congress of my decision.""Implementing Title III in full means a chance at justice for Cuban Americans who have long sought relief for Fidel Castro and his lackeys seizing property without compensation. For the first time, claimants will be able to bring lawsuits against persons trafficking in property that was confiscated by the Cuban regime. Any person or company doing business in Cuba should heed this announcement," Pompeo said, adding that the U.S. was holding the Cuban Government accountable for seizing American assets.