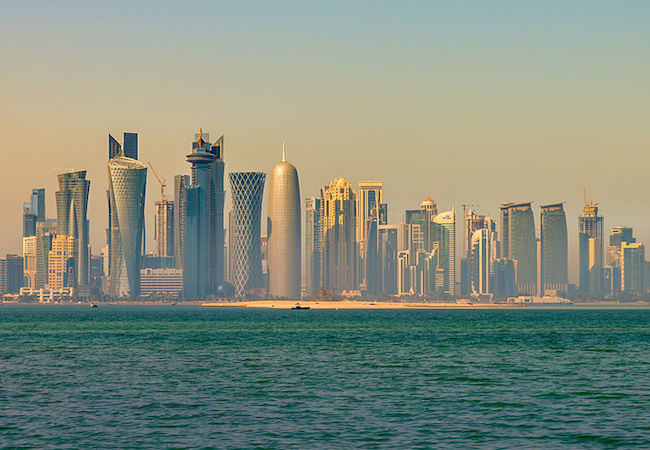 By Henry Windsor
The latest hearing in the case of businesswoman Marsha Lazareva ended in agony for the defendant and those calling for her release when the judge recused himself without prior warning. The new judge confirmed that a trial hearing will take place this coming Sunday, but in front of the same judge who convicted her in May 2018, having denied her full access to documents and 'singled her out' as a woman. The evidence against Lazareva remains, in the words of lawyer Lord Carlile of Berriew, CBE QC, 'unfortunately, outrageously and inexcusably false to its core'.

Lazareva, who is arguably the most successful foreign businesswoman working in the Middle East, remains in a cramped cell in the infamous Sulaibiya prison in Kuwait, despite the best efforts of political heavyweights and private citizens from Russia to the United States. Lord Carlile, who is part of the team representing Lazareva, is insistent that the charges of which she is accused—chiefly misusing public funds—are baseless, and that the 'prosecutor effectively said so'. Indeed, as others have pointed out, it is not only the charges that are concerning but the manner in which Ms. Lazareva was arrested, tried and incarcerated.

Lazareva, who has a four-year-old son, was reportedly told her gender and nationality would count against her before her trial. When she told the judge she was feeling unwell, she was told to go to the back of the court to be sick. She was unable to call witnesses or challenge testimony that independent analysts have since concluded was one-sided. For Ian A. Laird of Crowell & Morning, the case was 'one of the most outrageous denials of justice committed by a state actor in recent memory'. Ultimately, Ms. Lazareva was sentenced to 10 years' hard labour inside Kuwait's most notorious prison, which was built for 2,000 inmates but houses 6,000. She shares her cell with seven others.

On Sunday 22 April, the head of the Kuwaiti parliament, Marzouk Al-Ghanim spoke to the Russian speaker of the Chamber of Regions, Valentina Matvienko. Though she acknowledged that Russia could not interfere in foreign court cases, Matvienko nonetheless said that there were not sufficient grounds to imprison Lazareva, A Russian citizen, and that Russia considered it 'necessary to protect the rights of [its] citizens'. On the same day, however, Lazareva was effectively denied release at her third hearing when the judge recused himself.

But what is most striking—and indeed, most troubling—about Lazareva's detention is its apparent arbitrariness. After 13 years living and working in Kuwait, she was accused of spying and intelligence-gathering and given a travel ban. These charges were later replaced by accusations of assisting embezzlement. At every turn her accusers have been opaque and uncooperative, despite calls for the Kuwaiti authorities to review the evidence and reconsider Lazareva's incarceration. The refusal to do so calls into doubt the advisability of remaining in Kuwait for those foreign nationals already living and working there; it's worth noting that Lazareva even put up some $33 million in joint bail yet remains in prison. The message is clear: for foreign citizens, you may be arrested, denied due process, incarcerated and then refused release—even if you post bail.

All this calls into question the wisdom of investing in Kuwait, where KGLI, Ms. Lazareva's private equity firm, has created hundreds of jobs. Indeed Neil Bush, son of the late former president George H. W., has said the 'long and prosperous' relationship enjoyed by the US and Kuwait 'threatens to darken' as Ms. Lazareva languishes in jail. The timing is hardly apt: in late 2018, Sheikh Meshaal Jaber Al-Ahmed Al-Sabah, director general of the Kuwait Direct Investment Promotion Authority, said that foreign direct investment 'is playing a major role in providing other forms of income to diversify the economy'. But if the international community cannot guarantee the safety of its citizens in Kuwait, further investment may not be likely.

For Bush, Lazareva's case now constitutes a 'human rights issue', a sentiment echoed by Louis Freeh, the former FBI director. In their comments, as well as those made by the other political heavyweights attempting to secure Lazareva's freedom, there is a palpable sense of surprise at the actions of the Kuwaiti authorities, whose relations with their counterparts in the US and elsewhere are thought to be strong. Bush has even credited the role his father played as a 'liberator' of Kuwait in the 1991 Gulf War as a motivating factor in his involvement, saying he would 'hate to see a blemish on Kuwait's record.' Yet for Lazareva, signs of imminent release have not been forthcoming. For Kuwait, the investment that is 'very crucial' to realise its vision may not be forthcoming either.
Henry Windsor is a freelance journalist reporting from Kuwait City. He covers business and political news across the Middle East.