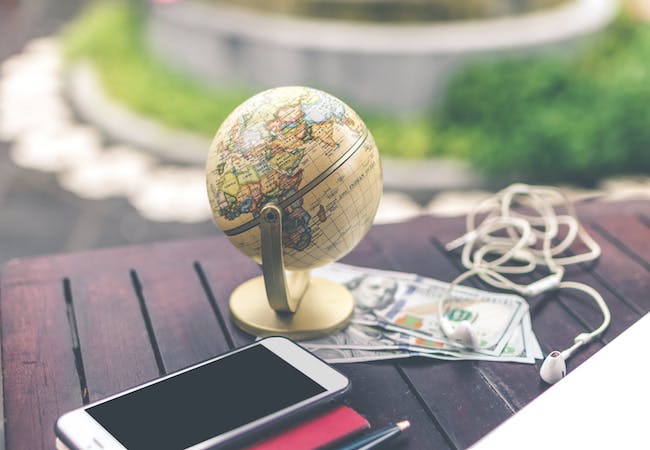 By Brooke Faulkner
One year after Jerome Powell was confirmed as the Chairman of the Federal Reserve, the U.S. dollar's global value is holding, even as President Donald Trump continues to lose public trust. The U.S. is in the midst of a trade war with Europe, and many officials have called Trump's understanding of economic issues into question. 
Near the start of his term as president, Trump also pulled the U.S. out of the now-defunct Trans-Pacific Partnership. Further,the North American Free Trade Agreement (NAFTA)has been called into question, and the Trump administration has raised tariffs on imported aluminum and steel.
In March 2019, trade talks between the U.S. and Chinamade front-page news. And the U.K. edges closer to its Brexit date of March 29, with the British pound holding steady alongside the U.S. dollar.
Thus, it seems that global economic policy is currently a mess due in large part to the Trump administration. But that's only part of the story.
Components of Current International Economics
Globalization has connected the world in a stronger manner than ever before, but it comes with its own set of issues, especially where the field of economics is concerned. To understand current economic policy, it's crucial to have a grasp on the components of international economics, staring with the distinction between macro- and microeconomics.
"Microeconomics and macroeconomics constitute the very basis of economic practice," according to Norwich University, yet many Americans are in the dark regarding all facets of economic policy. Put simply, macroeconomics looks at the whole overall economic picture, while microeconomics is the study of how specific markets and concepts fit into that picture.
For example, Trump's tariffs on steel and aluminum profoundly affect the automobile industry. The administration's proposed 25 percent tariff on foreign cars and auto partscould impact more than $200 billion worth of trade on the global scale. And as international trade continues to grow and change, the global economic landscape becomes more complex. Everything from the national GDP to the stock market and healthcare industry can be affected by changes to global trade agreements.
Stocks and International Trading
With Brexit on the horizonand trade between U.S. and China in limbo, the stock market is understandably volatile. According to some reports, the Dow is on the way to its fifth consecutive losing sessionas the U.S./China trade war rages on.
The Dow's dip comes on the heels of a $345 billion Chinese stock market crash, and analysts predict that a global recession might be imminent. In the wake of a possible U.S. stock market crash, however, there is hope: Plenty of markets are still going strong, and investors still have plenty of day trading options at their disposal.
While steel and aluminum may not be the best investment choices in the current climate, investors can find the best stocks to day tradewith pre-market movers. Look for stocks with a value of more than $5 and a relatively heavy volume. Scanning NASDAQ pre-market values is a useful research avenue as well. And in today's climate, don't underestimate the value of the healthcare industry.
Global Public Health Policy
Healthcare for profit is the name of the game in the U.S. What's more, the insurance industry gives bonuses to some independent brokers, which drives up costs even further. These brokers will then recommend certain insurance companies to employers — and not necessarily the ones that are most cost-effective for employees.
Across the Atlantic, healthcare is a completely different beast. National universal healthcare is offered in many of European countries, including Switzerland, Sweden, France, and the U.K.
Students from the Keck School of Medicine of USC recently took a trip to the World Health Assembly to study the impact of global health programs on particular countries. Some USC students who attended the WHA said that they were surprised to learn that trade plays a part in public health.
They discovered that globalization and trade strongly affect the healthcare industry. Globalization challenges much of the foundation of modern public health provision, according to the National Center for Biotechnology Information.
Diseases can spread faster in a globalized society, and overall public health becomes more valuable on a global scale. Further, international trade policies can affect the distribution and cost of medicine, as well as impact insurance rates.
Final Thoughts
Trade and public health intersect in numerous ways, and few can deny that trade wars negatively impact a country's GDP. Today's overall global economic policy remains in a state of uncertainty, and many industries are impacted as a result, from the stock market to healthcare. We can only hope that the U.S. trade war with China is resolved in short order, and that Brexit will be a boon to the stock market rather than a challenge.
Brooke Faulkner is a writer and mom based in the Pacific Northwest. She writes about issues important to her and her family, in hopes that spreading knowledge will help inform people on the decisions being made that affect their lives. You can find more of her writing on contently or twitter.