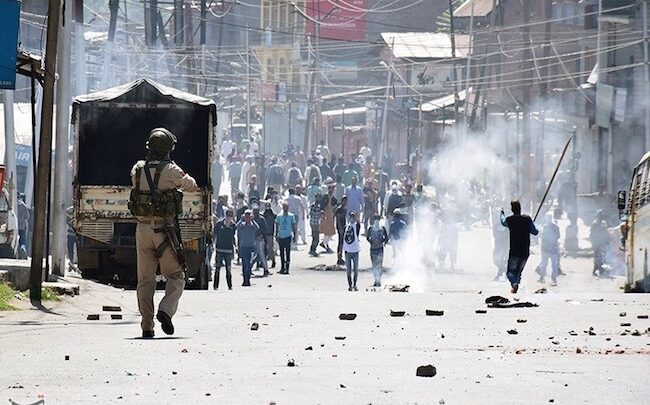 By Iman Malik
Eight million Kashmiris are under continued military siege from last 78 days in occupied Jammu and Kashmir. Sources reveal that Modi government will continue the Kashmir lockdown till April 2020. In November, winter beckons in Kashmir. Dal lake freezes and cold waves tighten its grip in the entire valley. Residents battle extreme cold weather in the sub-zero degree temperatures. On August 5, 2019, Narendra Modi's government, unilaterally, rescinded Articles 370 and 35A of the Indian Constitution, and also bifurcated the state into two union territories – Jammu-Kashmir and Ladhak.
Congressman Brad Sherman (D-CA), Chairman of the House Subcommittee on Asia, the Pacific, and Nonproliferation, U.S. House of Representatives Committee on Foreign Affairs is holding a daylong hearing focusing on the humanitarian situation in the Kashmir Valley, and whether Kashmiris have adequate supplies of food, medicine, and other essentials, said Congressman Sherman.
Addressing the 74Th session of the United Nations General Assembly (UNGA), Prime Minister of Pakistan, Imran Khan, candidly warned that war is possible over India's lockdown in the disputed territory of Kashmir. Prime Minister Khan urged the world that "there would be a large-scale violence in Kashmir and held out the threat of war between the two nuclear-armed neighbors." Prime Minister Khan has further emphasized the Kashmiri people subjected to unthinkable violence will be pushed toward the brink of radicalization.
This following interview was recorded on Wednesday, October 16, 2019 for the Asia Subcommittee hearing on Tuesday, October 22nd, 2019, to highlight the grave humanitarian situation in Kashmir. The identity and location are not disclosed for anonymity and security of the interviewee, who has recently escaped the Kashmir Valley after 60 days and has no communication with his immediate family in Kashmir. Let us call him Omer. Here is the record of his personal experience of the siege, humanitarian crisis and terror — Omer's overall firsthand account of the raging conflict enveloping Kashmir.
Iman:   What were your first thoughts about the abrogation of Articles 370 and 35A?
Omer: I was shocked, I first heard it on the news, that New Delhi actually abrogated 35A. It was evident the way the Bharatiya Janata Party (BJP) ran its election campaigns for 2014 and 2019. But I was surprised in the sense that I thought they would do it at the end of their second term. Instead they did it in the beginning of the term. The abrogation has put the identity, political identity, and the demography of Kashmir on the line. The autonomy has eroded since 1947, and every decade thereafter by the Indian National Congress as well, forget about the BJP. There was no substance to Article 370. What matters for the Kashmiris is 35A, which offered essential citizenship rights and privileges to them. India is hellbent, particularly the BJP to change the demographic of Kashmir by enabling non-Kashmiri settlements. They want to replace this existing political leadership with those more inclined toward India, the Center and the BJP under the influence of Rashtriya Swayam Sewaksangh (RSS) ideology. The residents view it as the colonization of Kashmir.
Iman: What do you remember about that day? How did it personally impact you?
Omer:  Watershed moments. I was at work with a couple of Kashmiri colleagues and friends, our voices were broken. Others and non-Kashmiri colleagues were celebrating in front of us. A couple of them were sympathetic, rest were in a festive mood that appeared to hurt us more than news of the revocation itself. The way it was celebrated in the rest of India, on television, in the streets, that was actually the reason I left for Kashmir the same evening. I couldn't tolerate it anymore.
Iman: Now, you were held sieged for 60 days. The air is rife with uncertainty, and there are only crumbs of information. Could you weave the deadpan narrative and paint a cohesive picture for us about day to day life in the valley? What is the sentiment in the valley?
Omer: Strict curfew, large-scale arrests, communication blackhole has turned it into a major humanitarian crisis. The hospitals account for the most terrible stories and horrific images. Mothers looking for their children, separated families searching for their loved ones, it was chaos, blood, and wounds. Hospitals are unreachable, particularly if you are coming from Baramulla, Kupwara, Shopian, or Pulwama trying to reach Srinagar hospitals. Doctors have no way to communicate, coordinate or cooperate with other doctors. The medical supplies are deliberately withheld. Particularly the severe asthma patients, the cancer patients who need chemo, patients who need dialysis, their life is a living hell. There is no insulin at homes for diabetics. The use of pellet gunshots, and then there is a vertical and horizontal surge in cordon and search operations and night raids. There are gross human rights violations, particularly against women and girls during these night raids at houses, especially in Srinagar, and rural areas like Bandipora. While, New Delhi is using diversionary tactics, propaganda and mystification of facts to conceal the human rights violations in Kashmir.
Ah…, the sentiment, most of the Kashmiris are vying for war between India and Pakistan, to resolve this issue once for all. Before they asked for peace and nonviolence.
Iman: Thousands of youths and teenage boys as young as 12 years old have been detained under charges of terrorism and sedition. Reportedly their number ranges between 13,000- 22,000. Could you mirror the actual situation?
Omer: According to the Indian state officials, the number is somewhere between 4000-6000. But the civil society organizations (CSOs) and some local human rights organizations have recorded around 14000-20000, and the age group ranging between 8 to 9 years old, and 40 to 60 years old. It is an elaborate strategy emanating from the Center, from New Delhi. The arrests serve to amplify fear. It also serves to create a fear psychosis in the minds of Kashmiris, as this is a psychological operation.
Iman: In reality, the identity of the Kashmiris and the demographic composition of the territory is no longer shielded by law. What could happen if the lockdown in the valley is lifted?
Omer: The situation will flare up, leading to more arbitrary arrests, and unlawful detentions. There will be more extrajudicial killings, killings in custody, blinding through the use of pellet guns, violence against women and girls, the use of rape, torture and enforced disappearances, bloodshed, as the lift will compound emergencies. There will be a disproportionate use of force. Eight million people are imprisoned, commanding a large public response once the siege is lifted.
Iman: Did you listen to the Prime Minister of Pakistan, Imran Khan, at the U.N. General Assembly on September 27? What do you and the people of Jammu and Kashmir hope for and need from Prime Minister Imran Khan?
Omer: Yes! I cannot forget that night. It was around 8:30 or 10:30 pm. We managed to hear Prime Minister Imran Khan on Al-Jazeera. When he was referring to the Muslim World and particularly the Kashmir issue there were jubilations all around, at homes, on the barricaded streets, in the mosques, on the loudspeakers. There were pro-Pakistan, pro-Imran slogans and chants, and the youths celebrated his speech with fireworks. Kashmiris have attached a hope that he may do something. They believe he has a political will. But it takes two to tango and New Delhi is not ready to listen right now or to discuss Kashmir with Pakistan, either due to unwillingness or sheer arrogance. There has always been an attachment and expectation from Pakistan. We do know that Pakistan has her limitations, be at the international level or domestic level. But hope from Pakistan is there and the Kashmiri people would like Pakistan to take much bolder and concrete steps. I had several conversations with the youths, and they saw Prime Minister Imran Khan's speech as a plea for armed struggle and sacrifice in the name of honor and dignity.
Iman: On Tuesday, October 22nd, the U.S. House Foreign Affairs Committee is holding a hearing on Kashmir. If you were to be present, what would you tell the U.S. Congress?
Omer: I will be very crisp. I will tell them that the Kashmiris want the U.S., pro-democracy and human rights groups to make noise and put pressure on India to release political prisoners, lift curfew and start a political dialogue not only with Kashmir, but with Pakistan as well. The Kashmiris see it as a trilateral dispute. Let Kashmiris decide their future and put pressure on India to resolve the Kashmir issue according to the UN resolutions. Let Kashmiris decide what they want, whom they want to join, where they want to go, and put more pressure on India to have talks with Pakistan on Kashmir. There is a grave humanitarian crisis in Kashmir.  The U.S. must pressurize India to lift the siege, release all political prisoners, demilitarize, rescind its decision on Articles 370 and 35A, and revoke all heinous laws such as the Armed Forces (Jammu and Kashmir) Special Powers Act 1990 (AFSPA), and Public Safety Act (PSA).
Iman: Thank you so much for speaking with us Omer.
Omer: You're welcome Iman.
Iman Malik is an International Security and Defense Policy expert based in Washington D.C.