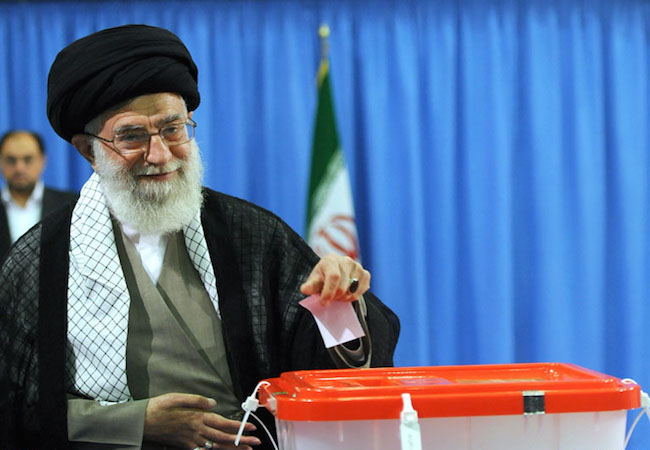 After the killing of Iran general Qasem Suleimani and subsequent escalation between the U.S. and Iran the U.S. imposed new sanctions on manufacturing and metals sectors of Iran. As the tensions in Iran-U.S. is continuing, it substantially affects the economic situation in Iran. Previous economic sanctions have restricted the oil export of Iran and lead to devaluation of national currency creating social unrest within the country.
Being the target of U.S. economic sanctions in recent years Iran had to develop economic relations with its neighbors in order to mitigate the impact of sanctions. Since the most of Iran's neighbors are facing serious economic, security and political problems as well, it is not easy task. Its eastern neighbors, Afghanistan and Pakistan have serious security problems and unstable economies. Its western neighbor Iraq has been a stage for armed confrontations which destroyed its economic and political system. Its north-eastern neighbors situated in land-locked Central Asia region and could not offer considerable economic opportunities for Iran. Therefore, more stable and advantageous region in the neighborhood of Iran is the South Caucasus which could create opportunities to partly compensate the economic loss resulted from U.S. sanctions and link it to a wider market of Eastern and Northern Europe.
Despite their geo-economic advantages, trade relations of Iran with the countries of South Caucasus have not strongly developed. The share of  Iran in the trade turnover of Azerbaijan which has the biggest economy in the region was only 1.5% in the 2019. In Georgia trade relations with Iran had the increasing trend in last years but the share of Iran in trade turnover of Georgia reached its highest level (2%) in last two years. In comparison to Georgia and Azerbaijan trade relations of Iran are more developed with Armenia as its share in the trade turnover of Armenia is the highest in region (5%, 2019). However, comparing to the share of biggest trade partners of Armenia (Russia 27%) the role of Iran in trade relations of Armenia is not considerably big.
Dynamics of trade relations of Iran with the countries of South Caucasus in recent years was not stable especially with Azerbaijan and Armenia. In 2015, when sanctions were partly eliminated on Iran its share in trade turnover of Azerbaijan increased from 0.6% to 1.7% in 2017 and had modest reduction after 2018 when sanctions reinstated by U.S. The opposite trend occurred with Iran-Armenia trade relations. Partly reduction of sanctions on Iran in 2015 decreased the share of Iran in trade turnover of Armenia from 5.9% to 4.1% in 2017 and restoration of sanctions increased the share of Iran in trade turnover to 5% in 2019. It shows that when Iran had economic difficulties it is more inclined to development of its trade relations with Armenia.
Despite the low trade volumes of Iran with the countries of South Caucasus, this region has more potential for Iran in the terms of regional transportation projects. Within the ambitious North-South transport corridor that could accelerate trade relations through Eurasia from India to Europe Iran closely cooperates with Azerbaijan. Another regional transport project is Persian Gulf-Black Sea Transport Corridor. Initiated by Iran this project serves for reduction of dependence of Iran on Middle East countries in terms of exportation of products to Europe. According to Iranian President Hassan Rouhani Iran prefers to implement this project through the Armenia as it does not have political problems with Iran. Despite fact that Georgia does not have direct border with Iran, as a gateway to Black Sea it plays key role in most of the regional transportation projects including Belt and Road Initiative that Iran Participates in and Persian Gulf-Black Sea Transport Corridor.
For Iran one of the ways to diminish negative impact of sanctions is to further deepen cooperation with Eurasian Economic Union (EEU) the organization that has 5 members from post-soviet space including Russia. Along with other political and economic incentives in order to get access to the new big market Iran signed free trade agreement with EEU which came into force on October 2019. Being the neighboring country to Iran and the only member of EEU from South Caucasus, Armenia plays the role of bridge and actively mediated between EEU and Iran to sign this agreement. According to the head of Iran-Armenia Joint Chamber of Commerce and Industry Armenia's volume of trade with Iran has witnessed a significant rise since the agreement became effective. Megri Free Economic Zone (FEZ) which is the only FEZ of Iran in South Caucasus situated in Armenia is a good example of prospects of further cooperation between EEU and Iran.
The economic cooperation of Iran with the countries of South Caucasus has its political implications. US pressures on Iran using economic sanctions to achieve its political goals in the region. In this sense, economic relations of Iran with the countries of South Caucasus lessens the effectiveness of sanctions. Meanwhile, collaboration of Iran with EEU through the Armenia expands regional influence of the Russia. Taking in account these factors expansion of economic cooperation between Iran and the countries of South Caucasus would negatively affect attempts of US to achieve its regional political goals. Therefore, all mentioned points most likely will affect future foreign policy objectives and foreign aid programs of US in South Caucasus.