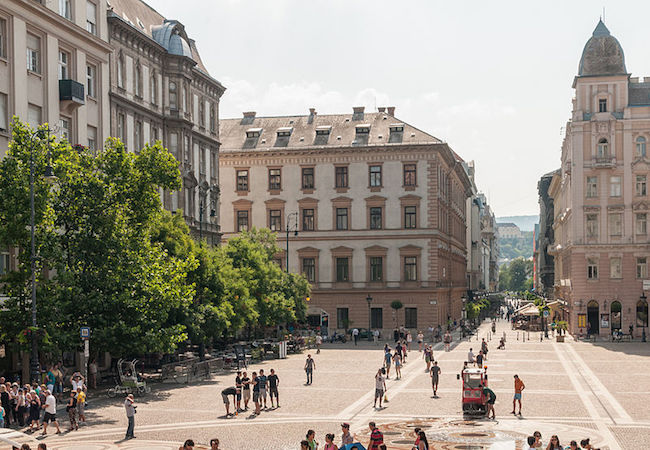 By Gergely Varga
You might be surprised to hear that Prime Minister Orbán recently unveiled a statue of the late President George H. W. Bush in Budapest, who played a decisive role in Hungary's and Central Europe's liberation from communism and Soviet rule thirty years ago. The statue is to be found at the center of the Hungarian capitol on Freedom square, which is full of symbolism. At one end of the square a monument reminds the visitor of the German occupation of Hungary during the World War II, at the other end another one refers to the Soviet occupation. Moreover, the American embassy is also located at the square, and the statue of George H. W. Bush is accompanied by the statue of another great American statesman, Ronald Reagan.
It seems difficult to adjust the commemoration to the popular narrative that Hungary is becoming a "Trojan horse" of Russia and China in the EU and in NATO. Critics refer to some major economic deals Moscow and Beijing has concluded with Budapest and the allegedly close ties between Hungarian leaders and their Russian and Chinese counterparts. Never mind that the Hungarian volume of economic transactions with these Eastern powers is a small fraction compared to the trade volumes of Russia and China with Germany, the Netherlands, Italy or Finland, not to mention the strategic significance of projects like North Stream 2. Or take one of the prime targets of critics, the construction of the Paks 2 nuclear power plant by Russia's Rosatom: the investment has been approved by the EU, a leading American company is also contributing to the investment, and for all the talk of the price tag, no Western bidder made a better offer than Moscow.
Furthermore, last year Hungary signed a landmark Defence Cooperation Agreement (DCA) with the United States and will purchase U.S. made missile defence system worth $1 billion. It is also taking its NATO related defence spending pledges seriously to reach 2% threshold by 2024, and its ambitious defence modernisation programme is right on track. These are strong proofs of the strategic cooperation between the two allies in a wide range of security and defence related issues, including NATO deterrence measures against Russia. While Hungary was concluding the DCA last March, Slovakia suspended talks with the US on a similar agreement on the ground that it would hurt Slovakian sovereignty. Yet, no one questioned – rightly so – the commitment of Slovakia to the Western alliance and its values, while Hungary is continuously being called out about issues of much minor strategic relevance in connection to its relations with Moscow and Beijing.
Hungary has also taken significant steps to reduce its energy dependency from Russia in the past decade and singed a new gas contract with Moscow only after its preferred alternative option – gas from the Black Sea – was closed down due to domestic Romanian politics. Further, Hungary just recently signed a major long-term gas supply contract with Shell to deliver gas to Hungary through an LNG-port in Croatia, a major step towards reducing dependency from Russian import. In addition, it is far from the only EU country which is open for business with China, including Chinese development of 5G networks. Notwithstanding these realities, the verdict is already out there about Hungary's Eastern drift, and therefore, it has to get back in line – at least, according to critics. While the Trump administration has certainly not been soft on China and Russia, it is worth to quote the opinion of According to the top US diplomat in Budapest, Ambassador David Cornstein, bilateral relations could not be better. Given how tough the Trump administration has been on China and on Russia, this statement sheds a new light on how well grounded the accusations are.
It's not as if the entirety of the current Hungarian approach or decisions related to Russia or China should be free of debate from an Atlanticist perspective. However, portraying Hungary as a "Troyan horse" of Russia and China which is bent on advancing the interests of these powers to the detriment of its NATO allies is way off the mark. Hungary is pursuing its national interests in line with many other NATO-member's policies as it applies a pragmatic, economy-focused approach, while preserving its hard-fought freedom and sovereignty. In these efforts, Hungary knows where it stands and who its allies are. As the Hungarian Prime Minister stated at the unveiling of statue of President Bush, "Hungarians have always thought of America as the home of freedom" – and they continue to do so.
Gergely Varga (PhD) is a senior research fellow and program manager of the Institute for Foreign Affairs and Trade in Budapest. Previously he was also a visiting fellow of the Center for Transatlantic Relations at SAIS, Johns Hopkins University.