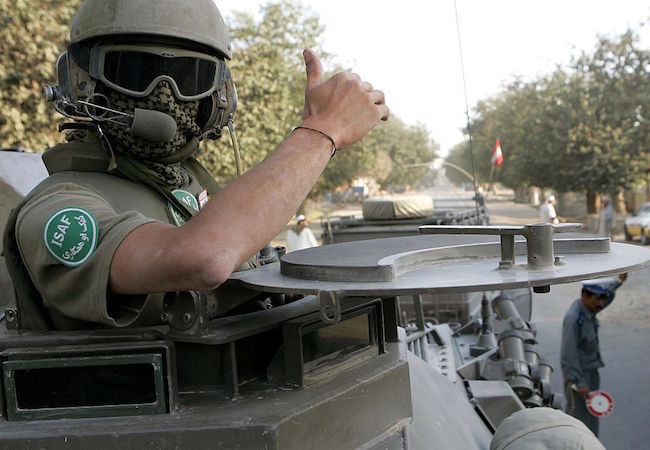 By Dr. Hany Al Banna
Ever since the former Soviet-Afghan war in December 1979, the Afghani people have not seen peace. Four decades of resistance, initially against the Soviets, followed by the factional civil war and then the war against allied forces extracted a price of its own. 
The then Mujahideens – meaning 'the holy warriors' forced the Soviet Union to leave the country in 1989. Immediately after, various Afghan factions, otherwise united against Moscow began their onslaught on Kabul. A civil war erupted. And from the ashes of this civil war, emerged, Taliban, a ragtag force of madrassa (Islamic religious schools) students. Coming out of nowhere, they conquered Kandahar in 1994 and made their way to Kabul in 1996.
And then 9/11 happened. This changed the world. With Al-Qaeda and its leader Osama bin Laden, the mastermind of the 9/11 attacks, living under Taliban refuge.
Thus, began the 'war on terror.'
During these four decades, almost 2 million Afghans lost their lives. Some three million Afghans took refuge in Pakistan, while about a million-plus fled to neighbouring Iran. Thousands sought refuge in Europe and the Americas. The UN International Organisation for Migration estimates 4.8 million Internally Displaced People (IDP) in Afghanistan, only since 2012.    
The long-running conflict has generated a humanitarian crisis of immense proportion. In my many travels to Afghanistan as part of international relief and aid organisations, I am a witness to the horrendous humanitarian aspect of the conflict. COVID has made it even graver, resulting in a near-doubling of the need for aid, from 9.4 million in January 2020 to 18.4 million in January 2021. According to OCHA and Humanitarian Response, children continue to bear a disproportionate burden of the conflict, representing 30 percent of all civilian casualties in 2020.
The war in Afghanistan has also entailed a huge global cost. In a December 2019 piece, Sarah AlMukhtar and Rod Nordland reported; the estimated cost of the Afghan war to the US is to be more than $2 trillion.
Desperation for a political solution is thus creeping in. Turkey is set to host a new round of peace talks in Istanbul in April, to discuss a draft US peace plan calling to replace the Ashraf Ghani government in Kabul with a power-sharing interim administration, pending elections.
Meanwhile, at a conference hosted by Moscow, late March, major stakeholders in the conflict, the United States, Russia, China, and Pakistan called on Afghanistan's warring sides to reach an immediate ceasefire.
Afghans are proud of their culture and are resilient. Despite having little means, historically speaking, no foreign power has ever been able to conquer them.
To help resolve the crisis, the world needs to increase humanitarian aid and commit to a process of rebuilding the country. A Marshall Plan for the shattered country is imperative. By sustaining aid, improving the quality of aid, prioritising long-term development, focussing on basic services, ensuring community and NGO involvement in the process, and strengthening governance, Afghans could be made to understand, the world is standing behind.
Efforts also need to be made to bring about a cultural and social shift in the country, through education. This is what I advised Clare Short, former UK Secretary of State for International Development under Prime Minister Tony Blair. I also told the committee of British Lords on the Afghan crisis, that to resolve the issue, one needs to stress on education. Successful local informal programs like Islamic Relief's in-home education and skills building project have empowered thousands of women. Also, credible Islamic institutions such as Al-Azhar University can play a significant role here. 
Afghanistan today is a fractured country. The ongoing political negotiations therefore must include all sections of the Afghan population. Women's and child rights, democratic participation of all – including women, food insecurity, education, peacebuilding among communities should be an essential part of the overall settlement. 
Localisation was a major outcome of the 2016 UN World Humanitarian Summit in Istanbul. Involving local communities, government, organisations and the Afghan diaspora is a must in the process of peace building, rehabilitation, reconciliation, reconstruction, and development.
Key regional countries, the OIC, Islamic Development Bank, GCC, and international humanitarian and development agencies, all need to play a role in the process.
Global humanitarian organisations such as the Islamic Relief, Coordination of Afghan Relief, the Youth Health, and Development Organization, International Rescue Committee, Norwegian Refugee Council, Agha Khan Foundation, Danish Refugee Council, and Swedish Committee for Afghanistan can help boost the process.
The ongoing peace talks are extremely important and need to be supported. After 40 years of suffering, Afghans need a better life. The world needs a peaceful and stable Afghanistan. 
Dr. Hany Al Banna founded Islamic Relief in 1984, one of the largest humanitarian aid organizations globally, and has worked in 80 of the world's poorest and most vulnerable countries. Dr Al Banna holds a Bachelor of Medicine and Surgery (MBBCh) and a Doctor of Medicine (MD). He has been awarded the Officer of the Most Excellent Order of the British Empire (OBE) for his humanitarian service.