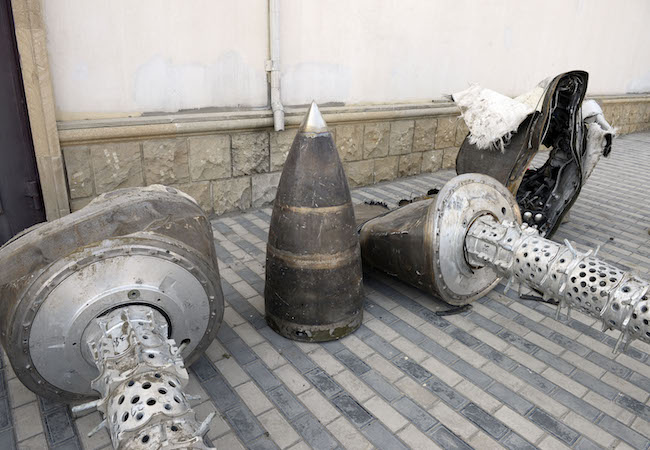 Tensions are growing in Eastern Ukraine as Russia pulls heavy military equipment and supplies to confront what it considers a possible NATO expansion to its backyard. Since 2014, Russia invaded and unlawfully annexed Crimea to the Russian Federation and sponsored pro-Kremlin separatist movements in Eastern Ukraine. Ukraine was unsuccessful in stopping what is virtually Russian occupation of its territory, but was able to halt the advance of Russian proxies with the political support from European allies.
Biden administration seems to be decisive in keeping Russia at bay, and that's exactly why Washington already announced military aid to Kyiv. One other area where Russia has intervened is the Nagorno Karabakh region which lies within the Republic of Azerbaijan but has been under control of Armenia since the early 1990s. A war between Armenia and Azerbaijan in 1988-1994 was stopped by a Russian-brokered ceasefire deal that maintained a status quo until the autumn of 2020. While the world was busy with a pandemic and the United States with presidential elections, Azerbaijan launched a successful offensive all along the frontline bringing the Armenian military to a complete defeat in only 6 weeks.
Azerbaijan maintains that it acted in accordance with the Article 51 of the UN Charter that entitles every UN member-state to a right to self-defense and UN Security Council resolutions 822, 853, 874 and 884 from 1993 which demanded immediate, unconditional and complete withdrawal of Armenian forces from occupied territories of Azerbaijan for nearly three decades.
On the very first day of the war, Azerbaijan destroyed all existing air defense of the Armenian army deployed to Nagorno Karabakh and inflicted serious damage to supply lines of its arch-rival by launching hundreds of drone strikes. Armenian defense lines quickly collapse allowing the advancing Azerbaijani army to reclaim territories it had lost in the 1990s. To respond to Azerbaijani offensive, Armenian leaders used tactical ballistic missiles like Scud — that were given to Yerevan by Russia in free or subsidized arms deals in previous years — on residential areas in large cities of Azerbaijan like Ganja, Mingachevir and Barda, which led to dozens of deaths among civilians.
Armenia also had in its possession the hypersonic Iskander ballistic missiles which were reportedly sold to Yerevan in recent years as part of a subsidized arms deal. Hours before the signing of ceasefire agreement between Armenia and Azerbaijan on November 9, the Azerbaijani media reported of a large blast in the town of Khirdalan in the outskirts of Baku. It was later alleged that it was an Iskander missile launched by Armenia (or Russia) from Goris, Armenia to force Azerbaijan to agree to the terms of the deal. The rumor has it that after reclaiming the town of Shusha — a town of utmost significance for Azeris — Azerbaijan was close to capture the city of Khankendi (Stepanakert) which served as the capital for the unrecognized Armenian separatist regime, and Russia was determined to halt the advance. It was also later reported that the missile was shot down by the Israeli-made Barak-8 surface-to-air defense system that Azerbaijan had purchased from Israel in the past.
Fast forward to February 2021, and both the former Armenian President Serzh Sargsyan and the current Prime Minister Nikol Pashinyan claimed that two other Iskander missiles were launched at Shusha on November 6 after the city fell to Azeris. Sargsyan complained that Pashinyan government should have used the missiles earlier in the conflict by targeting other cities outside of Nagorno Karabakh, while Pashinyan contended the Russian-made Iskander missiles were ineffective as they were only 10% successful. Russia responded with criticism against Pashinyan and the Armenian PM was forced to retract his statement. A few weeks later, Azerbaijan eventually confirmed that it found fragments of the Iskander missiles and its Azerbaijan's National Agency for Mine Action (ANAMA) agency tasked with clearing the liberated areas, actually traced the fragments with serial number to Iskander-M variant. This raised eyebrows, since there are no records indicating Armenia's purchase of the Iskander-M variant.
According to SIPRI records, only three countries are in possession of Iskander-E (export variant) missiles which have a range of 280 km: Russia, Algeria and Armenia. Russia remains the only country which has the Iskander-M variant which has up to 500 km range. This is a significant development as it might mean that Russia directly attacked Azerbaijan from the territory of Armenia and that, in itself, means that Moscow may not be an impartial stakeholder in the conflict. That is, Azerbaijan and its ally Turkey will need to revisit the involvement of Russian peacekeepers in the territories which remain under control of Armenian authorities.
Russia first refuted it launched any strikes against Azerbaijan but then released information that its security agency FSB would investigate the allegation of the non-export variant of Iskander ballistic missile being transported to Armenia at some point in the past. Sounds rather amusing that Russian authorities were unaware of shipment of a large piece of controlled military equipment to another country.