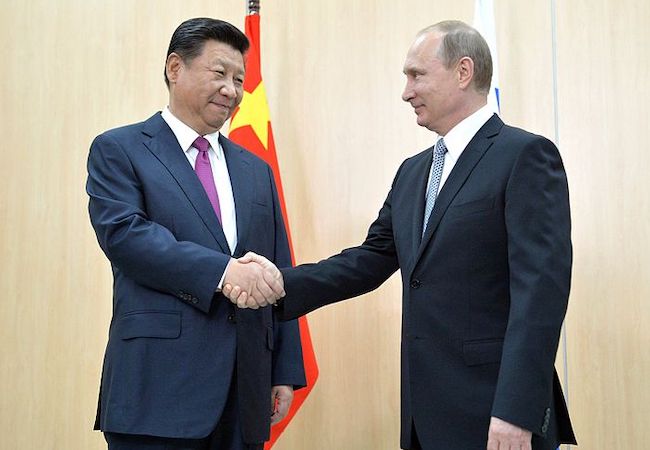 By Audrey Oien
Over the past few decades, Russia and China have become more strategically aligned. This has resulted in a discourse considering the nature of the partnership that is dictated by the idea that they have too many differences to pose a true threat. While the two countries differ in some key areas, it would be a mistake to downplay the geopolitical and strategic consequences of Russia and China's growing alignment. The United States and its allies must take the Sino-Russian strategic alignment seriously, even if it never reaches a formal alliance, or risk losing the upper hand in this new era of great power competition.
On June 28, 2021 Russian and Chinese leaders officially extended the Treaty of Good-Neighborliness and Friendly Cooperation Between the People's Republic of China and the Russian Federation for an additional five years. The treaty was originally signed in 2001, outlining economic, diplomatic, and geopolitical cooperation over 20 years.
This treaty has facilitated the strengthening of ties and deepening of cooperation between Russia and China throughout the 21st century thus far, resulting in expansive economic cooperation, numerous energy projects, diplomatic coordination in international venues, and joint military exercises. Most recently, Russia and China have introduced plans to cooperate in space, the realm of media, and a potential Afghan peace process.
While the treaty's extension did not define any new parameters in the relationship, there was a lackluster reaction from experts to its extension. This is mostly because a common viewpoint on Sino-Russian relations is that Russia and China will never be allies and that they have nothing in common, therefore the extension of the treaty has little significance.
While there's no use in being alarmist, the extension of a treaty encouraging strategic cooperation between a nation's two largest adversaries should be of concern. Though China and Russia have notoriously clashed over regional spheres of influence, pursuit of world power, and territorial claims, the two have consistently forged a deeper, more cooperative relationship since 2001. Considering this, continually focusing on the issues that divide them is counterproductive and does not negate the threat that their cooperation poses.
Instead of focusing on the cracks of the Sino-Russian relationship, more energy should be directed toward understanding the true drivers of their cooperation. This will allow us to better understand the true nature of the relationship and more accurately forecast its longevity.
It is important to note that Russia and China intend to establish a new "fair and reasonable" international order void of U.S. unilateral action. So far, this has been accomplished by filling global power gaps left by the US, allowing Russia and China to increase their role in world affairs while deepening their ties in the process. This common goal is a foundational element and key driver of the Sino-Russian relationship.
Furthermore, the idea of some sort of alliance between the two may be unlikely, but it is not completely unrealistic. Rhetoric in the Treaty of Good-Neighborliness raises the question of the potential for a form of defense pact or military alliance between Russia and China. Article 9 states that when either party's peace or security is confronted or threatened, then both parties will consult to eliminate the threat.
Articles 7 and 16 also discuss increasing cooperation and trust between their militaries, while deepening confidence-building measures to consolidate security and cooperating in military know-how. Plus, in October of 2020, Putin said that a Russia-China military alliance was not needed, "but, theoretically, it's quite possible to imagine it."
So, what did the treaty's extension mean for Sino-Russian relations?
The official extension acts as a buffer zone. Meaning, the two like where the relationship is at currently with the present parameters in place. However, there is a potential for a new treaty with new parameters to be established at the end of those five years. The question is whether those parameters will increase or decrease. Some experts believe that the Russia-Ukraine conflict has exposed limitations in the Sino-Russian partnership, which will negatively impact their cooperation in the long-term.
If the US and allies continue to maintain the democratic world order while remaining hardline toward Russia and China, then they will be pushed closer together, because they will have no one else to turn to, despite their attempts to make the world safer for autocracy. Beijing and Moscow may feel increased cooperation is the only way their ideas and models of government can survive against a revitalized West.
To take this partnership more seriously, the US needs to:
Stop dismissing the idea of an alliance or defense pact between Russia and China. The origin of greater commitment does not need to be rooted in genuineness or good intentions for it to be a threat.
Make the Sino-Russian partnership a strategic priority. For now, this can be a key point in the larger, overall approach of foreign policy toward China.
Counter Sino-Russian cooperation. The US needs to cooperate with allies and remain present and credible on the world stage. It especially needs to be present in areas of key strategic competition, whether that manifests in hard or soft power.
The reality is that the depth of Sino-Russian ties in the 21st century is unprecedented. This will require a new approach to the way the West views and respond to joint Sino-Russian activity. It is time for American policymakers, scholars, and experts to start treating the Sino-Russian partnership as the strategic challenge it really is.