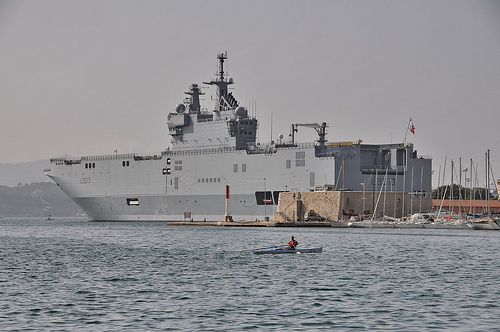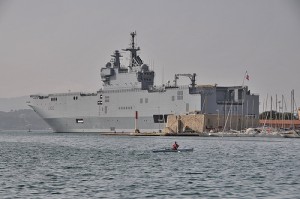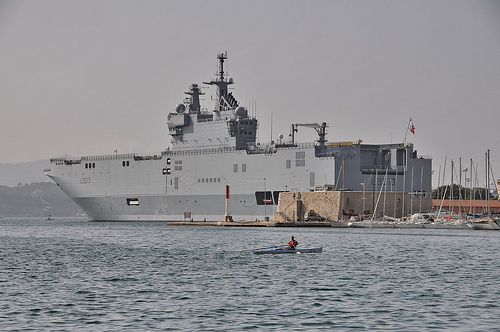 France and Russia announced their readiness to continue cooperation in the sphere of defense. In early June 2011, within the framework of St. Petersburg economic forum held in Russia, both countries signed a contract for building and delivery of two Mistral aphibious assault ships for the Russian Navy. In a $1.52 billion deal, what has been described as Russia's largest foreign military purchase since the fall of Soviet Union, France is to deliver the Mistral helicopter carriers to Russia in 2014 and 2015.
In January 2012, the French authorities have pledged to extend the contract offering the third and fourth carriers to Russia, once the first two ships are delivered. According to Arnaud Kalika, Chief Editor of Confidential Newsletter Strategic Information TTU, France is ready to supply Russia with more sophisticated weaponry and military equipment, except for ballistic missiles, anti-radioelectornic devices and NATO codes. (Newsru.com, January 5)
Mistral carriers are being built by French state military shipyard companies DCNS and STX, which already received an advance payment of $1.2 billion. Mistral ships have a capacity to carry21 thousand tonns and maximum length of 210 meters. The maximum speed of the carrier can reach 18 knots; its single travel capability is 20 thousand miles. Mistral can host 160 people and has the capacity to fit 450 people if needed. It can also fit four landing vessels and 70 armored vehicles. The top section has a space for 16 helicopters; six of which can be located on the flight deck. Russia intends to place eight Kamov Ka-52 assault helicopters, also known as Chernaya Akula (Black Shark) and eight Ka-29's (NATO reference – Helix).
The deal has been criticized by the French military officials and US government as a move that jeopardizes the security of Europe and the United States. French military experts claimed that there still is distrust towards the Russians and selling a carrier to Georgia would have made more sense, especially in the wake of Russian aggression on Georgia in 2008. Office of the President Sarkozy commented that the deal would create about 1,000 jobs for the French for the next four years. Chairwoman of the Foreign Affairs Committee of U.S. House of Representatives, Ileana Ros-Lehtinen expressed her discontent, sharply criticizing the deal as "clear danger" of Russia toward US, Europe and its immediate neighbors. (Ria Novosti, June 18, 2011) 
Companies involved in Russian defense industry have also expressed dissatisfaction with the way Russian government misuses the budgets foreseen for development of Russian military. Association of Russian unions of defense industry stated that while the Russian government purchases from foreign suppliers, orders to Russian producers have fallen, subsequently decreasing the salaries and income of Russian workers.
 Photo: Courtesy of Flickr (FaceMePLS)