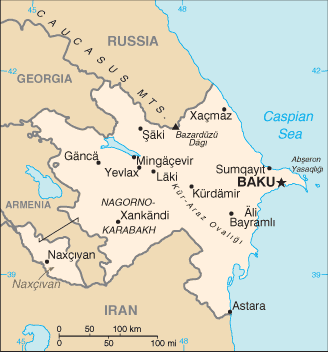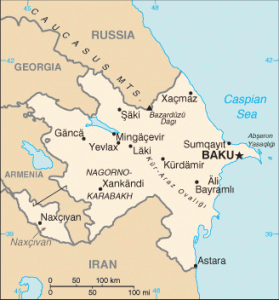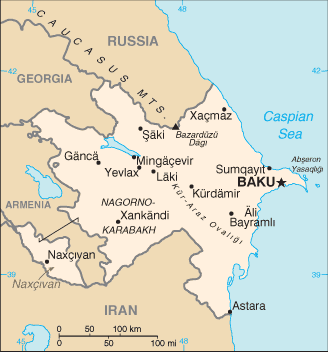 Just when everybody thought it was over, Azerbaijan announced an arrest of 22 people linked with plans to stage terrorist attacks on Israeli interests in the biggest country of South Caucasus.
Earlier in February, at the height of standoff between the United States and Iran, Azerbaijani national security agency arrested a number of people related to Iranian sponsored terrorist group Hezbollah and Quds Force, an elite special force unit of Islamic Revolutionary Guards Corps (IRGC). Iran, located to to the south of Azerbaijan, has been accused of infiltrating hundreds of secret service agents into Azerbaijan to report on and sometimes disrupt an especially friendly relationship between Azerbaijan and Israel. With the United States and Israel strengthening its oppostion to Iran and announcing its plans for possible air attack on Iranian nuclear facilities, which are thought to be used for development of a nuclear weapon, counter measures of the Iranian government vis-a-vis Azerbaijan intensified. Iran went as far as threatening Azerbaijan against its lukewarm relationship with Tehran's foes, Israel and U.S. and warned against allowing the West to use its air bases for air strikes on Iranian facilities.
Azerbaijan, in turn, denounced claims and threats of the Iranian government, stating that it seeks no hostilities against its southern neighbor. Signing of a $1.6 billion arms purchase deal between Azerbaijan and Israel at the end of February added to the anger of Tehran. In March, the Azerbaijani delegation took a trip to Tehran to assure the Iranians that the purchase of arms was not intended for use against Iran. Defense minister of Azerbaijan Safar Abiyev also declared that the Azerbaijani soil will not be utilized for an air strike against Iran. Ahmedinejad's government assumed the relations were to improve, but the announcement on March 14 about an arrest of 22 Iran-linked agents in Azerbaijan planning a plot against Israeli targets in the country will disappoint the Iranian government.
Azerbaijan, a country sandwiched between Russia and Iran, became independent upon the collapse of the Soviet Union on December 26, 1991. Ever since, it looked to the West, establishing warm ties with the United States and European countries. It's special relationship with Israel traces its roots to its own Jewish community which has been there from times immemorial. Currently, many Jews, spread out all over Azerbaijan, enjoy religious and political freedom. The biggest communities are in the capital Baku and the northern district of Quba (the settlement Krasnaya Slaboda has the biggest numbers). Azerbaijan, which has been drawn into a conflict with the neighboring Armenia over the Azerbaijani region of Nagorno-Karabakh since 1988, sought allies since the beginning of the hostilities. Israel has become one of those allies, especially after the ceasfire deal was signed. Israel has supplied Azerbaijan with intelligence, equipment and arms. Last year, a joint venture was formed to produce Israeli drones, critical during a modern warfare and for intelligence gathering at any point of the conflict. Having a reliable supplier of military equipment is very important for Azerbaijan, considering that most of its military hardware is from Russia, a country which does not have an indifferent relationship with Azerbaijan's foe Armenia. Russia which has its 102nd military base in Gyumri, a Turkish-Armenian border town, has also been detected supplying Armenia with as much as $1 billion worth of arms since mid 1990s. It had also reportedly participated in the war on behalf of Armenia in late stages of the conflict. The United States which has a considerable  economic interest in Azerbaijan, has also supplied military training and aid for its army and navy for two decades. However, due to successful efforts of the Armenian lobby groups in Washington in 1992, largely unopposed by then virtually non-existent diaspora of Azeri-Americans, the U.S. Congress restricted aid to Azerbaijan through its Section 907 of the Freedom Support Act (FSA) for Baku's blockade of Armenia. In September 2001, when days after the Twin Tower attacks Azerbaijan unconditionally offered its air and ground space for U.S. military campaign against Taliban in Afghanistan, the U.S. President George W. Bush signed a waiver of Section 907, lifting the restriction. In any case, the section is still there. Israel though, has no such restriction, and is free and willing to sell arms to Azerbaijan. Similar engagement has been committed by Pakistan, a country which denounces Armenia's policies versus Azerbaijan. Azerbaijan is also a strategic supplier of hydrocarbons to Israel. As much as one third of its oil needs are covered by Baku.
Iran is jealous of strong ties between Israel and Azerbaijan and has repeatedly warned Azerbaijan of being too close to Israel. It had provided a lifeline to Armenia during the Nagorno-Karabakh war by sending oil and food to Yerevan, helping it sustain its military operations against Azerbaijan. Apart from aggravation over the Israeli ties, Iran has also been wary of  its northern neighbor after the collapse of Soviet Union in 1991. As many as 30 million ethnic Azeris live in the northern provinces of Iran and every now and then they speak about their civil and cultural rights. In the past three years, Iran crushed riots which had an ethnic Azerbaijani tone, arresting the riot leaders and imprisoning the movement activists. All this causes headache to the Iranian government. Hence its immediate reactions to Azerbaijan's extra-friendly moves toward the West and Israel. 
Photo: Courtesy of Wikimedia