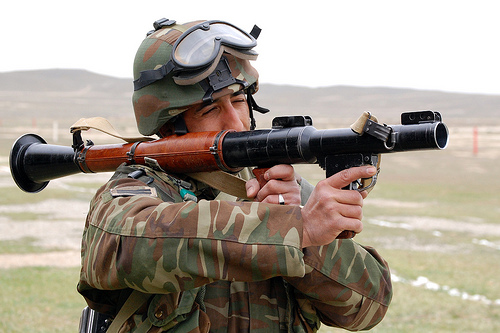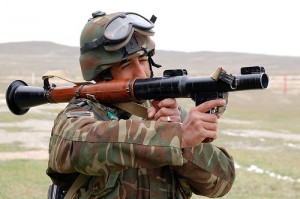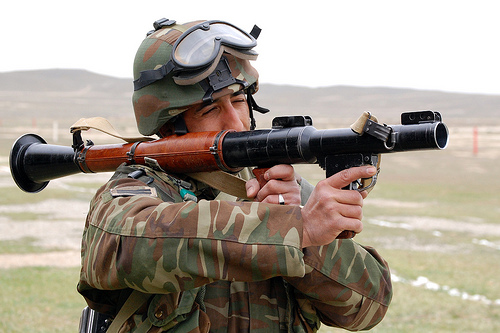 Secretary of State Hillary Clinton is on an eight-day tour to Scandinavia, South Caucasus and Turkey. Among the issues she will be discussing is violence in Syria, rising tension over the nuclear program in Iran and the conflict of Nagorno-Karabakh between South Caucasian nations of Azerbaijan and Armenia.
In Caucasus, her first stop was in Yerevan, Armenia where she was greeted by the Armenian foreign minister Edward Nalbadyan. A few hours before Clinton landed in Armenia, deadly border clashes erupted on the northern border of Azerbaijan with Armenia, where 3 Armenian servicemen were reported killed, many more were wounded on both sides. Secretary of State stated she was "very concerned by these incidents and have called on all parties, all actors, to refrain from the use of force. There is a danger that it could escalate into a much broader conflict that would be very tragic for everyone concerned." According to the Armenian Ministry of Defense, 3 Armenian soldiers were killed in Berdavan and Chinari villages of northeastern Tavush district of Armenia. Five more were wounded. According to BBC report referrring to the Azerbaijani Ministry of Defense, the Armenian servicement were killed in a pre-emptive action to disrupt the planned attack on Azerbaijani positions in northwestern Azerbaijan. Azerbaijan later denied any incident took place.
Secretary of State Clinton also discussed the prospects for renewal of talks and signing protocols with Turkey on opening the Turkish-Armenian border which were quickly abandoned after Azerbaijan's discontent in 2009. Turkey had closed the border in 1993 in solidarity with its ethnic kin, Azerbaijan after Armenian troops occupied a large chunk of Azerbaijani territory in its Karabakh province. Although there are occasional flights from the Armenian capital Yerevan to Istanbul, the border remains closed until, most likely, Azerbaijan and Armenia sign a peace treaty.
Clinton's next stop is Georgia. While in Armenia, the Secretary of State already condemned Russia's role in disintegrating Georgia and assisting the breakaway regions of Abkhazia and South Ossetia in the war with Georgia. Georgia has been at odds with its northern neighbor Russia since the August war in 2008, when the Georgian army was ordered to retake its South Ossetian province which is governed by separatist forces backed by Russian since 1990s. However, Clinton stopped short of accusing Armenia for occupying Nagorno-Karabakh enclave of Azerbaijan. 
Clinton is planning to travel to Baku, capital of Azerbaijan on June 6, to attend the annual oil and gas exhibition and meet with the Azerbaijani leadership. On the morning of June 5, another deadly clash between the Armenian and Azerbaijani troops took place in the vicinity of Ashagi Askipara village of Qazakh district of Azerbaijan. According to the Azerbaijani Ministry of Defense, an Armenian "saboteur" squad crossed the border and attacked the Azerbaijani positions. Although the attack was rebuffed, 5 Azerbaijani servicement were reported killed. It is unknown if the attack was of retaliatory nature. It is possible that Clinton's tour to South Caucasus included increasing of mediation role of the United States within the Nagorno-Karabakh peace talks, which may cause some discomfort to the Russian leadership. Russia had previously assumed a leadership role in peace negotiations between Armenia and Azerbaijan in the last few years with former President Dmitry Medvedev organizing trilateral talks in various cities, which produced no substantial results. Russia may feel uneasy with interference of the United States in its backyard and may have played a role in increasing tensions between Azerbaijan and Armenia. Armenia is Russia' close ally in South Caucasus and retains a military base in southwestern Armenia, close to the Turkish-Armenian border. Russia had reportedly helped Armenia in the war in Nagorno-Karabakh and supplied its ally with up to $1 bln worth of weaponry. Azerbaijan is an ally to the United States and is a significant player in energy security of the West. Since 2001, Azerbaijan has also become a vital component of the War on Terror.
Nagorno-Karabakh conflict started in 1988, when the Armenians lay claim to Nagorno-Karabakh region of Azerbaijan. After an escalation of hostilities in 1992-94 when both Armenia and Azerbaijan were already independent, Armenia occupied nearly a fifth of Azerbaijan's territory. Close to 30,000 people died, 1 million became refugees.
Photo: Courtesy of Flickr