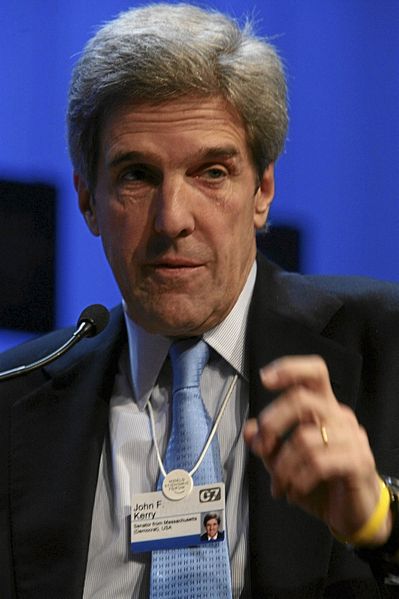 US Secretary of State John Kerry has called for an end to all violence in Egypt and urged moves to full democracy on his first visit to the country since President Mohammed Morsi was ousted. "History has demonstrated that democracies are more stable, viable and prosperous than any alternative," he told a news conference. "With stability comes tourism and investment, and with both come jobs."
He said the US was committed to working with Egypt's military-backed rulers. Mr Kerry's visit to Cairo was not disclosed by US officials until he landed. It is the first time a US secretary of state has travelled to Egypt on a visit that is unannounced for security reasons.
The BBC's Kim Ghattas, travelling with Mr Kerry, says it is the kind of precaution that characterises trips by US officials to countries like Afghanistan and Iraq. This is a sign of US concerns about continued instability in the country, but it is also a reaction to the high level of anti-American feeling in Egypt, our correspondent says.
On his six-hour stop Mr Kerry was meeting the interim leaders that assumed control following Mr Morsi's removal in July – President Adly Mahmud Mansour, Prime Minister Hazem el-Beblawi, Foreign Minister Nabil Fahmy and army chief Gen Abdel Fattah al-Sisi.
'Difficult time'
Former President Morsi goes on trial on Monday. His supporters say he was removed in a coup and is now facing a politicised trial. Human rights groups accuse the security services of acting without accountability. On Saturday, Egyptian newspaper al-Watan published what it said were the first images of Mr Morsi in detention. The images, which have not been independently verified and are undated, show Mr Morsi dressed in a tracksuit and sitting in an armchair, appearing animated and comfortable.
The trial of Mr Morsi is to be held at Cairo's Police Academy, the Al-Yawm al-Sabi news website reports. Former President Hosni Mubarak is also being tried at the same venue. Mr Kerry said Egypt's fortunes, and its bilateral relations, depended on its democratic transition.
"The United States believes that the US-Egypt partnership is going to be stronger when Egypt is represented by an inclusive, democratically elected civilian government based on rule of law, fundamental freedoms and an open and competitive economy," he said. He added that the US was "committed to work with" the interim government.
His Egyptian counterpart Nabil Fahmy said Kerry's comments and the "roadmap" Gen Sisi laid out following the military coup – which sets out constitutional reform and elections by spring 2014 – indicate that "we are all pursuing a resumption of normal relations".
Mr Kerry was also reported to be meeting, behind closed doors, members of Egyptian civil society alarmed by a crackdown in which hundreds of people have died. Last month the US froze a large portion of the $1.3bn (£810m) in aid it sends to Egypt, prompting condemnation from Cairo. On Sunday, Mr Kerry insisted that was merely a "reflection of US law" and said assistance that went directly to the Egyptian people had been maintained.
Trade and defence
Late on Sunday, Mr Kerry flew from Egypt to Saudi Arabia – the second stage of a nine-day tour of the Middle East and North Africa. The Saudi government has recently expressed disappointment with what it sees as America's hesitant approach in Syria and a lack of support for the new Egyptian government. Mr Kerry is expected to discuss defence and trade issues with officials, with Syria likely to be high on the agenda across the region.
The secretary of state will also meet Israeli and Palestinian leaders to discuss the peace process in Jerusalem and Bethlehem. Jordan, Algeria and Morocco are also among the countries he is due to visit. Correspondents say Mr Kerry may have to face difficult questions over allegations of widespread US spying. In the wake of revelations sparked by leaks from ex-US intelligence contractor Edward Snowden, Mr Kerry said last week that spying by the US National Security Agency may have gone too far.
Source: BBC