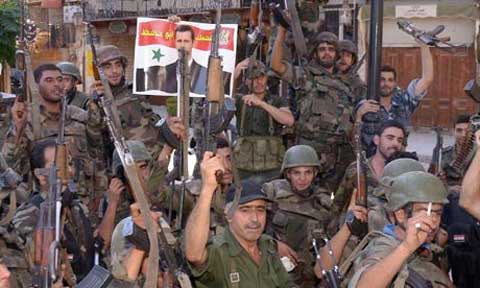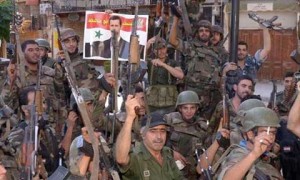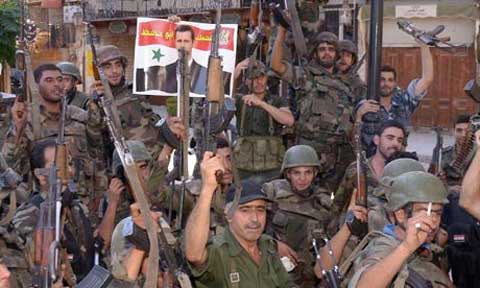 By Dominic Evans
Forces loyal to President Bashar al-Assad captured on Friday the last of three towns on the south-eastern approaches of Aleppo, state television said, advancing on the city after similar gains around the capital Damascus this week.
Aleppo, Syria's commercial hub and biggest city before the uprising against Assad erupted in 2011, has been partly held by Sunni rebels and foreign jihadi fighters for more than a year.
But Assad's army, backed by Shi'ite Lebanese Hezbollah officers and Iraqi militias, has been regaining territory around Aleppo and Damascus to the south, strengthening the president's hand ahead of proposed, but long-delayed, peace talks in Geneva.
State television aired a report on Friday it said was filmed in the center of the town of Tel Hasel, 10 km (6 miles) south-east of Aleppo. Black smoke was seen in the background.
The town is the third on the road to Aleppo to be taken by Assad's forces this month after the capture of Safira, close to a former chemical weapons site, and Tel Arn.
Its capture helps secure army control south of Aleppo airport, which has been closed to most civilian flights since rebels fired at a plane last year, just a week after soldiers drove rebels from a base on the airport's northern perimeter.
Rami Abdelrahman of the British-based Syrian Observatory for Human Rights said clashes were continuing in the southern outskirts of Tel Hasel on Friday evening.
But fighters from the al Qaeda-linked Nusra Front and the Islamic State in Iraq and the Levant had already withdrawn north towards Aleppo, now divided between Assad's forces and rebels.
"It's a matter of time before the army has full control of Tel Hasel," said Abdelrahman, who monitors the violence through a network of activists, medics and military sources.
More than 100,000 people have been killed in Syria's 2-1/2 year civil war. More than two million people have fled abroad as refugees and millions more have been displaced inside a country which is fractured between government-held areas in the south and center, rebel territory in the north and east and an increasingly autonomous Kurdish region in the north-east.
The war has also polarized the Middle East between Sunni powers such as Turkey and Gulf Arab states which support the Sunni Muslim rebels, and Shi'ite Iran and Hezbollah which back Assad, whose Alawite faith is an offshoot of Shi'ite Islam.
Friday's retreat was the latest setback for Assad's foes and boosts his position ahead of the Geneva talks aimed at finding a political solution to the war. Syrian authorities have scoffed at suggestions Assad hand power to a transitional government.
AIR STRIKE KILLS PROMINENT REBEL
The United States and Russia have sought to convene Syria peace talks for the last six months. They still have to set a date for them, despite stepping up efforts in recent weeks, and may struggle to bring the two sides together this year.
A Russian diplomatic source said on Friday a Syrian government delegation was due to meet officials in Moscow on Monday to discuss the conference, ahead of a preparatory Nov 25 meeting between UN envoy Lakhdar Brahimi and Russian diplomats.
Highlighting Assad's battlefield advantage in the run-up to talks, an air strike in Aleppo killed a rebel commander in a main Islamist brigade, activists said on Friday.
The opposition Aleppo News Network said the raid targeted an army base that rebels had captured, killing commander Youssef al-Abbas of the Qatari-backed al-Tawhid Brigades, one of the biggest armed opposition groups.
Abbas, known by the nom de guerre Abu al-Tayyeb, was the group's financial officer. Tawhid's head, Abdelqader Saleh, was wounded in the attack which struck a meeting of Tawhid leaders.
Al-Tawhid and other Islamist groups issued a statement earlier this week, declaring an emergency in Aleppo and ordering all fighters to head to the fronts.
Also on Friday, Syria's army command said it had recaptured the town of Mahin in Homs province. Earlier this month rebels seized a large haul of rockets and artillery shell from government arms depots in the Mahin area.
(Editing by Gareth Jones)
Source: Reuters