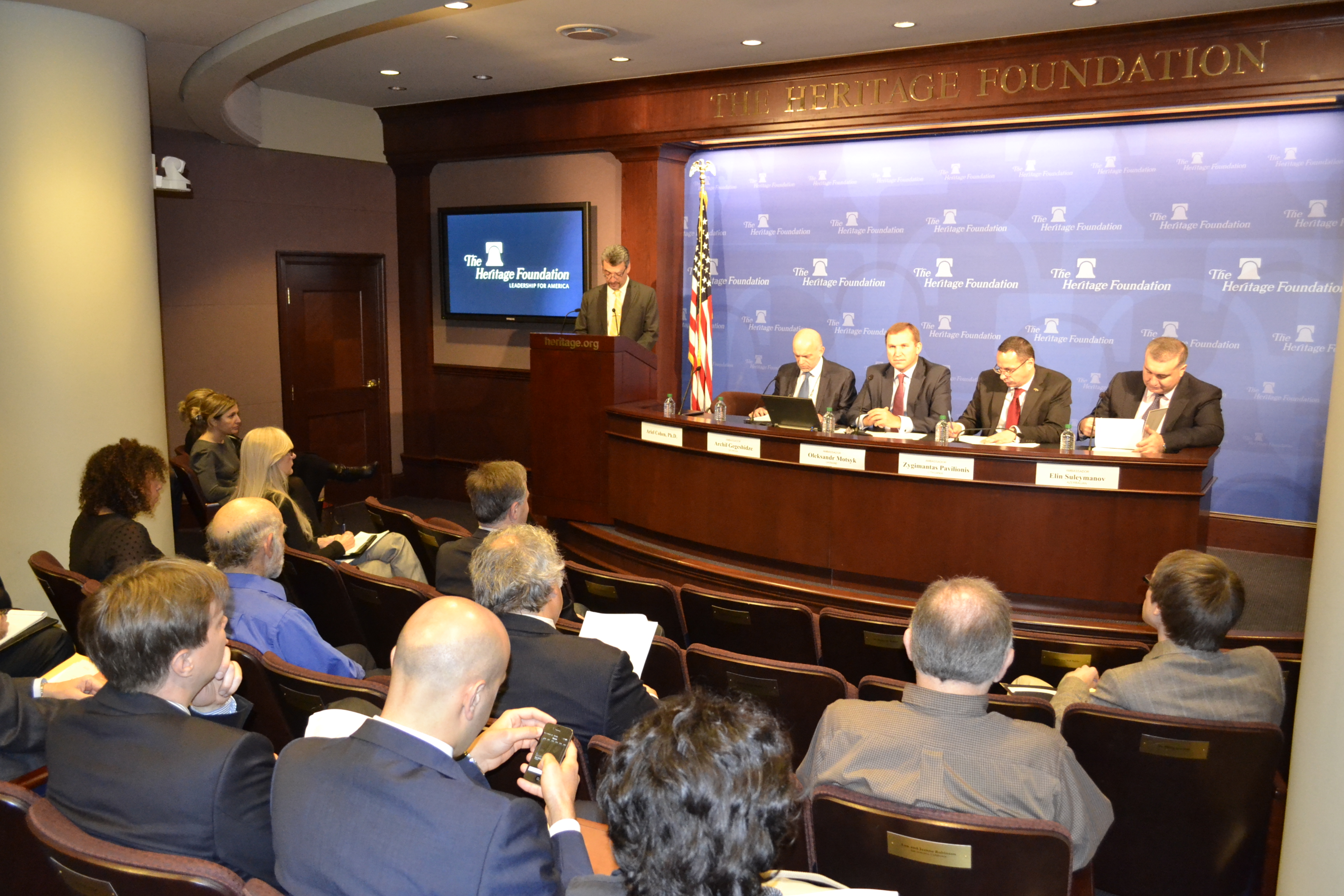 The Heritage Foundation, a think tank located in Washington, held a round-table discussion on the importance of Eastern Partnership on the eve of Vilnius summit, where three out of six intended members of the partnership are expected to sign off Association Agreement with the European Union, establishing closer economic and political relations with Europe and paving the way for complete Euro-integration of the Eastern European and South Caucasian states of the former Soviet Union.
The three countries who have committed to initialing the agreements are Ukraine, Moldova and Georgia. All had been subject to sanctions from Russia in the preceding months. Russia had imposed ban on Ukranian chocolates, Moldovan and Georgia wine, and other commodities. The other three, Belarus, Armenia and Azerbaijan held off initialing the agreement due to various reasons. Belarus which happens to be a part of the Russian-led Customs Union is not in position to join the EU-led project due to the fact that the concept of free trade with Europe within Eastern Partnership conflicts with the Customs Union policies.
Armenia, which had held intense talks with EU to be included in the project for the last 3.5 years, made a sudden, yet expected U-turn announcing in early September that Yerevan will be joining Russian-led Customs Union instead. Armenia's decision was reportedly based on security guarantees from Russian against Azerbaijan and Turkey – Russia has a large military base in Armenia – and the fact that Russian state companies completely control Armenia's energy and commodity markets, holding a leverage about Armenia's foreign policy choices.
Azerbaijan, in turn, chose to withhold its participation due to Eastern Partnership's incomplete language on support of territorial integrity of Azerbaijan. Although all members states of EU recognize and support Azerbaijan's territorial integrity, the leadership of Eastern Partnership has not stipulated its stance clearly. Recognition of territorial integrity of Azerbaijan is important for Baku as it clears out concerns about the free ride Armenian authorities in breakaway Nagorno-Karabakh may enjoy through Armenian channels if Yerevan ever joins the project. Nagorno-Karabakh is an internationally recognized territory of Azerbaijan under control of Armenian authorities since 1994, when the ceasefire agreement was signed.
Ambassadors of Ukraine, Georgia, Azerbaijan and Lithuania spoke at the round table about significance of Eastern Partnership for the candidate states and how it had economically and politically transformed the states of former Soviet Union already in EU. The Eastern Partnership summit in Vilnius will take place on November 28-29.