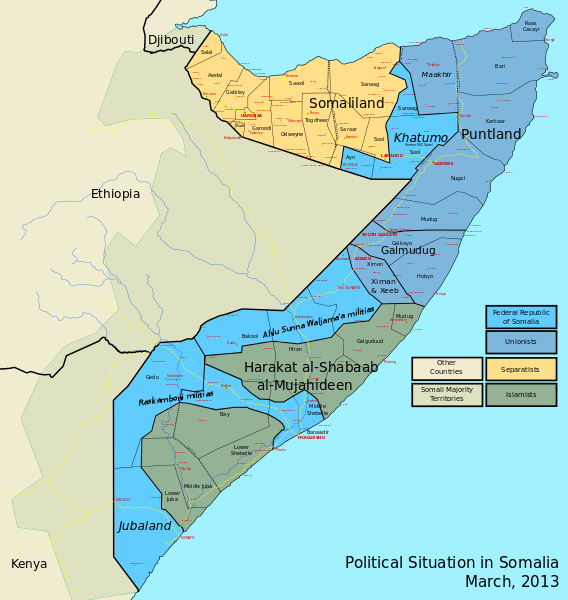 By Jason Patrick
An assailant dressed in a police uniform assassinated two representatives of the United Nations Office of Drugs and Crime (UNODC) in Galkayo, Somalia today. The shooting occurred at the airport leaving a Briton and a Frenchman dead. The UNODC chief condemned the attack and called upon Somali authorities to bring the perpetrator to justice. The al-Qaeda-linked militant group, al-Shabaab applauded the attack, praising the unknown assailant and encouraging additional "lone wolf" style attacks against foreign workers in the country.
In June 2013, al-Shabaab carried out a suicide attack on the UN compound in Mogadishu, killing 15. However, today's attack occurred in the breakaway region of Puntland in northern Somalia, a region that is not a traditional al-Shabaab stronghold. Rather, since 2005, Puntland has gained notoriety as a hub for Somalia's infamous piracy industry.
In his 2013 book "The Most Dangerous Place in the World: Inside the Outlaw State of Somalia", freelance journalist James Fergusson described Galkayo as a crossroads between Puntland and the autonomous region of Galmudug (p. 185). Galkayo is Puntland's second city behind the regional capital Garowe, and lies on the line dividing the warring Darod and Hawiye clans. In his book, Fergusson detailed the threat posed even by local police, whom pirates could bribe to conduct kidnappings on their behalf for substantial ransoms (p. 195). In October of 2011, Jessica Buchanan and her husband were also kidnapped in Galkayo and held ransom before being rescued by US Navy SEALs four months later.
The slain UNODC workers were reportedly en route to Garowe to meet with Somali officials to discuss the issue of regulating money transfer services that replace the formal banking system in Somalia, according to British media. Despite calls for justice from the United Nations, endemic corruption and the lack of central authority in Galkayo likely means that today's attack will go unsolved.