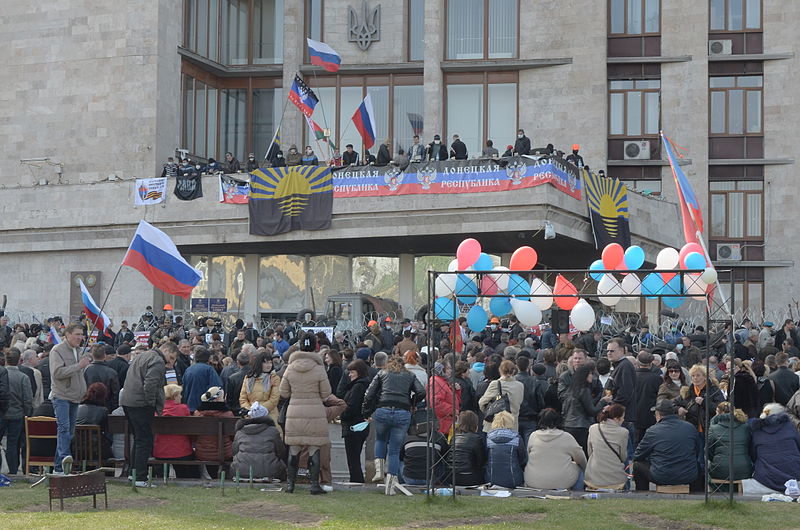 By Jason Patrick
Tension continues to rise in Ukraine's eastern provinces with pro-Russian separatists attacking multiple administrative and security sites in the province of Donetsk. On Saturday, masked gunmen stormed a police station and the State Security Office in the city of Slavyansk, 90 kilometers north of the provincial capital city of Donetsk. Capturing a cache of firearms, the attackers reportedly distributed them to local separatists. Media reports and online videos indicate that armed men, masked and clad in a disparate array of camouflage uniforms, have established checkpoints along the road into the city in an attempt to prevent government security forces from reestablishing control in the city.
Just 11 kilometers south of Slavyansk, gunmen also seized a police headquarters in the city of Kramatorsk. According to press reports, National Guardsmen fended off an attack at a chemical plant in the same province. The attackers were reportedly seeking explosive materials stored on-site in the plant. Saturday's attacks follow on the heals of similar incidents less than a week ago in Kharkiv, Donetsk, and Luhansk.
Interim president Oleksandr Turchynov called an emergency national security meeting Saturday evening to address the crisis, which the Kyiv government insists is being engineered by Moscow. Although government security forces successfully removed protestors from its administrative headquarters in the city of Donetsk last week, the government has not conducted further operations to retake the growing number of facilities being held by the secessionists.
Foreign ministers from the EU, US, Ukraine, and Russia are set to meet in Geneva on 17 April to discuss the crisis. However, few are hopeful that an agreement will be reached.
Conditions in eastern Ukraine are very conducive for President Putin to seize control of key areas of the country, which would effectively link Russia to Crimea. Seemingly immune from international opprobrium, Putin could well use the present unrest–real or engineered–as a pretext to send in the 40-50,000 troops has has amassed along the border. Beyond re-exerting its influence in the former Soviet republic, Moscow has many reasons to grab the southeast section of Ukraine.
In a report published this weekend by the Royal United Service Institute (RUSI), a London-based think-tank, authors Igor Sutyagin and Michael Clarke provided multiple compelling reasons for which Putin could risk major international backlash. Militarily, Russia depends on multiple manufacturing sites in southeast Ukraine for critical weapons components. According to the report, approximately 30 percent of Kyiv's military exports to Russia are unique and cannot be substituted in the near-term. These include:
SS-18 intercontinental ballistic missiles (ICBM): designed and maintained by specialists in Dnepropetrovsk
SS-25 and SS-19 ICBM guidance systems: designed and produced in Kharkov
Uranium: 20 percent of Uranium consumed by Russia's civilian and military nuclear industry comes from Dnepropetrovsk
Engine components: gas turbine engine components for 60 percent of Russia's surface vessels produced in Mykolaiv
AA-10 Alamo: medium range air-to-air missile produced in Zaporizhia
AA-11 Archer: short range air-to-air missile seekers produced in Zaporizhia
Combat aircraft: auxiliary equipment for Su-27, 30 and 35 fighters; engines for all combat and transport helicopters produced in Zaporizhia
Although it could be argued that these vulnerabilities could motivate Russia to resolve the present crisis diplomatically, Moscow's actions thus far give no indication that they intend to. Developments over the next month will be critical in determining President Putin's strategy in Ukraine. The longer Russian forces remain in their high state of combat readiness, the more their combat capability will begin to degrade. Complicating the issue further is the rotation of conscripted soldiers, which is set to occur from April to July, according to the RUSI report. Before the start of summer, Russia will likely have to decide whether to use its troops or stand them down. Increasing violence, calls for regional referenda, and unrest resulting from official elections in May will all factor into Putin's calculus as he ponders his next moves.