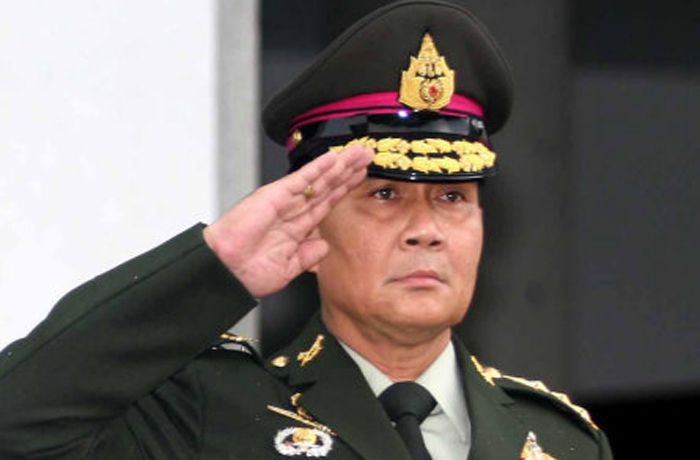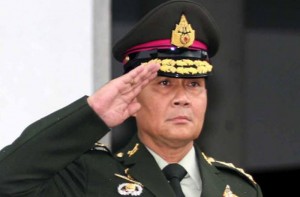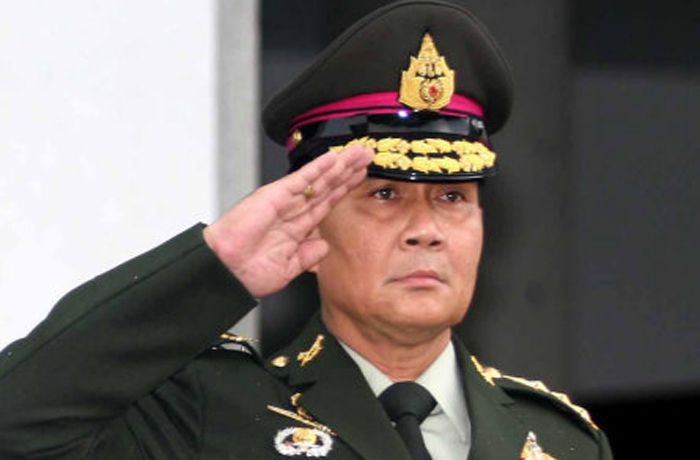 Thai Prime Minister Prayut Chan-O-Cha slipped quietly into the club of world leaders Thursday against a backdrop of noisy protests against the former general who seized power in May.
Prayut's first outing on the global stage came at an ASEM summit of European and Asian leaders, which he was invited to despite the European Union having suspended official contacts in protest over his overthrow of an elected government and subsequent stifling of dissent within the troubled southeast Asian state.
Smiling and waving for the cameras, Prayut, 60, declined to respond to a barrage of shouted questions from reporters as he arrived for the summit, the 10th meeting of its kind since the ASEM forum was launched in Bangkok in 1996.
Across town, several hundred students and Thai exiles brandished "Prayut is a criminal" placards as they staged the kind of march that is currently impossible in Thailand, where the military-backed regime has introduced a ban on people gathering in groups of more than five.
Exiled Thai Junya Yimprasert, who helped to organise the protest, said she hoped it would be the start of an international campaign to put pressure on the junta to restore basic freedoms.
"We may not be very many here today but many more people are with us in spirit and we know people in Thailand are watching," Junya told AFP.
"This man should not be welcome in Europe."
The activist said Western governments should not be duped into accepting Prayut as a legitimate leader.
"There have been enough military coups in Thailand and enough deaths over the years for the leadership of the world to know that they have to stand firm in defence of civil rights."
Prayut swapped his uniform for a suit when he retired from the military after a 40-year army career at the end of last month.
He has said he plans to implement reforms and rid Thailand of corruption before organising elections.
October 2015 has been pencilled in as a date under his reform "roadmap" but, in comments before he left Bangkok for Milan, he appeared to hint that this date could slip, saying the timing of any vote would depend on the progress of work on a new constitution.
"The problem is can we implement roadmap?" he said.
'Assassin'
Brad Adams, Asia Director for Human Rights Watch, said the EU should use the ASEM summit to make it clear to the junta that "there will be no return to business as usual until Thailand returns to democratic civilian rule through free and fair elections.
"Thailand is in the grip of a major crackdown on freedom of expression, association and public assembly that shows no sign of ending," he added.
The EU has been sharply critical of the military's latest intervention in Thai politics.
The bloc suspended official visits to and from Thailand after the May coup and put a proposed new cooperation agreement on ice.
Despite the sanctions, EU governments agreed last month not to prevent Prayut from attending the ASEM summit.
Some of the protestors in Milan Thursday were there to demand justice for Italian photo-journalist Fabio Polenghi, who was shot dead by the Thai army during street clashes in May 2010.
The soldier who fired the shot has never been identified and Polenghi's sister Arianna describes the general as "an assassin who, along with others, ordered the execution of my beloved brother Fabio".
"Now he is being welcomed to Italy as a legitimate head of state…incredible," Arianna Polenghi said in a statement posted on her brother's memorial website.
Source: The Local (AFP)