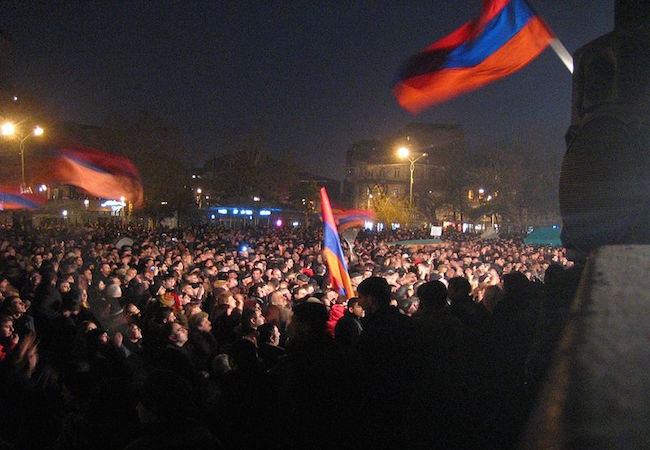 Hundreds of Prosperous Armenia Party (BHK) supporters rallied on the streets of Yerevan on Feb. 9 after activist Artak Khachatryan was kidnapped and beaten unconscious by three unknown men. Khachatryan was left on a street near his home on Feb. 7, hours after being beaten while walking in the city center with a friend, Narek Abrahamian, reported RFE/RL's Armenian service.
Abrahamian said that three masked men forced Khachatryan into a car and drove away. The activist was later rushed to Yerevan's Malatia Hospital where he underwent surgery for a broken nose.
Khachatryan was a speaker at recent BHK-backed protests in Yerevan staged by small business owners, who were demonstrating against a controversial tax law.
Vahan Babayan, a parliament deputy from the BHK, told reporters that he was on the phone with Khachatryan during the attack and overheard some of the beating. "I could hear him say, 'Don't hit me, where are you taking me?' I could hear the beating. Then I lost the line," said Babayan.
In an interview with Armenia's iLur.am website, Khachatryan's brother, Artyom Khachatryan, said the three men were armed and that their vehicle was unmarked. He added that he is certain the attack is connected to Artak's political activism.
A formal inquiry was launched by Armenia's Investigative Committee; however, no arrests have yet been made.
Artak Khachatryan was attacked only two days after BHK leader Gagik Tsarukian condemned the Sarkisian Administration's economic track record. At an opposition conference, Tsarukian announced that the opposition trio (BHK, Armenian National Congress, and Heritage Party) would soon resume their campaign of anti-government protests.
The BHK was quick to condemn Khachatryan's beating, calling it politically motivated. In a statement,the party blamed Armenia's political leadership for "the atmosphere of banditry and lawlessness."
Prime Minister Hovik Abrahamian condemned the attack and rejected the claim that authorities were involved in any way. During an interview with Tert.am, Abrahamian warned Tsarukian against exploiting the incident to escalate political tensions in Armenia.
Calling the BHK statement "unacceptable," Abrahamian told reporters that he expects Tsarukian to personally monitor statements from his party. "Gagik Tsarukian will personally bear full responsibility for possible developments and escalations stemming from such irresponsible statements," said Abrahamian, in what appeared to be an unprecedented verbal attack on Tsarukian from the prime minister's office.