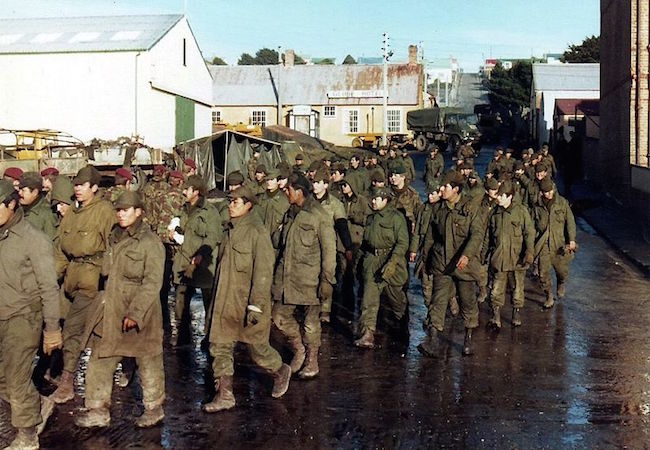 The Argentine government on Monday officially declassified secret files relating to the country's 1982 war with Britain over the Falkland Islands. The Defense Ministry has 30 working days to establish a mechanism for members of the public to consult the records, according to a resolution published in the official gazette.
President Cristina Fernandez announced the declassification plan last week during a speech marking the 33rd anniversary of the invasion and occupation by Argentine troops of the South Atlantic archipelago, identified as Falklands/Malvinas.
Fighting officially began on May 1, 1982, with the arrival of a British task force, and ended 45 days later with the surrender of the Argentines. The conflict claimed nearly 1,000 lives – some 700 Argentines and 255 British soldiers and sailors, and three Islanders.
A decree with the signatures of the president, Cabinet Chief Anibal Fernandez and Defense Minister Agustin Rossi, was published on Monday in the Official Gazette.
Britain has ruled the Falklands since 1833, but Buenos Aires insists the Islands rightfully belong to Argentina as part of territorial integrity and legacy from the Spanish empire.
The dispute over the Falklands took on new importance in 2010 with the discovery of large offshore oil and gas deposits in the islands.
Tensions flared again last week when Britain announced it was bolstering its military garrison in the Falklands in response to an ostensible Argentine "live threat".
Last week also saw the publication of documents provided by former U.S. intelligence contractor Edward Snowden showing that Britain tasked one of its spy agencies with monitoring Argentina's efforts to claim sovereignty over the Falklands.
GCHQ, the British equivalent of the U.S. National Security Agency, developed a plan that involved both intelligence collection and "effects operations," which, according to information previously provided by Snowden, refers to actions such as disseminating false information on the Internet.
Buenos Aires demands that Britain comply with a 1965 United Nations resolution describing London's continued rule of the Falklands as colonialism and calling on the parties to resolve the dispute through dialogue.
London has refused to discuss the question of sovereignty and says that the Falkland Islanders, who are overwhelmingly in favor of remaining British as proven by a 2013 referendum, should decide their own future based on the right to self determination.