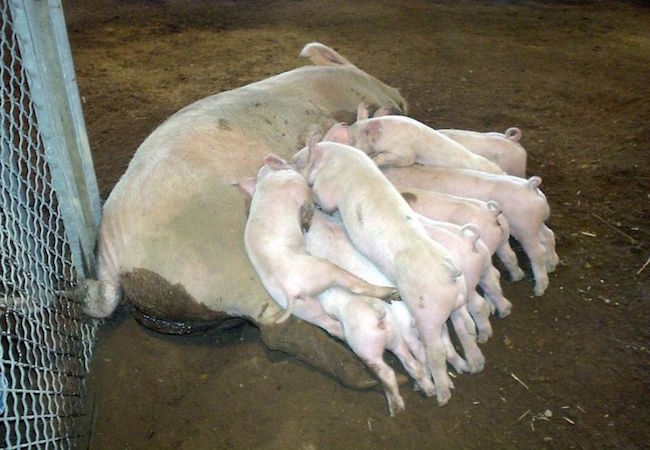 By Peter Tase
Itapúa, is a prosperous Department (province) in southern Paraguay, characterized by its fertile soil and hard working European immigrants, who have established themselves decades ago and now are playing an important role not only in Paraguay's economic growth and financial stability but also have gained an admirable reputation over the entire region of MERCOSUR.
One of the growing sectors in Paraguay's agriculture production agenda is Pork farming, which is acquiring a major attention thanks to the promising domestic consumption and also due to an ever growing demand from external markets.
In the first four months of 2015, pork meat and its sub products have gained more international awareness and reached an historic high level of more than USD 6.5 million in exports' revenues with a destination to MERCOSUR markets and Europe.
In terms of value, pork products from Paraguay have experienced increased levels over the last two years. In 2014 the exports of pork generated a revenue of USD 9.5 million and this year it is expected to bring higher profits in this important food sector.
Pig farming is not a traditional business model in Paraguay, its production and marketing have formally taken shape only fifteen years ago in Itapúa. It was shaped under the leadership of local farmers who engaged and invested heavily in genetics, infrastructure and training of human resources.
In a recent interview for Eurasia Review Journal, Marcos Medina, Paraguayan under Secretary of State for Livestock and Dairy Production stated that: "Paraguay has impressively developed its pork production which is expected to grow up to 5 percent this year. Meanwhile there is a growing need to expand the presence of such food products in foreign markets."
Additionally, national growth of this sector provided an extensive choice of high quality animals, which favored the installation of industries that produce animal food and encouraged production of sub-products that originate from pork farming.
However, this sector has its challenges; local producers in Itapúa have requested that there must be tighter border controls in order to prevent illegal shipments of pork from the neighboring countries of Brazil and Argentina, which affect the domestic production in this sector.
According to representatives of Itapúa's pork grazing community: "there is a great problem with the cargo shipments with live pork that are coming from Brazil legally, since Paraguay has a small market for pork consumption and it is taking shape only recently." Brazil has supposedly more competitive prices, as a result merchants always bring shipments of live pork from across the border. This winter, Paraguayan pork production has been affected because consumption is very low anyhow.
In Itapúa, there are slaughtered over seven thousand animals per month. The largest amount of meat is sold to the local refrigeration companies such as Upisa and Producar. The remaining part of the product is destined for the consumption market in the Department of Central where Asuncion has its major share.  Colonias Unidas Company, a major pork farming enterprise, is a share holder in both of the entities.
According to the representatives of Colonias Unidas: "People are placing priority to the production of pork meat and are converting grain into animal feed. Although many farmers had left pork farming sector, they all are reconsidering to immerse again in this lucrative sector because of the good prices that domestic and international markets currently offer."
The process of pig fattening is very costly, it requires a great investment, including infrastructure (approximately USD 70 thousand to invest in housing 550 animals), acquire piglets, grain and protein foods, medicines and highly qualified technical support.
According to Under Secretary Medina, "Pork production is expected to grow even though unfair competition has its toll and the former will definitely be less harmful in the months to come."
Itapúa has a solid agricultural sector based in four products, soy bean, corn, grain and rice. Over the last years, corn farming has lost importance and in cultivation space, meanwhile rice cultivation has grown significantly mainly in the Basin of Tebicuary River.
Cultivation space for rice continues to grow, from 39 thousand acres to 42 thousand acres today; it has a production output of 7 thousand kilogram/acre.
Cultivation of oranges and other citrus fruits, further diversifies the economy of Itapúa, considering that companies such as Frutika and Trociuk have invested in making fruit juices and fruit pulp.
Soy bean continues to be expanded in the Department, with almost eight thousand acres cultivated in the last harvest, while totaling approximately 651 thousand acres at a national level.
Itapúa has a well established cattle industry. During the last years, it has experienced an increase in cattle grazing. In 2011 there were more than 428 thousand heads and in 2014 it had more than 515 thousand heads of cattle. However, pork production is an attractive example that shows how to successfully build a production chain that brings high value to the agricultural sector.
The capital city of Itapúa is Encarnación, which is the largest center of commerce, logistics and services in the region and has historically played an important role for Paraguay's exports. Over the last two decades, Encarnación has developed its infrastructure sector and is strategically located on the Argentinean border while connected by rail and a bridge with Posadas, Argentina.
The city of Encarnación is considered to be Paraguay's Southern Pearl; it is poised to contribute towards the socio-economic growth of a land locked nation while slowly accepting the tradition of modern logistical parks, free trade zones and enlarge exports of agricultural products; all of these are the life blood of Paraguay's economy.