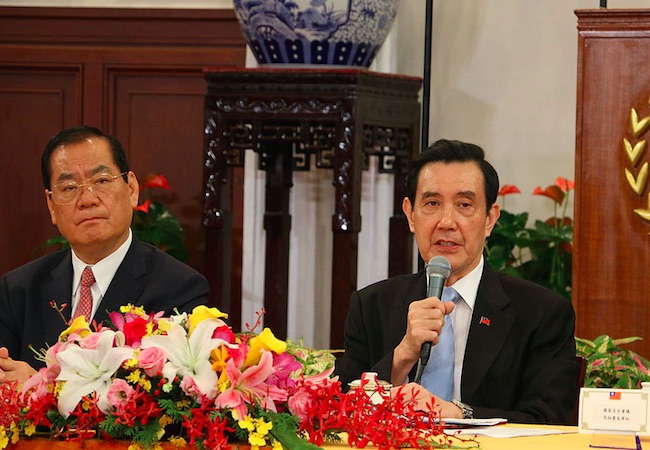 By Shah Rukh Hashmi
Having series of conflicts, crisis and tensions in Taiwan Strait, it seems land bodies around the blue water are willing to forge a peace mechanism. This has come to a time when President Ma Ying-jeo is supposed to leave the office in couple of months. Whereas, Beijing has witnessed this move as another pragmatic, confident and conscious step from the office of President in subsequent order of events.
Though Beijing and Taipei had been involved in negotiations on party level, however supreme leadership has met first time in after Chinese Revolution. This has once again advanced and proved the notion that President Xi Jinping enjoys a certain degree of independence in exercising authority than his predecessors. Keeping office of the General Secretary of the party, Chairman of the Central Military Commission and President of the mainland, President Xi is beyond doubt consolidating maximum degrees of powers. However as a famous saying goes, 'Power tends to corrupt and absolute power corrupts absolutely', there are risks and chances of mishandling of issues.
In this short piece of writing I have tried to discuss President Xi's multi-dimensional initiatives, ranges both at domestic, regional and global levels. Precisely, I will mention his maneuvering at these three levels in general and specifically argue that though this meeting may not serve as a formal mechanism for peace and issue of legitimacy. However, akin to agreed and practiced '1992 Consensus', this meeting will surely form informal normative ways to reduce the gap between two parties across Taiwan Strait.
Changing dynamics of the regional and global politics requires new pattern of agreed principle between two to exist peacefully. President Ma has taken several steps and defended his rapprochement towards mainland China on every stages in his both terms as President. China has become largest trade partner of Taiwan and more cooperation is being forged despite concerns and unrest by the protesters last year in March. Trade between two has doubled in a period of 7 years from 2008 to 2015 and constitute roughly more than 2/5th share of Taiwan's exports and imports from China (including Hong Kong).
President Xi has consolidated his powers at home first and launched campaign against corrupt elements, furthermore Belt and Road Initiative along with Asian Infrastructure Investment Bank are significant regional maneuvers to install endurable peace as an outcome of development and prosperity in the region. In annual session of the United Nations, China won the stage by not only promising $ 2 billion of funds for post development goals and softening debts to leas developed states but also superseded the Security Council members by announcing 8000 permanent blue helmets to UN peace Keeping missions.
Gone the time when Taipei and Beijing were engaged in hostility and immense fortification of lands across the Taiwan Strait. Despite having issue of legitimacy both Kuomintang and Communist party share history of fight against Fascist Forces. Both participated in several years struggle in People's war of Resistance against foreign aggression. Thus, Beijing takes ease in dealing with Kuomintang as party in power in Taipei. President Ma took tangibly identical position with mainland on disputed Senkaku or Diaoyutai Islands. Though, he claimed Republic of China's sovereignty over isles, however this reduced firestorm ignited by the first democratically elected President Lee Teng-hui of Taiwan, who publically announced that the isles belongs to Japan.
Truth is that there is no formal communique, however handshake and tacit notion of one China by President Xi, as he said 'We are one family, We are brothers who are still connected by our flesh even if our bones are broken', responded positively by President Ma, as he replied, 'We follow different political systems but we have developed military and economic cooperation. We have replaced conflict with dialogue'.
However, upcoming presidential election 2016 in Taiwan, Tsai Ing-wen chairperson of Democratic Progressive Party assumed as wining candidate and is believed to be hardliner towards Beijing. Although, Tsai Ing denounce Consensus 1992 publically, it has become a de facto instrument to recognize 'One China' with different interruption. In real terms, post-election scenarios would be a real challenge for both sides across Taiwan Strait to hold on the agenda for peace and enhance mutual trust.
Another argument echoing in Taiwan is that KMT has already lost its grounds in upcoming election. Referring to Umbrella Revolution last year, critics are of the view that one country two systems has exposed miserably. DPP and its supporters are of the view that too much engagement with Beijing would cost huge knockback to Taipei. Thus, Taipei should not engages itself overwhelmingly with Beijing up to a level that undermines its legitimacy.
Whatsoever, political mentors and pundits deduce from this meeting, negotiations should be carried on. In mainland China, people are of the view that issue between China and Taiwan is not about identity, rather it's about the legitimacy. Such informal understating and communique would bridge the gap between two and will pave the pathway for strong mechanism to deal across strait relations. CCP's goal to integrate Taiwan by 2020 would be a critical challenge in coming future however.
Shah Rukh Hashmi is a PhD (International Relations) Scholar at the School of International and Public Affairs (SIPA), Jilin University, PR China