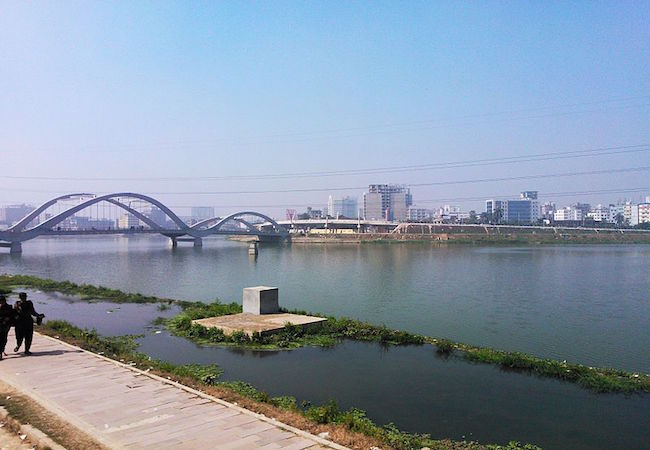 By S. Binodkumar Singh
On November 22, 2015, condemned war crimes convicts Jamaat-e-Islami (JeI) Secretary General Ali Ahsan Mohammad Mojaheed (67) and Bangladesh Nationalist Party (BNP) Standing Committee member Salauddin Quader Chowdhury (66) were hanged simultaneously at Dhaka Central Jail at 12:55 am. Earlier, on November 21, 2015, President Abdul Hamid had rejected their applications seeking Presidential clemency, which they had filed after losing all legal battles against their death sentences on charge of crimes against humanity committed during the Liberation War of 1971.
On July 17, 2013, the International Crimes Tribunal-2 (ICT-2) had sentenced Mojaheed to death after finding him guilty on five of seven charges against him, including the killing of eminent journalist Serajuddin Hossain in Dhaka; mass killings at village Baidyadangi in Faridpur District; the killing of Badi, Rumi, Jewel, Azad and Altaf Mahmud at Nakhalpara Army Camp in Dhaka; the killing of intellectuals in Dhaka; and the killing of Hindu civilians and persecution in Faridpur District. He had filed an appeal with the Appellate Division of the Supreme Court (SC) on August 12, 2013. On June 16, 2015, the Appellate Division upheld Mojaheed's death sentence.
Similarly, on October 1, 2013, ICT-1 sentenced Salauddin to death finding him guilty on nine of 23 charges including the Madhya Gohira Genocide, in which the Hindu community was targeted on April 13, 1971; the murder of Nutun Chandra Singha; genocide at Jogotmollopara, in which 32 Hindus were killed; the murder of Nepal Chandra and three others; the genocide at Unsuttarpara, in which an estimated 70 Hindus were killed; the killing of Satish Chandra Palit; the killing of Mozaffar and his son; abduction and torture of Nizamuddin Ahmed; and abduction and torture of Saleh Uddin. He had lodged an appeal with the Appellate Division on October 29, 2013, but his death sentence was upheld on July 29, 2015.
On September 30, 2015, the Appellate Division released its full verdicts upholding the death penalty of Mojaheed and Salauddin, leaving them with the option of seeking a review of the verdicts. Expectedly, both Mojaheed and Salauddin had filed their respective review pleas on October 14, 2015. Again, the Appellate Division dismissed their review petitions on November 18, 2015, with all four judges – Chief Justice Surendra Kumar Sinha, Justice Nazmun Ara Sultana, Justice Syed Mahmud Hossain and Justice Hasan Foyez Siddique – concurring, leaving only Presidential mercy as a last resort. On November 21, 2015, Mojaheed and Salauddin submitted their separate mercy petitions to the President, and these were rejected on the same day.
Mojaheed had been arrested on June 29, 2010, and was indicted on June 21, 2012; while Salauddin was arrested on December 16, 2010, and indicted on April 4, 2012.
Salauddin and Mojaheed are the two highest-profile war crimes convicts to walk to the gallows. Salauddin is also the first BNP leader to be executed, and was Parliamentary Affairs Adviser to the then Prime Minister Begum Khaleda Zia, with the rank of a Cabinet Minister. He had also served as Minister of Health during General Hussein Muhammad Ershad's regime.
Mojaheed had served as Minister of Social Welfare in the then BNP-led coalition Government between 2001 and 2006. He is the third JeI leader to have been hanged for war crimes, after JeI Assistant Secretary Abdul Quader Mollah (65), known as 'Mirpurer Koshai (Butcher of Mirpur), who was hanged at Dhaka Central Jail on December 12, 2013; and JeI Senior Assistant Secretary General Muhammad Kamaruzzaman (63), the third most senior figure in the JeI, who was hanged at Dhaka Central Jail on April 11, 2015.
Expectedly, on November 22, 2015, the JeI called for a countrywide dawn-to-dusk hartal (general strike) for November 23, 2015. Earlier, protesting the SC verdict of November 18, 2015, JeI had called a countrywide hartal on November 19, 2015. Unlike previous hartals called by JeI protesting against war crimes' verdicts against party leaders, which had resulted in massive street violence, these two hartals were largely ignored across the country and no major acts of violence were reported.
The War Crimes (WC) Trials, which began on March 25, 2010, have thus far indicted 44 leaders, including 27 from JeI, six from the Muslim League (ML), five from Nezam-e-Islami (NeI), four from BNP and two from the Jatiya Party (JP). Verdicts have been delivered against 24 accused, including 17 death penalties and seven life sentences. So far, four of the 17 people who were awarded death sentence have been hanged. Each earlier judgment had resulted in violence unleashed by fundamentalists, led by the Opposition combine of BNP, JeI and its student wing Islami Chattra Shibir (ICS). According to partial data compiled by the South Asia Terrorism Portal (SATP), the country recorded at least 51 fatalities, including 23 civilians, one Security Force (SF) trooper and 27 JeI-ICS cadres (between December 12, 2013 and December 19, 2013) as violent protests were witnessed across Bangladesh after the execution of JeI Assistant Secretary Abdul Quader Mollah on December 12, 2013. Further, the violence that followed the execution of JeI Senior Assistant Secretary General Muhammad Kamaruzzaman (63) on April 11, 2015, led to death of two JeI-ICS cadres (violent protests continued till April 14, 2015). However, no violent protests have taken place, thus far, after the execution of JeI Secretary General Ali Ahsan Mohammad Mojaheed (67) and BNP Standing Committee member Salauddin Quader Chowdhury (66) on November 22, 2015.
Meanwhile, on November 22, 2015, various political parties and organizations hailed the latest executions. The Communist Party of Bangladesh (CPB) demanded a ban on the politics of JeI and ICS to root out extremism from the country forever. Demanding immediate execution of all other war crimes convicts, Bangladesh Chhatra Federation (BCF), the student front of Ganasanghati Andolon, another left leaning political party, expressed satisfaction over the verdict and declared that it was a reflection of people's expectations. Sammilita Sangskritik Jote, a cultural organization, also expressed satisfaction over the executions. Gonojagoron Mancha (People's Resurgence Platform), a youth platform seeking death sentences for all war criminals, took out a procession at Shahbagh in the capital, Dhaka. Further, calling for confiscation of all properties of the convicted war criminals and distribution of the wealth among the families of insolvent freedom fighters and rape victims of the 1971 Liberation War, Shahriar Kabir, Acting President of Ekatturer Ghatak Dalal Nirmul Committee, an anti-war crimes platform, asserted, on November 26, "The properties of Jamaat-e-Islami including its business firms, factories, NGOs, and educational and social institutions, should come under the Government's control. These institutions have to give compensation as well."
Surprisingly, the BNP did not announce any programme of protests in the wake of the execution of its leader, Salauddin. At a high-level party meeting on November 25, 2015, BNP Chairperson Begum Khaleda Zia did not allow her party colleagues to discuss Salauddin's execution. After the meeting, Jamiruddin Sircar, a member of the party's Standing Committee disclosed, "The issue of Salauddin's execution was raised at the meeting. Madam [Khaleda Zia] offered her condolence at his death. There was no more discussion on it as it was not on the agenda. We now want to make it clear that we are not in favour of war criminals. By not discussing Salauddin, she has saved her party from the accusation of patronizing war criminals."
Earlier, on November 19, 2015, when a correspondent of Prothom Alo (First Light), a major daily newspaper published from Dhaka city in the Bengali language, contacted seven BNP leaders, including three members of its Standing Committee, one Standing Committee member, preferring anonymity, observed, "Salauddin Quader's execution will have no impact on BNP. The party is not also discussing this much (sic)."
Indeed, BNP is now trying to extricate itself from its own past. For decades, the party has been facing accusation of patronizing war criminals. Its electoral ties with the anti-liberation JeI have also drawn flak, and the leadership has been facing pressure from both friends and foes at home and abroad to cut ties with JeI. In the past, BNP had joined often violent protestsat the war crimes verdicts and past executions.
Criticizing former Presidents Ziaur Rahman and H. M. Ershad; and BNP Chairperson Khaleda, for rehabilitating those involved in war crimes in 1971, Prime Minister Sheikh Hasina Wajed observed, on November 23, 2015, "Ziaur Rahman did not try the war criminals. We tried and executed the war criminals. I think through the trial and execution of the war criminals the victims' family members will at least get some consolation. If we cannot end the trial of war criminals, the nation will never be freed from curse (sic)."
For years now, entities sympathetic to the JeI-BNP combine, backed by several Western nations, have been attempting to undermine the legitimacy of the war crime trials. With the BNP pulling away from the convicted war criminals, it appears that the legitimacy issue has been more than settled, and apologists will find it increasingly difficult to sustain their campaigns against a process that has been abundantly transparent.
S. Binodkumar Singh is a Research Associate at Institute for Conflict Management