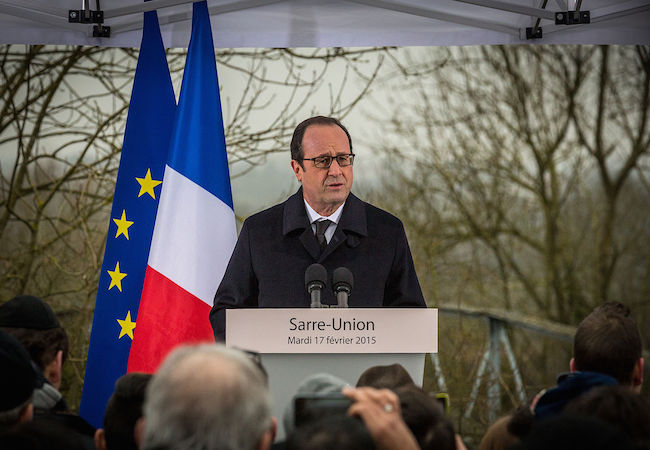 French president Francois Hollande is scheduled to visit Peru, Argentina and Uruguay in the last week of February, and in a display of Gallic diplomacy expects to promote trade, investments and French interests in the region.
But according to diplomatic sources in Montevideo and Buenos Aires the French leader could also be signing defense deals, including the sale of patrol vessels, helicopters and even spares for Argentina's ageing French built fighter bombers.
Socialist Hollande relations with conservative Argentine president Mauricio Macri, contrary to his predecessor, are described as very good, since as mayor of Buenos Aires, (before reaching the Casa Rosada), he had excellent contacts and a active culture, urban development and infrastructure agenda with Paris mayor, Socialist Bertrand Delanoé.
And although defense does not figure as a priority of the Macri administration, the French delegation of over a hundred industry and finance leaders includes the CEO of France's main naval shipyards DCNS, Hervé Guillou, whose presence in Montevideo and Buenos Aires will be supported by the L'Adroit, a state of the art ocean patrol vessel, which supposedly is 'ideal for patrolling the South Atlantic'.
Apparently the news was advanced by French ambassador in Buenos Aires, Jean Michel Casas to Defense minister Julio Martínez, recalling that "(defense) collaboration between the two countries was very strong and intense in the past, and it's time to revitalize it".
L'Adroit with a crew of 33 is ideal for 'ocean patrolling the EEZ, containing illegal migration, combating contraband, drugs, and with capacity for transporting special forces plus a drone to expand the horizon umbrella'.
Argentina has always wanted these ocean patrolling vessels and at one moment agreed to build them jointly with Chile, but the deal fell through, although the Chilean navy is already completing its fourth unit based on Germany's Fassmer blueprints.
But of even greater interest, according to ambassador Casas, are the Mirage F 1, which France offered to the previous Argentine government, to replace those decommissioned by the Argentine Air Force. The offer is still on.
Likewise the possibility of upgrading the Navy's Super Etendard of which none are flying since they lack spares and upgrading.
The French navy will be decommissioning its oldest Super Etendards sometime later in 2016, and these could be an option for the Argentine Navy, even when they are more modern.
Anyhow according to French sources the option, spares refurbishing, is also open.
To give an idea of the dilapidated condition of Argentine armed forces, it must be mentioned that during Macri's taking office ceremony last December, when most of South American presidents attended, the air cover was the responsibility of Uruguay's Air Force A37 Cessna Dragonfly on request from Argentina.
As to Hollande's visit to Montevideo, it must be said that Uruguay has always had close relations with France: in the last century the country condoned hefty debts from the First World War; French is mandatory curricula in high schools, plus longstanding very close academic, cultural and scientific links.
Furthermore in 1944 the liberation of Paris was first celebrated in Montevideo with a massive outburst in the streets, even when fighting was still going on in the French capital.
Both Charles de Gaulle and Francois Mitterrand were received as heroes when they visited Uruguay, and although the more tepid figure of Hollande is not expected to arouse such enthusiasm, there are other interests.
French oil giant Total is preparing to drill the fist well offshore Uruguay (together with Exxon and Norway's Statoil) and sea and air support will be needed.
France apparently is prepared to supply Uruguay with ocean patrol vessels and helicopters, which would come as a great boost to the country's navy and air force limited equipment, which has also weakened training and made the forces less attractive to future officers.
Uruguay which has most of its forces, particularly ground troops involved in UN peace missions, is considering the purchase of EEZ patrol vessels, and has offers from Germany's Lurssen and Fassmer.
But with a president in the sales pitch, and Total, maybe the deal could turn 'bleu'.