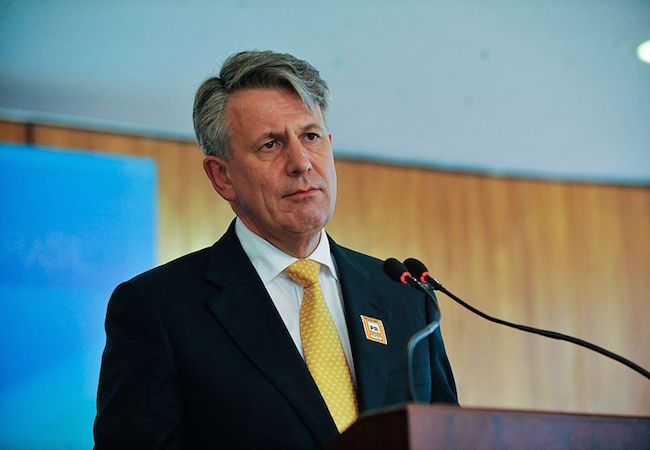 Brazil's government-owned oil giant Petrobras should cede some of its drilling rights to foreign firms, Royal Dutch Shell Oil CEO Ben van Beurden was quoted saying in Estado de Sao Paulo newspaper.
The Shell Oil man is arguing for greater private investment in Brazil's precious off-shore oil fields in the Atlantic Ocean, rather than current rules that require 50% ownership by Petrobras. In theory, such a move would entice private oil firms to explore for more oil and keep it for themselves, rather than having to share half of it with Petrobras.
That wouldn't eliminate government royalties, but it would give foreign firms like Shell the incentive to explore and develop deep water oil fields on their own.
The government is considering these changes in an effort to take some debt pressure off Petrobras, the most heavily indebted company in Latin America.
"It's up to congress to decide. But I think it makes sense to call on other companies who have the technology, who have the money," van Beurden said in what amounts to a lobbying effort on behalf of big oil companies interested in Brazil's undersea oil wealth. "I don't see how this is not beneficial for Brazil," he added.
Brazil's government may not have much of a choice. If it wants to make some fast money for the beleaguered Petrobras, it might find itself selling what the market wants most: pre-salt level oil fields.
Last year, Petrobras promised to sell upwards of $14 billion in assets in order to tackle its short and mid-term debt obligations.
New CEO Aldemir Bendini was brought on board to tackle these divestitures. But very little has actually been sold. Surely nowhere near half. And Bendini's goal was to hit that target this year.